Lakers vs. Thunder: Why OKC Will Dominate in Game 2
May 16, 2012

The Oklahoma City Thunder and the Los Angeles Lakers will play game two of their seven-game series on Wednesday night in Oklahoma after the Thunder crushed the Lakers in game one of the Western Conference semifinals on Monday night, 119-90.
The last time these two teams hooked up, Metta World Peace (formerly Ron Artest) elbowed James Harden and received a 7-game suspension for that action. (Here it is if you missed it)
Game two should be more competitive, right? After all, they are the Lakers led by Kobe Bryant. However, this year is different, and it's all about the Oklahoma City Thunder. The Thunder will prevail in game two as well, and will advance to the Western Conference Finals.
One of the main reasons the Thunder will advance is that Russell Westbrook's strong performance in game one will lead to another dominant performance tomorrow night in Oklahoma.
On Monday night, he made 10-of-15 field goals and led the Thunder with 27 points and nine assists. Not to mention he shot 66% from the floor in just 27 minutes. Westbrook has stepped up his game, since it's crunch time and down to the wire.
In the regular season, he averaged 23.6 points per game and featured a 45.6% field goal percentage; both stats were higher in game one. Look for Westbrook to continue to lead the Thunder, not only in points, but also in drive and spirit.
Another reason why the Thunder will prevail in game two is that Bryant's Pau Gasol's in game one will carry over to tomorrow night.
Bryant played 32 minutes on the floor, five more than Westbrook, and he managed to score just 20 points and two assists as he went 7-for-18 in field goal attempts. This year, Bryant averaged 27.9 points per game, but the Thunder were able to control him in game one.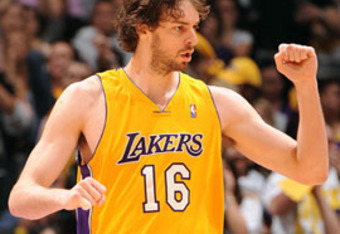 I think they will make Bryant take the shot, and not let him pass throughout the rest of the series; he struggled with his shooting in game one, and as long as they continue to stay on him and not let him breathe, he is going to try and do it all and be the hero.
That will be one of the Lakers' this season: Bryant will try and overcompensate for everyone else's struggles.
Gasol played for 30 minutes on the floor, and managed to rack up just 10 points and one assist while going 5-for-11 field goal-wise. Throughout the season, he averaged 17.4 points per game, which the Lakers will need if they want to have a chance at the finals.
Andrew Bynum was basically the entire team on Monday night as he stepped up when they needed it; he scored 20 points and went 7-for-12 on the floor with 14 rebounds. In the regular season, he averaged only 18.7 points per game.
Another reason why the Thunder will defeat the Lakers on Wednesday night is because of the elbow World Peace threw into Harden's head a couple of weeks ago.
Although players say that there are not any hard feelings after something like that happens, a play like that has got to fuel and energize a team. I think that is exactly what it did to Harden and the Thunder.
Harden finished third on the team with 17 points after he went 4-for-11 in field goal attempts over his 24 minutes on the floor. World Peace, on the other hand, struggled in game one.
In his 32 minutes on the floor, World Peace scored only 12 points and went 4-for-10 in field goal attempts. I think it is obvious there was something on his mind holding him back, as well as the fact that the crowd booed him each time he gained possession of the ball.
Another reason why the Thunder will take a 2-0 lead over the Lakers tomorrow night is their bench.
The Lakers' bench on Monday night was atrocious; they racked up just 26 combined points. Yes, Bryant struggled and did not post his usual 30+ points, but their bench scored about half of what the Thunder did. Not one player off the bench put up double-digit points, as Matt Barnes lead the team with just eight.
Oklahoma's bench racked up 50 points from their bench. All of their reserves scored at least two points, except for Lazar Hayward. Four of their bench players scored seven points or more.
Overall, the Lakers looked very sloppy in the first game of the series. They need to improve their shooing as a team, and Bryant needs to step his game up; although it seems like he does every year, he has to carry the Lakers on his shoulders because there is no one else.
The Lakers also need to work on their defense and they need to get some production out of their bench. It seems like everything went wrong for the Lakers in game one, and there is a lot for them to work on before tomorrow night's contest.
Follow me on twitter: @Alex_VanRees