Pacquiao vs. Bradley: Step-by-Step Instructions for Pac-Man Win
May 16, 2012

Stephen Dunn/Getty Images
Often in a boxing match, we go over the keys to victory for the underdog, looking at the fight from every angle to decide if an upset is possible.
Let's take a different approach on this article, though—let's go over the keys to victory for Manny Pacquiao, the clear favorite in his fight against Timothy Bradley.
Pac-Man may be favored, but that doesn't mean he can't be beat. Still, if he follows my instructions, he should be just fine against Bradley.
Fight His Fight
It may seem obvious, but Pacquiao is the favorite for a reason. While every boxer must make some adjustments before a fight, Pac-Man is the rare breed who clearly has a formula for success.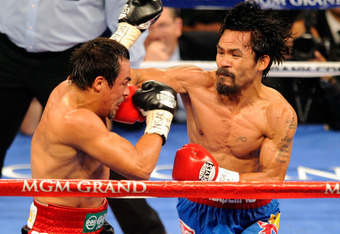 Ethan Miller/Getty Images
For Pacquiao, that means remaining on the offensive for most of the fight, mixing up his unique assortment of combinations and throwing his punches from odd angles, unleashing deadly flurries of punches before ducking or backing away from trouble.
One thing Juan Manuel Marquez was able to do against Pacquiao was stay in close and absorb punishment so he could land powerful counter-punches. If Bradley is unwilling to do the same or gets cute with the stick-and-move strategy, throwing a punch or two before ducking away, Pac-Man should win this fight easily.
Bradley must prove he can either out-brawl Pacquiao or he can sustain the brawl and consistently out-box him. I don't think he's capable of either.
Counter the Jab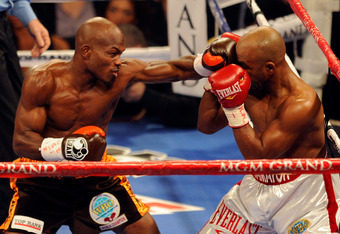 Ethan Miller/Getty Images
Bradley will likely spend much of the fight circling left and looking to set up combinations off of the jab, hoping to do damage to Pacquiao's body and smother his assault of punches.
For Pac-Man, that means he must be prepared to quickly counter off of the jab, perhaps incorporating his deadly right hook before quickly follow with a straight right. Do that enough, and Bradley may be more cautious about being cavalier in throwing his jab.
Keep it Clean
Bradley is crafty, and he's been known to slip in a headbutt or two to do damage during a fight. It's dirty, yes, but Pac-Man must be aware of it and—to borrow an old football phrase—keep his head on a swivel at all times.
If he sees Bradley's head is starting to swing, it wouldn't be the worst thing in the world to step away, regroup and then re-engage.
Or if he does get caught with a headbutt or other illegal maneuver, do the old Floyd Mayweather trick and knock Bradley out if he isn't paying attention after the fight resumes.
Don't Underestimate Bradley
Pacquiao may be best served fighting his fight, but that doesn't mean he should take Bradley lightly (I'm sure he won't).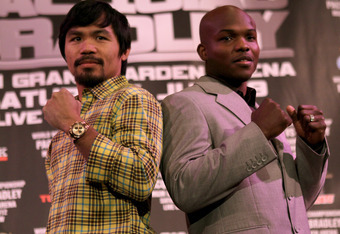 Stephen Dunn/Getty Images
That means more than just preparing diligently, however, it also means being able to make adjustments on the fly.
Bradley is going to try and get in Pac-Man's head and make him fight more cautiously than he might, as Marquez was able to do. Pacquiao simply can't allow that to happen—the last thing he needs is the underdog gaining the upper hand.
Pacquiao is a savvy fighter, and I can't imagine he won't make the necessary adjustments. I believe he'll take this fight, though it won't be easy. But he's the better fighter, and if he follows the above steps, he should secure another win.
Hit me up on Twitter—my tweets never give up in stoppage time.