NFL Predictions 2012: Players Feeling the Most Pressure at Each Position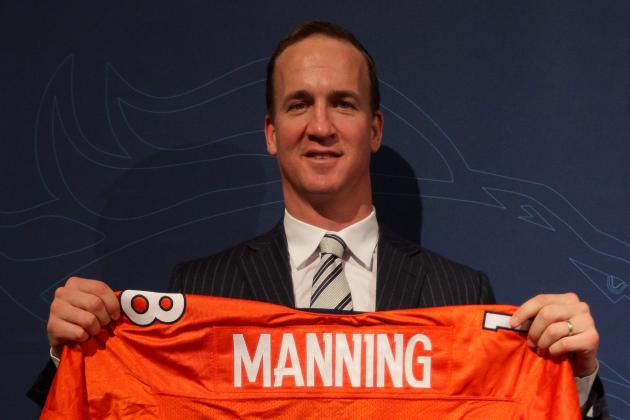 Doug Pensinger/Getty Images

We, the common man and woman, can barely fathom the amount of pressure that NFL players are under. One interception, one missed block or one missed tackle can completely change the landscape of a game—and sometimes an entire season.
Today, we'll take a look at which NFL players are under the most pressure to perform at a high level every single week for their respective teams.
Begin Slideshow

»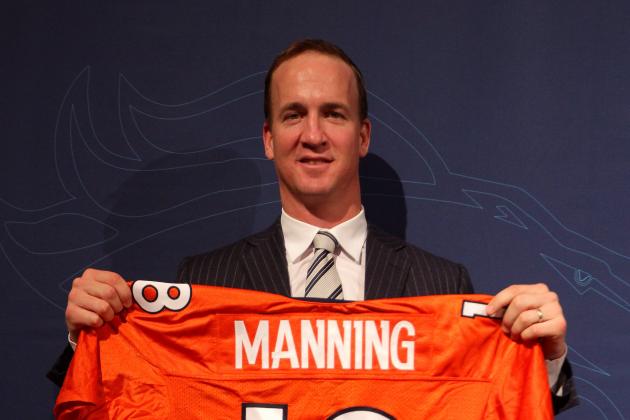 Doug Pensinger/Getty Images

Leaving the only team he's ever known and coming off major neck surgery that forced him out of the entire 2011 season is quite a substantial amount of pressure on Peyton Manning. Oh, and we can't forget about the fact that he'll have to replace Tim Tebow, either.
There may not be a player under more pressure to perform this year than Manning. The Denver Broncos put their entire season on his shoulders, and he'll be scrutinized during every win or loss.
What will make this season difficult for Manning is that he won't have the weapons surrounding him that he has always had. There is no Reggie Wayne or Marvin Harrison in Denver. Heck, there isn't even a Pierre Garcon on the Broncos.
Sure, Manning is incredible at developing talent, but not having a veteran receiving corps is just another difficult situation he'll have to face.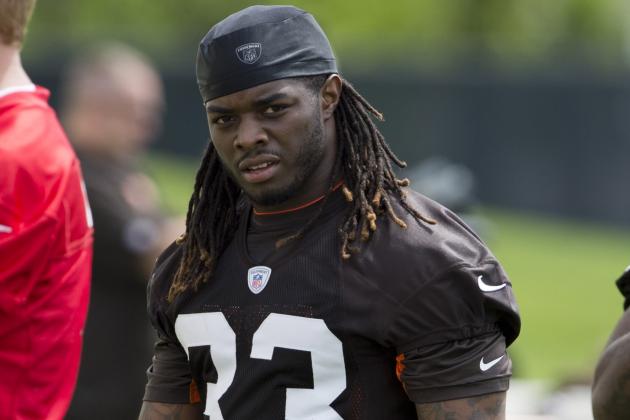 Jason Miller/Getty Images

Few rookies step into as much pressure as Trent Richardson will have to face. Sure, you could say that Andrew Luck and Robert Griffin III have their respective franchises building around them, but the Cleveland Browns are doing the same thing with Richardson.
And for a running back in the defense-loaded AFC North who is expected to perform like Adrian Peterson did during his rookie season, that is a lot of pressure. There was no doubt heading into the 2012 NFL draft that Richardson was the best running back prospect and one of the best overall prospects, and now, the Browns need him to perform that way.
What will put even more pressure on Richardson is the lack of talent surrounding him on the offensive side of the ball. He is that offense, and he is that team. If that's not pressure, I don't know what is.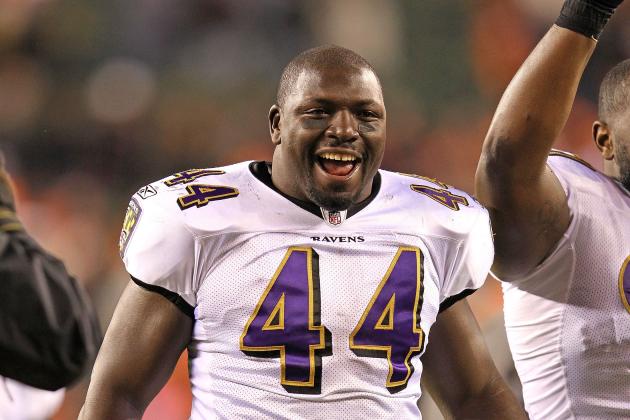 Andy Lyons/Getty Images

Vonta Leach gets the privilege of blocking for Ray Rice, who just so happens to be the Baltimore Ravens' best player.
For that reason, Leach needs to perform at a high level whenever he is on the field. He's one of the best true fullbacks in the game, and the Ravens need him to continue playing like that for them to have success on the offensive side of the ball.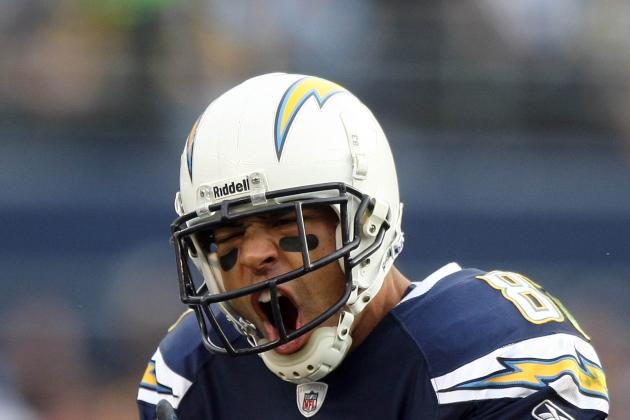 Donald Miralle/Getty Images

For the past few years, Vincent Jackson has often complained about getting paid. Well, this offseason, the Tampa Bay Buccaneers made him a very wealthy man, and now, he'll have to show he was worth all that money.
There is no doubt that Jackson has the skills to be a No. 1 receiver in the NFL, but he needs to show the work ethic to do so. With a young quarterback and other young pieces on offense surrounding him, Jackson will be the veteran player who needs to show up every week.
To be honest, I'm just not sure if Jackson can handle that type of pressure. We'll just have to wait and see.
Ezra Shaw/Getty Images

At first glance, it may seem like Coby Fleener fell into the ideal situation in the NFL. I mean, he gets to play with his former quarterback from college, with whom he had a fantastic relationship.
However, that situation could also become quite the pressure situation if Fleener doesn't perform up to the high standards that have been set. If he can't keep up with Andrew Luck's growth or struggles during some games, people will start to wonder what is wrong with Fleener.
When people start wondering about you off the field, it often has an effect on how you play on the field.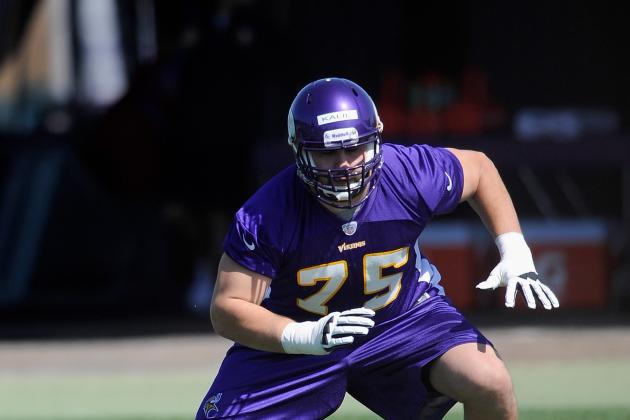 Hannah Foslien/Getty Images

When you're the fourth overall draft pick, that is a lot of pressure to start with. When you throw in the responsibility of protecting a young quarterback on top of that, it becomes even worse.
Matt Kalil was a consensus top-five pick heading into the 2012 NFL draft, and while he is certainly an extremely talented offensive tackle, what could harm him is the lack of talent surrounding him on the Minnesota Vikings' offensive line. There isn't much talent on that unit, and Kalil may feel that he needs to do too much, which will ultimately force him to lose his one-on-one battle.
It's likely that Kalil will turn into an All-Pro player during his career, but to expect that out of a rookie is quite the load to handle.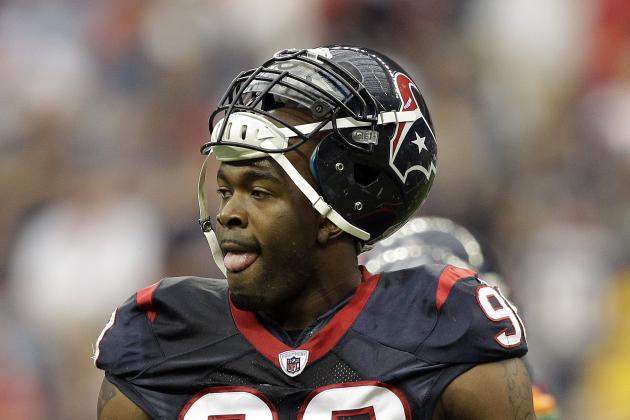 Bob Levey/Getty Images

When it became clear that Mario Williams wasn't going to sign with the Houston Texans, speculation regarding where he'd sign ran rampant. When he finally signed a six-year, $96 million contract with the Buffalo Bills, he became one of the highest-paid defensive players in the league—and one of the most pressured players, too.
Williams is coming off a shortened 2011 season that ended with a torn pectoral muscle. For a player that uses his hands on every single play to get to the quarterback, that muscle completely healing will be huge. If he fails to regain the leverage that helps him break away from contact as a result of that injury, he'll likely struggle to perform and bring about the doubters pointing out how terrible of a signing this was for Buffalo.
He's also going to be asked to help lead a team that looks poised to make a run at the New England Patriots and the AFC East title. The 2012 season will be the most stressful season of Williams' career.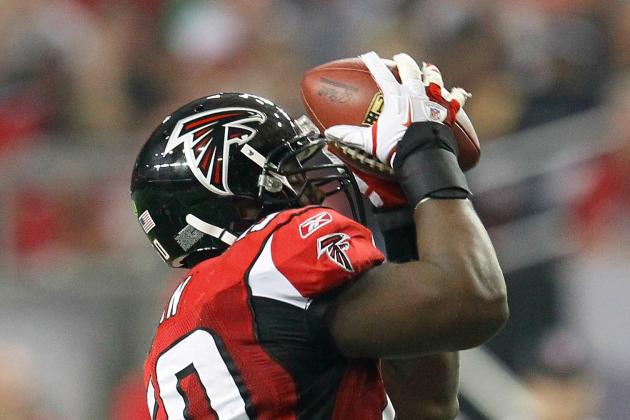 Kevin C. Cox/Getty Images

With Jonathan Vilma receiving a full-year suspension, newly acquired Curtis Lofton is going to be asked to step in from day one and become the leader for the New Orleans Saints. Unfortunately, that is only part of why Lofton is the linebacker under the most pressure in the NFL.
On top of having to replace a player like Vilma, Lofton is going to have to deal with the entire aura that currently surrounds the Saints. He'll be forced to deal with numerous off-field issues, even though he had nothing to do with them.
As if that wasn't enough, Lofton will also face his former team twice, as well as go up against the best passing division in the NFL. While Lofton is certainly a talented player, he's never had to deal with such distractions, and it will be interesting to see how he deals with the pressure.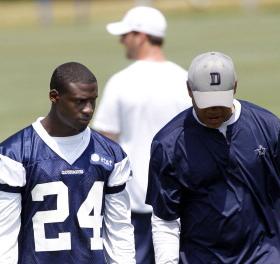 Layne Murdoch/Getty Images

The biggest issue surrounding the Dallas Cowboys in the last two years has been their secondary. They simply haven't had the playmakers back there to make a big enough impact in the NFC East.
However, with the signing of free agent Brandon Carr and the drafting of Morris Claiborne, the Cowboys are looking to change that. As far as pressure goes, the most pressure is going to be on Claiborne. Not only was he the first defensive player taken in the 2012 NFL draft, but the Cowboys made a giant trade to move up to draft him with the sixth pick.
They're basically putting their stock in Claiborne to instantly improve that unit, and that is a lot of pressure to put on such a young player. While there is no doubting the immense talent that Claiborne has, the fact that he has to play with "America's Team" will put even more pressure on him to perform from day one.
There are few who don't love what Claiborne brings to the table, and hopefully, his mental makeup is capable of handling the pressure that has been placed on him.
Rob Carr/Getty Images

When Terrell Suggs went down with an Achilles injury, all eyes turned to Ed Reed to lead the Baltimore Ravens. Unfortunately, Reed has said that he isn't 100 percent committed to the 2012 season.
It's likely that Reed will change his mind, and once he does, he'll be burdened with leading a defense that has been slowly picked apart. You see, not only will Suggs be gone for an extended period of time, but the team also lost Jarret Johnson to free agency. Combine that with Ray Lewis being another year older, and you have three key contributors who have been affected during the offseason.
Reed has been one of the top safeties in NFL history, but it was clear during the 2011 season that the game was truly starting to take its toll on his body. With all this extra pressure on his shoulders, it will be interesting to see how long he can hold on over the course of the 2012 season.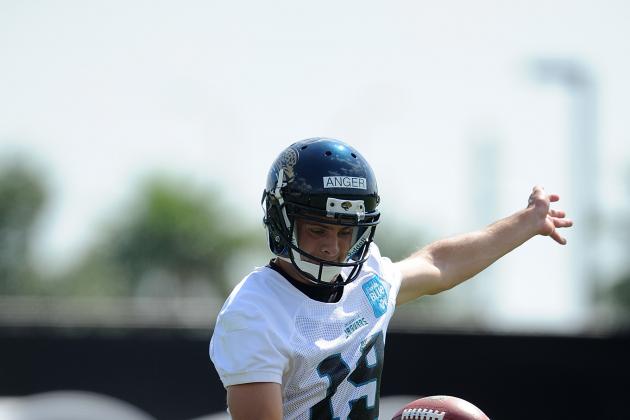 Rick Dole/Getty Images

Whenever you're a third-round draft pick as a punter, there is a massive amount of pressure put on you.
Basically, if Bryan Anger doesn't punt the ball 60 yards and have it stop at exactly the one-yard line on every single punt, he'll be considered a bust.
If that isn't pressure for a special teams player, then I don't know what is.