WWE Over the Limit 2012 Predictions: Kharma Must Finally Make Anticipated Return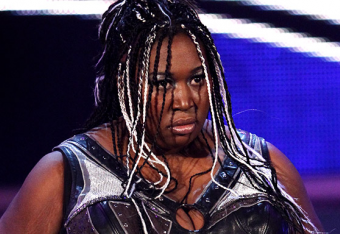 Photo courtesy of WWE.com

Slightly over a year ago, Kharma made her debut in the WWE and went on to squash nearly the entire Divas division. A surprising pregnancy curtailed her momentum and has kept her out of action since, but Over the Limit appears to be the perfect time to bring the dominant Diva back into the fold.
Kharma shocked the WWE Universe by making her initial return as a surprise entrant in the Royal Rumble match in January, but she hasn't been seen since. Kharma had initially announced that she gave birth to a healthy child, but it was actually stillborn, which has understandably taken a great emotional toll on her.
As a result, her full-time WWE return has been delayed. There have been many situations over the past couple of months that seemed tailor made for her to come back, but it hasn't happened yet. Kharma returning has become somewhat of a running joke, and many seem to believe that it won't ever happen. However, it now appears to be on the horizon.
The first clue that Kharma is still in the WWE consciousness in that Eve mentioned her name at Extreme Rules. Nikki Bella had to defend her Divas Championship against a mystery opponent, but Eve assured her it wasn't Kharma. That was the first time that Kharma's name had been mentioned since the Royal Rumble, so she obviously hasn't been forgotten.
Kharma was also tweeting about the WWE quite often late last month, but has since stopped tweeting altogether. That would seem to suggest the calm before the storm. On top of all that, the Divas Championship match between Layla and Beth Phoenix would be a fantastic setup for her to come back.
Seeing as the title was just transitioned to Layla, I can't see her losing it right back to Beth on Sunday. At the same time, though, Beth has been booked as a dominant force and only lost the belt because of a storyline ankle injury. With that said, there doesn't seem to be a logical way to book one of them as the winner and one of them as the loser.
Will Kharma return at Over the Limit?
The best way for this match to play out would be for a few minutes of action to be followed with both of them being laid out on the canvas. Kharma could then come out to pick up the pieces. This would lead to Kharma eventually beating Layla for the Divas Championship so that she could start a program with Beth.
It has been speculated for quite some time that Kharma would feud with Beth upon her return, and it certainly makes sense. Aside from Kharma, Beth is the strongest Diva on the roster and she is likely the best in-ring worker as well. She has been built up as the dominant wrestler in the division and had held the Divas Championship since October before losing it to Nikki as the result of a fluke.
There is little doubt in my mind that Beth has been built up in such an obvious way in preparation for the return of Kharma. There may not be a Diva on the roster who can believably beat Kharma, but because of all the work that has been done to make Beth look strong, perhaps she will appear to be a true threat.
It's only a matter of time before Kharma is back in a WWE ring, and after months upon months of rumored returns, Sunday's Over the Limit will be her time to shine once again.
Follow @MikeChiari on Twitter
This article is
What is the duplicate article?
Why is this article offensive?
Where is this article plagiarized from?
Why is this article poorly edited?