UEFA Champions League Final 2012: Live Stream, Start Time and More
May 16, 2012

Ian Walton/Getty Images
Neither Chelsea nor Bayern Munich were supposed to be in the 2012 UEFA Champions League final, it was supposed to a clash of La Liga giants Barcelona and Real Madrid.
But the English and German superpowers both pulled stunning upsets, and now the Der FCB will be the first club to ever play in their own stadium in the Champions League final.
These two clubs have split their two previous meetings in Champions League play, but these are two different squads.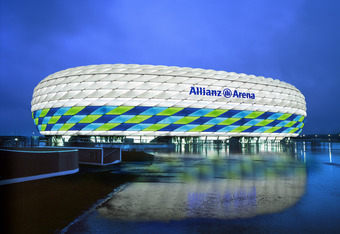 Handout/Getty Images
Where: Allianz Arena, Munich, Germany
When: Saturday, May 19th, 2:45 PM ET
Watch: Fox Sports (US). For other countries click here
Live Stream: UEFA Live Stream
Most Important Player to Watch: Didier Drogba, Chelsea
The man up top for Chelsea will be marked tightly, but even that has not stopped the Ivorian giant before—even when teams focus on him he can make something happen.
The Chelsea legend could very well be playing his last game in Blue, and we know he'll be look to go out with a bang. On top of that, he has a propensity for showing up at the biggest times in the biggest games.
If he forces the Bayern defense to pay even more attention to him, it will allow his teammates more freedom to operate—most notably Englishman Daniel Sturridge, who is likely to replace the suspended Ramires on the right side.
Pressure from Drogba will be a huge key in this game.
Key Matchup: Chelsea Center Defense vs. Bayern Munich Attack
The Blues are without club captain John Terry and defender Branislav Ivanovic, but they are expected to get back Gary Cahill and David Luiz.
Neither has played in some time—Luiz since the FA Cup semi-final victory over Tottenham and Cahill since the Champions League semi-final second leg in Barcelona—so it will be intriguing, to say the least, to see how they hold up.
Chelsea doesn't have any legitimate depth to fill in for either star if they show poor form, and against Bayern's attack that is quite possible.
The entire German side's attack and midfield are offensive-minded. Led by Mario Gomez, who has scored 20 goals in his last 17 Champions League appearances, they'll put a ton of pressure on Chelsea's back line.
Arjen Robben and Franck Ribery will push up the sides and into the middle if need be, and Thomas Mueller is a scoring threat behind Gomez. Luiz and Cahill will be instrumental in a Chelsea win, or disastrous in a Chelsea loss.
What They're Saying
Chelsea was in the UEFA Champions League final five years ago, a game they lost to Premier League rivals Manchester United, so they know what it is like to lose.
Bayern Munich was in this game even more recently, in 2010, when they lost to Inter.
But the German giants, who have a deeper infusion of youth at key positions and are coming back to the Champions League competition next season regardless of the final's outcome, are weary of Chelsea's desperate veterans.
German star Bastian Schweinsteiger said (via ESPN):
"Those players like Lampard, Drogba, Cole and [29-year-old Michael] Essien, who were in Moscow for the final [in 2008, when they lost to Manchester United], will have extra motivation.

"They will be the most dangerous, they know maybe it is their last chance to try and win it."
A desperate player is a dangerous player, and Schweiny and the other Bayern Munich stars won't sleep on Chelsea's stalwarts. 
Should Chelsea lose the final, their sixth-place finish in the Premier League means they'll have to wait another year to get back into the competition.
Prediction: Chelsea 2, Bayern Munich 2 (Chelsea Win on PKs)