Manchester City Football Club: A Blue Moon Risen
May 16, 2012

Christopher Furlong/Getty Images
The greatest Premier League finish ever is over, with Manchester City deservedly being crowned champions.
Roberto Mancini's expensively assembled squad pulled through at the last minute in the truest sense.
For a Manchester City fan who has seen them play in three tiers of English football in my life, this was the greatest moment I have ever witnessed.
Watching the thousands and thousands of fans turn out in Manchester on Monday night to pay homage to their side would have been nothing but a pipedream when we were promoted back to the big league under Kevin Keegan a decade ago.
But with the likes of Sergo Aguero and Yaya Toure in the side, dreams became reality and this is the greatest side this proud club has ever produced.
Fans have waited 44 years for this moment; this side has now eclipsed the team of 1968 when the likes of Colin Bell, Francis Lee and Mike Summerbee were the toast of the city.
The ending of the game against QPR and the season as a whole was so nearly "typical City."
But the corner now seems that it has been turned, the side has a very good character and leaders throughout the squad.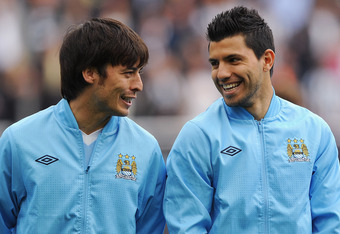 Michael Regan/Getty Images
The likes of Vincent Kompany, Joe Hart and Yaya Toure are born winners, and their mentality has driven this team forward in the course of the season.
So what next for this team?
Well, the main objective will be to retain the Premier league trophy next season, add to that an improved showing in the Champions League and the next couple of years lead to a clear progression.
There will be slight changes and alterations to the squad during the summer, but the nucleus for success is there.
In Mancini, they have a manager the owners trust and who has had to deal with his fair share tantrums and hissy fits during his tenure.
He is an icon with the fans, is respected by the players and knows the European game. He is very much the right man for this job.
There is one person that we owe all this success and euphoria too, though, and that is of course Sheikh Mansour.
The Emirati owner who took over the club in 2008 and has overseen a dramatic change and upturn in fortunes.
With the obvious benefit being the vast amount of pertro-dollars at his disposal, the likes of Robinho, Carlos Tevez, Aguero and Toure have been brought to the club.
With future development plans also about to be sanctioned, the future of Manchester City Football Club has never looked better.
The aim: to be one of the true world superpowers.