Adrien Broner and the Top 15 Prospects in Boxing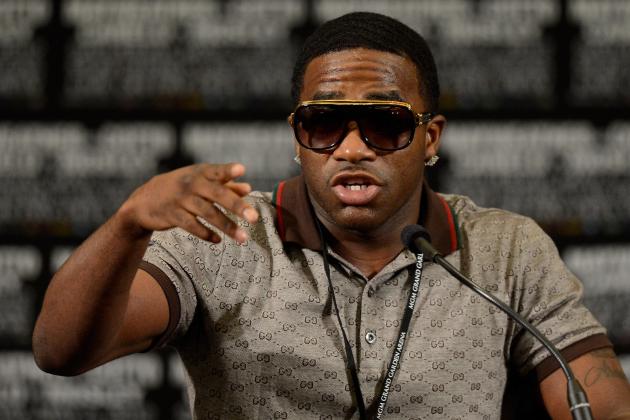 Ethan Miller/Getty Images
Adrien Broner
Prospects are fighters to look forward to based off sheer impressive ability and little to no accomplishments.
Some prospects like Saul Alvarez and Adrien Broner have netted world championships.
Others, are razor-thin close to getting their title shot, but all of them are intriguing for very different reasons.
Here are the 15 top prospects in boxing.
Begin Slideshow

»
Deontay Wilder (21-0, 21 KO) is a 26-year-old American heavyweight knockout artist who has won every fight of his career so far by knockout.
He's very humble and soft-spoken, but his fists speak with an intensity that would wake the dead. He has a great future ahead after the Klitschko brothers retire.
Gary Russell (19-0, 11 KO) is a speedy featherweight with the technical skills and enough pop in his punches to give hell to the most elite of boxers.
After putting on many impressive performances including a first-round KO of Heriberto Ruiz, there are rumors that he may be in the hunt for a title eliminator.
Next stop, championship status!
Austin Trout (24-0, 14 KO) is on the verge of leaving prospect status as soon as he defends his WBA junior middleweight world title against Delvin Rodriguez on Showtime's June 2 quadruple-header.
As a fighter who loves to mix it up, Trout has not only a thrilling style, but the skills to pay the bills.
He picks his shots well and lands beautiful combinations that can't help but send foes crashing to the canvas.
Ismayl Sillakh (17-1, 14 KO) is a Ukrainian light heavyweight with a lot of promise and power.
He recently suffered a setback in a TKO loss to undefeated Denis Grachev, but he's talented enough to bounce back.
The loss may have been unexpected, but far from debilitating.
Seth Mitchell (25-0-1, 19 KO) was a college football player at Michigan State until an injury forced him off the field in 2005.
He's since healed and discovered boxing and was signed to Golden Boy Promotions in 2008.
He's a fast learner and a strong, quick heavyweight with enough athleticism and power to give just about anybody hell.
Peter Quillin (26-0, 20 KO) is a middleweight with dazzling speed and power. He's talented, he's charismatic, he's just what the doctor ordered.
Boxing needs superstars who know how to express themselves in funny ways during interviews so people can be drawn in.
The more a fighter draws in an audience, the more likely they'll want to see that fighter succeed and knockout some more people.
Quillin is a fighter audiences can't help but keep track of once they see him in action or here him talk about blasting fighters to Pluto.
His next stop is a June 2 Showtime quadruple-header where he'll face his stiffest test yet in the legendary defensive genius, Winky Wright.
Edwin Rodriguez (21-0, 14 KO) is a technical beast in the ring. His mind is sharp and he stays relaxed and ready for anything.
He outsmarts his opponents more often than he overpowers them, but his challengers in the super middleweight division can't afford to sleep on him.
George Groves (14-0, 11 KO) is a British warrior whose injuries have kept him from moving up into championship status.
He's had opportunities to face WBO super middleweight champ Robert Stieglitz, but injuries have delayed and cost him the match.
Next up will likely be his fellow British rivals Kenny Anderson and James DeGale. Both are fighters he's previously defeated in close, exciting fashion.
In order to become a star, he must crush them in dominant fashion.
Tyson Fury (18-0, 13 KO) is a British heavyweight who is awaiting the right moment to ascend the throne.
He's proven in his decision win over Dereck Chisora that he can hang with the young crowd of today's heavyweights.
But facing the massively experienced Wladimir or Vitali Klitschko would be a death sentence.
Fury is a great bodypuncher and a heavy puncher. He has a great future so long as he continues to stay a student of the sweet science.
Robert Helenius (17-0, 11 KO) is a heavyweight with a significant height advantage in most of his fights (he stands 6'6").
Helenius has used his height well to feed on the corpses of former heavyweight contenders Samuel Peter and Lamon Brewster to become a monster.
His fight against Dereck Chisora told a different story. Chisora outfought Helenius in a grueling war, yet lost a split decision.
Helenius will have to make the gift decision go away with good wins over solid competition. It may look bad now, but Helenius has the tools to show the world he's not all hype.
Thomas Dulorme (14-0, 11 KO) is a welterweight with a chip on his shoulder and he gladly breaks his opponents down.
So far he's beaten Demarcus "Chop Chop" Corley while breezing through the rest of his competition. Hopefully Dulorme will face the likes of Jesse Vargas among other young fighters.
Uganda's, Sharif Bogere (21-0, 13 KO) is a lightweight phenom with a creative ring entrance.
He wears a lion headdress and is brought out in a cage that's held by a group of singing men.
Bogere's extravagance and over-the-top entrance is the type of thing that wins over fans.
Bogere has a bright future so long as he keeps winning.
Anthony Dirrell (24-0, 21 KO) is a 27-year-old who has went through a lot to become an amazing knockout artist.
Dirrell was sidelined for nearly two years between 2006 and 2008 due to undergoing chemotherapy to treat lymphoma.
He was accused of robbery once and arrested, but was able to prove he was at chemotherapy at the time.
After coming back and finally earning his way to a world title fight in the super middleweight division in 2012, he crashed his motorcycle.
After going through surgery for a broken arm and leg, he's expected to be out of commission for six months. But when he comes back, he'll be a force to behold.
Jessie Vargas (19-0, 9 KO) is under Mayweather Promotions, which means he gets a spot on all of Floyd Mayweather's high-profile pay-per-view events.
Vargas hasn't quite been as impressive as his knockout of Walter Estrada and stoppage of Vivian Harris suggested.
But with Mayweather as his mentor, who knows? The kid could still develop into something special.
Adrien Broner (23-0, 19 KO) is a world super featherweight champ on his way to superstardom with his cocky style and flashy swagger.
Not only does Broner dispose of opponents in often quick and stylish ways, but he says funny and divisive things that turn viewers into instant fans or haters.
That's the type of personality that must exist in the sport for boxing to thrive.
Boxing is a cockroach that won't ever truly die, but charisma-filled fighters like Broner are what mutate the sport from a roach into a full-fledged beast with sharp teeth that devours an audience's attention.