Bayern Munich vs Chelsea Predictions: Starting Lineup and Matchup Analysis
May 16, 2012

Handout/Getty Images
In just three days, the 2011-12 Champions League will finally draw to a close, and one of either Chelsea or Bayern Munich will be crowned champions. Here's what we at B/R believe the starting lineups will look like, and some of the many factors that will affect the end result.
Chelsea Lineup
Chelsea will be missing John Terry and Branislav Ivanovic through suspension, along with Ramires and Raul Meireles. That's three (and a half) starters out for the final game.
Luckily, Chelsea are equipped to cope with their absence for the most part. David Luiz and Gary Cahill have both been declared fit for the Champions League final, and Jose Bosingwa against Barcelona showed that he can rise to the occasion.
Ramires will easily be the hardest player to replace for Chelsea, but Roberto Di Matteo seems to have restored his faith in Daniel Sturridge and will likely start him on the right in the CL final. In the absence of Florent Malouda, Kalou will get the start on the left, though he mostly likely was RDM's preferred starter in the position anyway..
Finally, up top, Didier Drogba's experience will outweigh Fernando Torres' upshot of form in recent games. I wouldn't be surprised to see Torres introduced later in the game though, especially if Chelsea are struggling.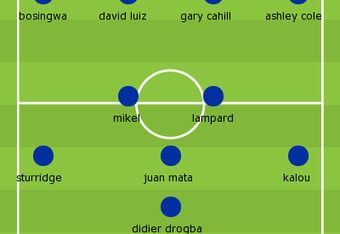 Bayern Munich Lineup
Chelsea aren't the only team with suspensions. David Alaba, Holger Badstuber and Luiz Gustavo will all miss the final for Bayern Munich.
This means that Rafinha will be brought in at right back, while Philipp Lahm will shift to left back. At centre-back, Jupp Heyneckes has a tough choice to make between 34-year-old Daniel van Buyten and 33-year-old Antoliy Tymoshchuk.
Clearly, neither are Heyneckes' preferred choice, but he'll have to rely on one of them to play in place of Badstuber alongside Jerome Boateng.
Finally, Luiz Gustavo will be very hard to replace alongside Bastian Schweinsteiger. If Tymoshchuk is selected to play centre-back, then Toni Kroos will have to move back to play defensive midfielder while Thomas Mueller comes in as a second striker "in the hole."
If Van Buyten is selected to play centre-back, then Tymoshchuk will play defensive midfielder alongside Schweinsteiger, in a very like-for-like swap.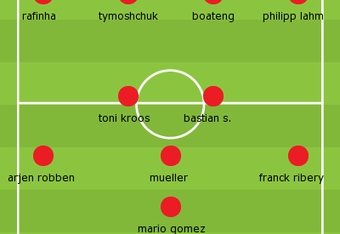 Match Analysis
Rather than pick a club and argue in favor of why they'll win the Champions League title, we're going to give you guys the facts and let you decide who you think will win the title based on those facts.
First and foremost, it's important to remember that this game will be played at the Allianz Arena, Bayern Munich's home stadium.
Technically, this is not a home game for Bayern Munich; both clubs are supposed to get 17,500 seats each for their fans, but playing in their home city will still give the Germans at least a bit of the feeling of playing at home.
This could positively impact Bayern's performance in the CL final, or it could have a negligible effect once both teams step out onto the pitch and realize that neither of them have the edge in fan support.
Next, with regards to both team's formations, and the resulting matchups that will take place, one of the things that stands out most for me is how attacking Bayern Munich's lineup could potentially be in the final.
Bastian Schweinsteiger is more attack- than defensive-minded, Toni Kroos is almost completely attack-minded, and Thomas Mueller is a forward. Putting those three guys in a lineup with Mario Gomez, Franck Ribery and Arjen Robben is practically offensive overkill.
This could result in one of two things. The overload of quality could overwhelm Chelsea's already vulnerable defense, resulting in a comprehensive victory for Bayern Munich. Alternatively, it could leave Bayern Munich's own compromised defense at risk of being overrun, in which case, Chelsea could emerge with a comprehensive victory.
On Chelsea's end of things, a lot of Chelsea's success will come down to how much Daniel Sturridge can replace Ramires. The brazilian has done so much already to take Chelsea this far in the Champions League, and Sturridge will have to step up big time in his absence.
Kalou will also be an X-factor for Chelsea. Bayern Munich will be well aware of the threat posed by the likes of Lampard, Mata and Drogba; these three will likely be marked tightly. But Kalou hasn't had that great of a season, and will likely be given some freedom by Bayern's defense.
If he can capitalize on that to score one of his trademark poacher goals, he could really give Chelsea the edge in this Champions League final matchup.
Last but not least, this match will be hugely influenced by the coaches, both of whom could really use this victory to assure that they stay on with their respective teams next season.
Should Heyneckes lose, he'll be remembered for having an Avram Grant-esque season with Bayern: He'll have finished second in the league, second in the Cup and second in the Champions League. That won't please the trophy-hungry management and supporters.
As for Chelsea, should Roberto Di Matteo win, he'll have brought his "Chelsea renaissance" to the perfect conclusion, and ensured his position for next season. Chelsea will have no choice but to appoint him as manager for next season, or risk riots by the fans and players.
Both teams are desperate for the trophy to bring their otherwise disappointing seasons to a successful conclusion. We'll find out this Saturday which team is the hungrier of the two.