2012 NBA Draft: 5 Prospects New Orleans Hornets Should Consider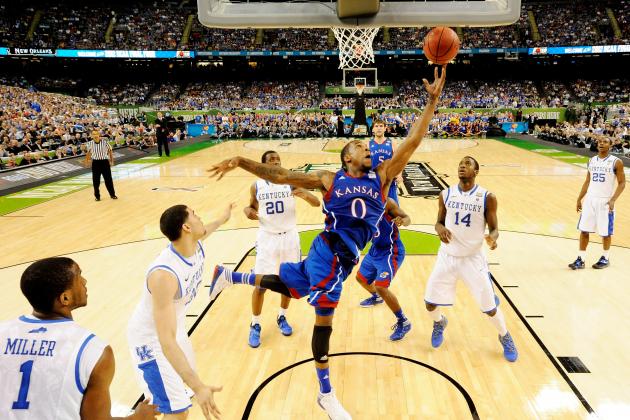 Pool/Getty Images

The New Orleans Hornets will enter the draft with needs in almost every area. The Hornets need shooters, a rebounder, a three-point shooter and more. With hardly any of their players looking like guys who could be starters on a playoff team, the Hornets need to be open to drafting almost any type of player.
Fortunately for them, they have two first-round picks. Both picks may come up in the first 10 spots, depending on what happens in the draft lottery. Currently, the odds for their first pick have them slotted fourth, and the odds for their second pick (acquired from the Minnesota Timberwolves) have them slotted 10th.
With two picks in the first half of the first round, the Hornets will be able to set their sights on plenty of players. Following is a list of the five players they should consider.
Begin Slideshow

»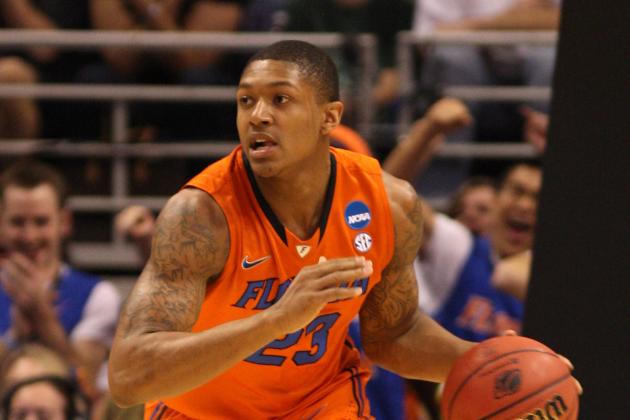 Christian Petersen/Getty Images

Bradley Beal is an intriguing shooting guard prospect from Florida. He can create for himself, something that hardly any Hornets player can say for himself.
Beal takes many of his shots from the outside and has some three-point shooting ability, although he only shot 33 percent from three-point range last season.
The Hornets lacked three-point shooting, and if he can turn out well in that area, he'd be a boon to the team offensively.
Beal would be able to open up the offense, taking mid-range and outside two-pointers, as well as three-pointers.
Jarrett Jack isn't a natural shooter, and he led the team in scoring this season. He'd surely welcome a shooter who would relieve the pressure on him to put up points.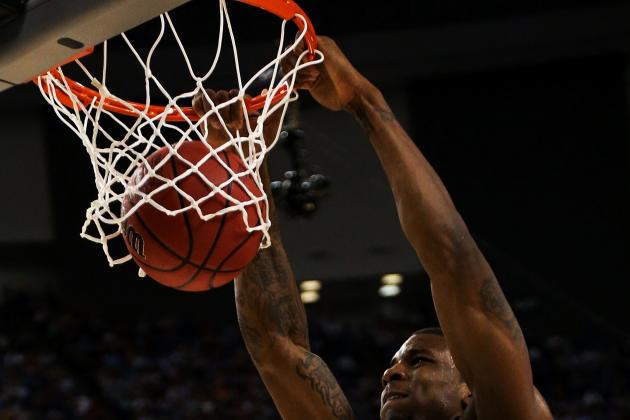 Ronald Martinez/Getty Images

Thomas Robinson must be the player who is highest on the Hornets' radar. He's very strong in the post. Possessing great strength in his 6'10", 240-pound frame, Robinson can battle with the more physical power forwards.
He showed a fine ability as a rebounder, pulling down 11.9 boards per game last season. As DraftExpress.com noted, Robinson was second in rebounds per 40 minutes (14.8).
Robinson would be a big help to a Hornets team that ranked No. 24 in rebounding this season.
He's developing his set of moves in the post, but he's shown quite the ability to score after leading the Kansas Jayhawks with 17.7 points per game last season.
The Hornets would surely love to have Robinson create for them in the post since Emeka Okafor doesn't shoot too much and Gustavo Ayon may or may not turn into that guy.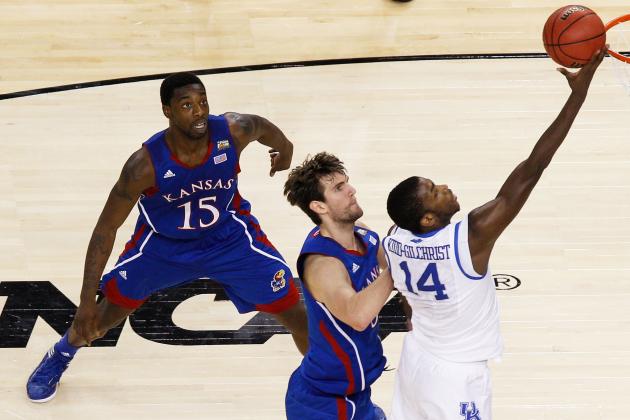 Chris Graythen/Getty Images

Hopefully, the Hornets' scouting team had its eyes on Michael Kidd-Gilchrist during his freshman season at Kentucky.
Kidd-Gilchrist is an athletic player who can help a team in various ways. Gilchrist has great length, standing 6'7.5" and possessing a 6'10" wingspan. He doesn't shoot much, but when he does, he's deadly.
In his freshman year, he shot 49.1 percent from the field, including 53.5 percent from two-point range.
DraftExpress.com noted that he took 75 percent of his field-goal attempts on fast breaks. Thus, he's the type of player who can get the Hornets going in transition if they find the opportunity.
He can make plays off the dribble with his quick first step and his strength going to the basket.
Also, he's a solid defender, able to defend wing players or big men. He has good footwork and plays hard.
That defensive ability would be great in keeping the Hornets close. Often, the Hornets hung within range of opponents, but couldn't get close enough to change the outcome. His defensive ability could have an impact for the Hornets.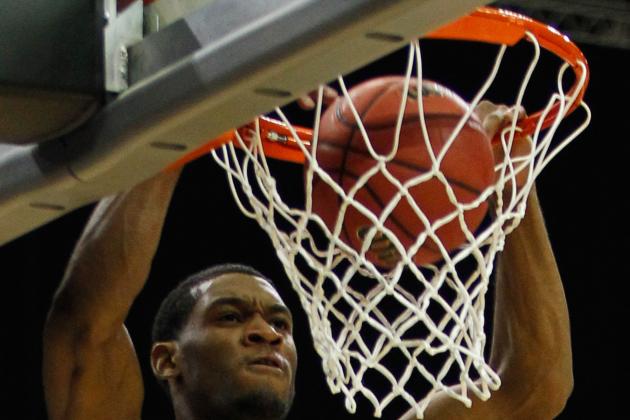 Streeter Lecka/Getty Images

The Hornets appear to have a hole at power forward. They had a wealth of centers last season with Chris Kaman, Gustavo Ayon and Darryl Watkins. Emeka Okafor is more of a center than power forward.
However, power forward was an issue. They often used Carl Landry when he was healthy, but he's not good enough to make a team good with his rebounding and defense. Jason Smith is big, but nothing special.
Drafting Perry Jones from Baylor could bring the Hornets along at that position. Jones has tremendous potential. He has great size at 6'10.5" and has a 7'2.5" wingspan.
He's athletic and versatile. He plays effectively in the post and can spot up shots from mid-range. DraftExpress.com notes that his best spot is between 12 and 18 feet from the basket.
Jones handles the ball well and finishes well at the rim.
The one thing that even he acknowledges is holding him back is his desire. He said last year in a press conference that the biggest thing he needed to improve was "my motor. To be able to play consistently throughout the 40 minutes of the game."
Hornets coach Monty Williams could help him with that. Williams is a good motivator. He could help Jones discover his energy and use it throughout the game.
Jones would be able to spread things out for the Hornets and add the all-around athleticism they need.
Since he's ranked No. 9 by DraftExpress.com, the Hornets would be looking at him with their second pick.
Damian Lillard might be from Weber State, a small mid-major school in Utah, but he has big upside that the Hornets should like. He looks like a good point guard prospect. He stands 6'2" and weighs 185 pounds.
He's athletic and is a good playmaker. Lillard goes hard to the rack, dribbles very well and is explosive.
He controls the ball well. DraftExpress.com noted that Lillard was tops in turnovers percentage at 10 percent.
He's a great free-throw shooter, knocking down 90 percent at the line last season.
He would also help the Hornets in the three-point shooting department, as he hit 45 percent last season.
The Hornets will soon be at a crossroads at point guard. Jarrett Jack is in the last year of his contract. Greivis Vasquez showed potential this season, but the Hornets don't know if he can do the job in a meaningful part of a season.
Drafting Lillard with their second pick would add assurance that they could have a strong point guard for the future.