Chicago White Sox: Ventura Must Quickly Solve Bullpen Issues
June 14, 2016
Thearon W. Henderson/Getty Images
Working with a slumping lineup is difficult for a new manager, but that certainty doesn't excuse Robin Ventura's struggles or unfortunate decisions made early on in the season.
Nor is it an excuse for the media not to be mentioning his name or putting any blame on him before the season begins to slip away.
In his first month as the White Sox manager, Ventura has clearly cost the team many games by either making wrong bullpen decisions or not substituting at the right time.
He's overused Will Ohman countless times.
Stat books all over the dugout should show that Ohman is a mediocre pitcher. When will Ventura finally learn that relievers with Ohman's skills only come in with blowout situations?
It took Ozzie Guillen a while, so please try to learn more quickly, Ventura. This isn't last year, even though 23 of the 25 roster players are approaching it like it is.
Luckily, the Sox are only 3.5 games out of first. That's not lucky because there's still 120-something games remaining, but because the Indians are a worse team than their record shows, and the Tigers are not being the Tigers.
In other words, this club needs to stop treading water and hope for a miracle finish, but instead swim to the wall quickly and use all of their energy now.
It'd be understandable if the Sox had no chance of making the playoffs whatsoever, but in reality, they do. Especially with two Wild Card spots now available.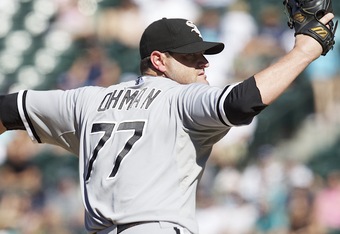 Stephen Brashear/Getty Images
Of course it's only mid-May, but it's never too early to think ahead.
The Sox need heroes, or better off relief pitchers that can remain confident with their job, and quite obviously Ventura hasn't given anyone that chance.
Except Ohman.
Speaking of confidence, there's nothing more disturbing than the closer-by-committee plan that continues to bite the Sox in the behind.
First it was Hector Santiago, then Ventura gave us a glimpse of last year's chaos with Matt Thornton and recently had a virtual plan to try out Chris Sale.
In 96 IP so far, Sox bullpen has eight saves. That's seven less than the Baltimore Orioles who are currently first in their division, and six less than the Indians and Braves, who are also both in first place in their division.
Realize anything, Ventura?
So please, with respect and honor, whether it's Reed, Jones, Santiago, Thornton or for God's sake even Kosuke Fukudome, please find your closer. The sooner the better.
Please.