Stanley Cup Playoffs: Kings Dominate Coyotes Again, Gain Commanding Series Edge
May 16, 2012

Jeff Gross/Getty Images
Remember the scene in the Broadway musical "Oliver" when an urchin sticks out his plate and says, "May I please have some more, sir?"
Seems that was the mantra of the Phoenix Coyotes in Game 2, when they invited the Los Angeles Kings to have more of the same, which frustrated and destroyed the Desert Dogs in Game 1 of this Western Conference Finals.
There was more of the Kings controlling the neutral zone, displaying speed, making many shots against Mike Smith and tilting the rink in the Kings favor.
If the Coyotes were out to right the dreadful wrongs in Game 1, they were guilty of learning nothing from their demise in the opening match Sunday night. Education can be a decisive factor, but the Coyotes failed to break out of the gate with any force and purpose.
In effect, they learned nothing from their ruin in Game 1 and have now fallen on the precipice. Perhaps the appropriate analogy might be walking the plank, but at this rate, the task ahead is beyond monumental.
The result was a debilitating 4-0 loss to the Kings before 17,149 at Jobing.com Arena in Game 2, which forces the Coyotes to win at least one game at the Staples Center to extend this series.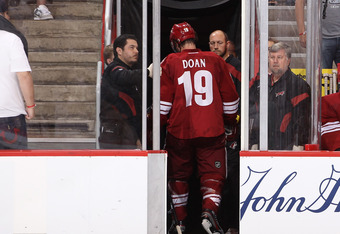 Christian Petersen/Getty Images
"It's not the situation that we like," said Lauri Korpikoski, whose 18 minutes, 48 seconds of ice time was the most among Phoenix forwards. "The series is still in our hands, and we're a good road team. Hopefully, we can turn it around."
Again in the first period in Game 2, as in Game 1, the Kings dominated early play, and ended the 20-minutes session outshooting Phoenix 15-8. In reality, that early shot total was not indicative of play because the Kings held a 10-5 advantage with just over 8 minutes into the game.
Still, Phoenix coach Dave Tippett saw improvement in his team and thought there might be some positives he would like his team to carry into Game 3.
"I thought in stretches (in Game 2) we were better than Game 1," he said. "Our start was better and had some decent chances. We need to find a way to sustain that energy and build from Game 2."
At this point, it may be fair to say that the series is slowly slipping from the Coyotes' grasp. If that's the case, the experience becomes highly frustrating because of the nature of any playoff run.
"As a player, you may not reach this point again, and we need to look at each other and pull together," said Smith, who stopped 36 of 40 shots. "You look at (captain Shane) Doan who's played, what 16, 17 years in this league, and this is his first trip here. Players may not get another shot to get this far again in their careers. At this point, getting beat the way we are getting beat is very frustrating."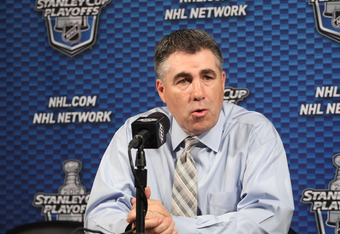 Christian Petersen/Getty Images
Getting Physical
With a series of penalties, including two game misconducts from Martin Hanzal and Doan, plus a third misconduct against Antoine Vermette, the Coyotes invited disaster.
Whistled down for 13 penalties for 56 minutes, Phoenix gave the Kings two five-on-three opportunities and suffered for the consequence.
With a special team that registered four power play goals in its previous 51 chances in postseason play, the Kings cashed in with two goals with the man advantage in eight chances. Still, that represented half of their total for Game 2 and helped push L.A. into a commanding series lead.
"Trying to kill penalties is one thing, but the five-on-three makes it tough," Smith said. "Look, it's frustrating to be down 2-0, but it's still a long series."
Afterward, Tippett would not comment on Doan's hit against Trevor Lewis at 16:29 of the second period. Doan was assessed a boarding penalty when he elbowed and drove Lewis, head-first, into the boards. He was then banished with a game misconduct.
Earlier this season, Doan was suspended for three games for a March hit on the Stars' Jamie Benn, and the NHL does not look kindly on repeat offenders.
Later in the third period, Hanzal leveled Kings' captain Dustin Brown into the boards behind the Phoenix net, was given a five minute major for boarding and tossed with a game misconduct.
The majors resulted in five-on-three chances for the Kings, who delivered with Jeff Carter pumping in power play goals on both opportunities.
"We wanted to keep it calm and knew they would try and suck us into penalties," said Carter, who picked up the Kings' first postseason "hat trick" since Wayne Gretzky in 1993. "The goals frustrated them, and we able to take them off their game."
From the Kings' Perspective
After dropping Game 1 at home Sunday night, the Kings expected Phoenix to come out flying.
In reality, the opposite transpired.
The Coyotes did not fore-check, allowed the Kings to freely move the puck and relied too much on Smith. In the end, their inability to match the Kings' effort in nearly every facet of the game now forces a near-epic uphill climb for Phoenix.
"In Game 1, we outplayed them in the first period, and it was very close," said Kings' goalie Jonathan Quick. "Some days, it goes that way. (In Game 2), we came out better, and I thought it was more even. Sometimes, that just happens."
Road Warriors
With the win in Game 2, the Kings have recorded seven straight postseason road victories.
That ties the NHL record for consecutive road wins in one playoff season, and it's been accomplished seven times. The last team to do this was the Chicago Blackhawks in the 2010 playoff year.
"When you're the number eight seed, you need to win on the road and try and get that home ice edge," said Kings' coach Darryl Sutter. "So, getting that first game in a series becomes so important."
Carter took the discussion to another level.
"It's a mind set," he said. "Because we're on the road, there are no distractions, and the coaches have well prepared us for the game that night. This team likes to play on the road, and we hope to keep it going."
----------------------------------------------------------------------------------------------------------------------------------------------
Mark Brown is a Featured Columnist for Bleacher Report. Unless otherwise noted, all quotes were obtained first-hand.