Devils vs. Rangers Playoffs: Game 2 TV Schedule, Live Stream, Odds and Analysis
May 16, 2012

Bruce Bennett/Getty Images
The New York Rangers took Game 1 of the Eastern Conference finals, 3-0, against the rival New Jersey Devils. After two scoreless periods, Dan Girardi opened the scoring in the third on a trailing pass from top prospect Chris Kreider.
Kreider also would get on the board during the third period on a Rangers power play, with Dan Girardi and Artem Anisimov assisting on the score.
The Devils were very aggressive early on in the game, and their forecheck helped contain the Rangers during the first 40 minutes of play. Anisimov sealed the deal with an empty-net goal in the waning minutes of the third period.
With the puck set to drop at 8:00 p.m. ET, here is what you need to know for Game 2.
Game Coverage
Where: Madison Square Garden, New York, NY
Watch: NBC Sports Network, CBC and RDS
Click to Listen: ESPN NY—98.7 FM (NYR), WBBR—1130 AM (NJD)
Click to Watch: NHL Gamecenter Premium, CBC Hockey Night in Canada Live!
When: Wednesday, May 16 at 8:00 p.m. ET
Postgame Coverage
TV: MSG Network and NHL Network
When: Following Game 2 for 90 minutes
Money Line from Bovada Sportsbook
New Jersey Devils: (+105)
New York Rangers: (-135)
Series Schedule: Rangers Lead 1-0
Game 1—Monday, May 14—New York 3, New Jersey 0—New York Leads 1-0
Game 2—Tonight—vs. New Jersey Devils—8:00 p.m. 
Game 3—Saturday, May 19—@ New Jersey Devils—1:00 p.m.
Game 4—Monday, May 21 —@New Jersey Devils—8:00 p.m.
Game 5*—Wednesday, May 23—vs. New Jersey Devils—8:00 p.m.
Game 6*—Friday, May 25—@New Jersey Devils—8:00 p.m. 
Game 7*—Sunday, May 27—vs. New Jersey Devils—8:00 p.m.
Playoff Scoring Team Leaders
New York Rangers
Goals: Brad Richards (six)
Assists: Michael Del Zotto, Dan Girardi and Derek Stepan (seven)
Points: Brad Richards (11)
Plus/Minus: Marian Gaborik, Dan Girardi, Ruslan Fedotenko and Marc Staal (plus-three)
TOI/G (Defensemen): Dan Girardi (27:29)
TOI/G (Forwards): Ryan Callahan (24:06)
New Jersey Devils
Goals: Travis Zajac, Ilya Kovalchuk (five)
Assists: Ilya Kovalchuk (seven)
Points: Ilya Kovalchuk (12)
Plus/Minus: Bryce Salvador (plus-seven)
TOI/G (Defensemen): Marek Zidlicky (24:27)
TOI/G (Forwards): Ilya Kovalchuk (24:08)
Players to Watch in Game 2
Brad Richards (NYR)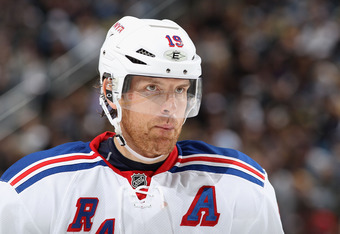 Christian Petersen/Getty Images
Brad Richards and his linemates were held scoreless in Game 1. The Rangers will need Richards and his line to generate some offense in order for the team to be successful this series. Look for Richards to make adjustments and take more shots in Game 2.
Zach Parise (NJD)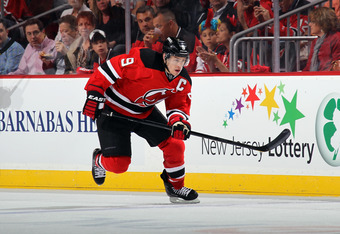 Bruce Bennett/Getty Images
Parise was one of the Devils' best players in Game 1. He had a breakaway chance, unloaded multiple shots shorthanded and was always a threat while he was on the ice. Parise is a top player in the NHL and look for him to get on the board in Game 2.
Area of Importance for Game 2: Faceoffs 
The Rangers won 36 of 51 faceoffs in Game 1 for a total of 59 percent of the time. This is an area the Devils will look to improve upon in Game 2. If the Devils can even the odds on faceoff wins—especially in their offensive zone— it wil be a huge improvement for their ability to generate scoring chances.
Goalie Matchup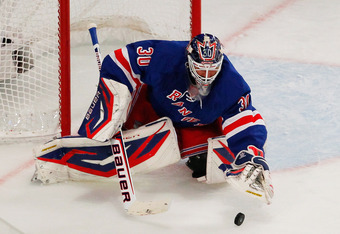 Paul Bereswill/Getty Images
Henrik Lundqvist
| 9-6-0 | 1.57 GAA | .940 SV percentage | two SO |
Lundqvist earned his second shutout of the 2012 Stanley Cup Playoffs with a 3-0 win over New Jersey in Game 1.
Martin Brodeur
| 8-4-1 | 2.05 GAA | .921 SV percentage | one SO |
Brodeur made 25 saves in a Game 1 loss against the New York Rangers.
Projected Lineups
New York Rangers
Carl Hagelin, Brad Richards (A), Marián Gáborík
Chris Kreider, Derek Stepan, Ryan Callahan (C)
Ruslan Fedotenko, Brian Boyle, Brandon Prust
 Artem Anisimov, John Mitchell, Mike Rupp
Ryan McDonagh, Dan Girardi
 Marc Staal (A), Anton Strålman
 Michael Del Zotto, Stu Bickel
New Jersey Devils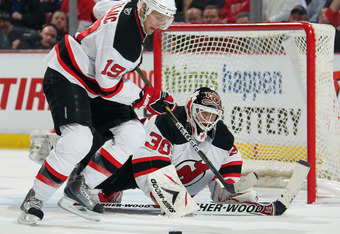 Claus Andersen/Getty Images
Zach Parise (C), Travis Zajac, Ilya Kovalchuk (A)
Petr Sykora, Patrik Eliás (A), Dainius Zubrus
 Alexei Ponikarovsky, Adam Henrique, Steve Bernier
 Ryan Carter, Jacob Josefson, Cam Janssen
 Bryce Salvador, Marek Zidlicky
Mark Fayne, Andy Greene
Anton Volchenkov, Peter Harrold
Prediction: Rangers Win 2-1
The Rangers won Game 1 despite looking sluggish and a bit laid back during the first 40 minutes. With more rest and a game strategy to apply against the Devils, the Rangers will be fresher in Game 2. Expect the Rangers' top line to get going and the Rangers to take a 2-0 lead against the Devils into New Jersey,