Atlanta Braves: Why Nobody Will Ever Replace Chipper Jones' Legacy
May 16, 2012

Dilip Vishwanat/Getty Images
For all intents and purposes, this is a love letter to the irreplaceable Chipper Jones.
It's appropriate, considering the Atlanta Braves cornerstone ballplayer is a sure-fire first-ballot Hall of Famer.
Jones plays his final season in 2012 after announcing he'll retire at the end of the year.
Ever since being drafted No. 1 overall by Atlanta in 1990, Jones has given everything he's had to accomplish all he could for the Braves.
Chipper will do so in whatever way he can, as the switch-hitter made the switch from shortstop to third base to left field and back to third base.
Even when he was injured in August 2011, Jones became the de facto hitting coach during the Braves' playoff run.
Though unfortunate, it's not a big deal that he's been hampered by such injuries. Jones, however, always makes his return quickly, playing at least 128 games in all but three years and no fewer than 95 in a season.
While he goes by Chipper because, according to ESPN, family members said he was a chip off the old block, Jones' legal name is Larry.
In honor of that, this piece will explain three reasons why the legacy Jones leaves cannot be repeated: Longevity, Loyalty and Likeability.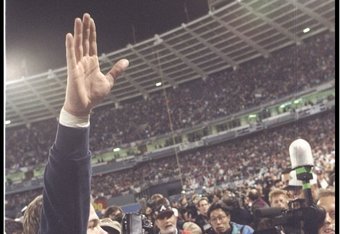 Otto Greule Jr/Getty Images
Longevity
Jones got off to a smashing start when he barely missed earning the 1995 NL Rookie of the Year.
In his first playoff game Jones hit two homers, including the game-winning jack with two out in the bottom of the ninth.
The Braves went on to win the World Series that year.
For the next 10 seasons Atlanta won the NL East title, the most by any major league franchise. The Braves accomplished that in large part because of Jones, who in that span averaged 31 homers per season and hit .307.
Jones had his crowning achievement in 1999 when he won the NL MVP.
The award came after Jones became the first player, according to Sports Illustrated, to hit .300 (.319) with 100 runs (116), 40 doubles (41), 40 homers (45), 100 RBIs (110), 100 walks (126) and 20 stolen bases (25).
Overall, his career numbers are irrefutable. The guy is just phenomenal.
His 459 dingers are most in Atlanta history, and has the second most RBI and games played of any Braves player ever behind Hank Aaron.
Jones has also played in seven All-Star games.
He hit higher than .300 10 times in 18 years and as high as .364 at age 36. At one point the switch-hitting Jones was averaging .304 right-handed and .304 left-handed.
Loyalty
A lifetime .300 average and 450-plus home runs put him in the ranks of just 10 others who retired with such success.
The only players to do so with one team are Lou Gehrig, Ted Williams, Stan Musial and Mel Ott, none after 1963.
His allegiance is best described by well-known writer Tom Verducci, who called him "the epitome of loyalty."
Perhaps Chipper himself can explain (via Sports Illustrated):
"Having been born in this organization and grown up in this organization, this is the only organization I know," Jones said. "I would certainly love nothing more than to start my career here and finish here...It's all about where you're the happiest, and I'm happiest here."
Jones said that upon signing a six-year extension early in the 2000 season, not long after he won the 1999 MVP. The contract gave Atlanta two more years of control at the club's option, and deferred $4 million at zero interest.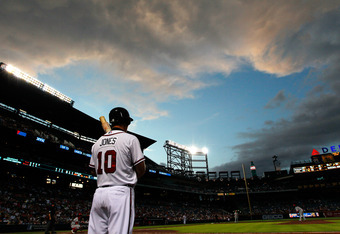 Kevin C. Cox/Getty Images
His next extension came in 2005, on the heels of a year when he missed significant time. Jones decided to change his contract to save Atlanta as much as $15 over three years so the team could make other moves. He made a similar move again in 2009, to take less money. Again, Chipper knows best:
"Certainly, I want to be compensated fairly for what I do, but ... I never wanted to be a player who makes so much money that we can't stay competitive on the field," Jones said after his 2009 extension. "That was my main concern."
That sort of loyalty alone makes Jones a childhood hero.
Likeability
Whether fans cheered Jones purely for his heart or purely for his hitting (though many did for both), Chipper has been loved throughout Braves Nation.
The numbers and the consistency go a long way in making Jones the most unforgettable Brave since Hammerin' Hank.
On the stats side, Jones has MLB's third highest Wins Above Replacement, trailing only Alex Rodriguez and Albert Pujols.
As for dedication, Jones had this to say at his retirement announcement:
"I'm very proud that for 23 years I've donned one uniform—the red, white and blue of the Atlanta Braves," he said (via MLB.com).
One example of the personality Jones brought to the clubhouse came at the 2000 All-Star Game at Turner Field. In the third inning, a solo shot by Jones put him in the company of just a dozen others: hitting an All-Star homer in his home park.
"It was awesome," Jones told David O'Brien of the Atlanta Journal-Constitution. "I mean, it's every little boy's dream."
Jones is working to make other kid's dreams with his eponymous charity.
For the past six years the Chipper Jones Family Foundation has donated money toward, among other things, repairing and refurbishing youth ballparks in Georgia and his native Florida.
No matter what Jones does, for youth baseball and everyone else in the Southeast, there will never be another Chipper.