Devils vs. Rangers: Eight Reasons New Jersey Will Bounce Back in Game 2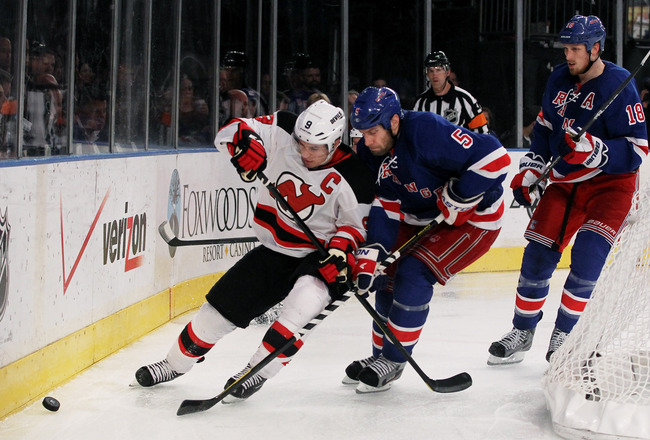 Bruce Bennett/Getty Images
The New Jersey Devils came into the conference finals averaging three goals per game in these playoffs. On Monday night against the Rangers, they could not manage one.
New York took Game 1 by a score of 3-0, with goalie Henrik Lundqvist notching his second shutout of the postseason.
Through the first two periods of the contest the teams played quite evenly. However, New York exploded for three goals in the third frame.
The Devils' resilience will be put to the test in Game 2 as they look to respond and even the series in Madison Square Garden.
Here are eight reasons to believe New Jersey will bounce back to their winning ways in Game 2 tonight.
Marty Is Making Big Saves
Until the third period of Game 1, Martin Brodeur matched Henrik Lundqvist save for save.
Brodeur came up with several big saves, including a desperation glove stop against New York's Marc Staal midway through the third period that challenges for best of the playoffs thus far.
If Brodeur can continue to bail his team out and the Devils offense can awaken, then they should see more success in Game 2.
Rangers Have Trouble Winning Back-to-Back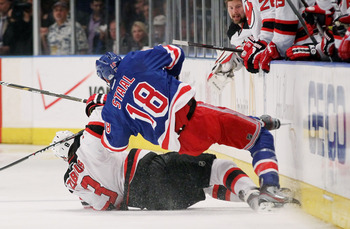 Bruce Bennett/Getty Images
The Rangers have won all three of their series openers in the playoffs thus far.
However, they have not been able to replicate that kind of success in Game 2, as they have lost both times when attempting to take a 2-0 series lead.
As a matter of fact, New York has only won consecutive games in a series once so far in these playoffs.
If this trend of inconsistency continues for the Rangers, look for New Jersey to take the W Wednesday night.
Hasn't This Happened Before?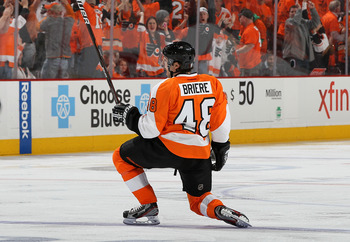 Jim McIsaac/Getty Images
This is not the first time the Devils have dropped a Game 1 in these playoffs while being outplayed.
The Philadelphia Flyers took Game 1 of the Eastern Conference Semi-Finals with a 4-3 victory in overtime in a contest that was not as close as the score would suggest.
However, New Jersey regrouped for Game 2 and ended up taking the next four games, eliminating Philadelphia from the postseason.
I would argue that the Devils played much worse in that series opener than they did against New York in Game 1.
Look for the Devils to come out poised to even the series tonight, just as they did against the Flyers.
New Jersey Will Play a Complete Game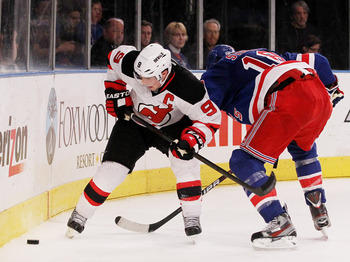 Bruce Bennett/Getty Images
The Devils and Rangers were somewhat even through the first two periods of play in Game 1.
Neither team managed to score and the shots were very tight—New York held a 18-17 advantage.
However, it seemed that once the third period began, New Jersey's play declined. The Rangers outshot the Devils 10-4 in the final frame and outscored them three goals to none.
New Jersey will have to put forth a consistent effort for all 60 minutes if they hope to beat the Rangers.
You can believe Devils head coach Peter DeBoer will have his players well-conditioned and ready in Game 2 once the third period comes around.
Forecheck!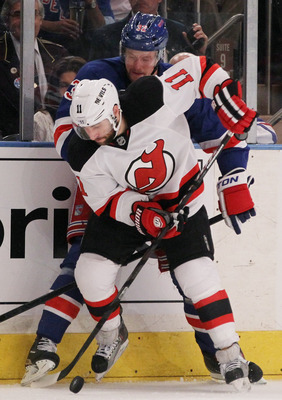 Bruce Bennett/Getty Images
The New Jersey Devils' vicious, unrelenting forecheck has been the staple of their game so far in these playoffs.
The strategy gave Philadelphia's defense fits in the second round and attributed to the Devils eliminating the Flyers in such a swift fashion.
At points during Game 1 against New York, New Jersey's forecheck seemed very effective; however at other times it looked nonexistent.
In order for the Devils to have success in the offensive zone they must get their forecheck going at full speed against the Rangers' young defensive core.
Get Physical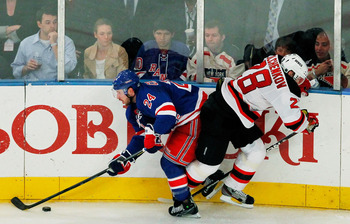 Paul Bereswill/Getty Images
It's safe to say that in Game 1, New York overpowered the Devils.
The Rangers had a 35-21 advantage in hits.
In Game 2, this will not be the case. New Jersey will begin to match the energy and weight being thrown around by their crosstown rivals.
Look for players like Anton Volchenkov or Bryce Salvador to attempt to set the tone early with a big hit.
They Will Strategize Against Lundqvist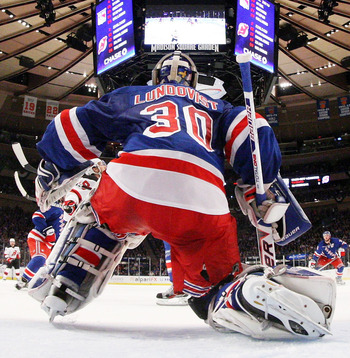 Bruce Bennett/Getty Images
Henrik Lundqvist may be the best goaltender in the league right now, but he is beatable.
The most effective way to beat the 30-year-old is, well, to keep trying.
New Jersey must shoot the puck at least 30 times in order to beat Lundqvist successfully.
Twenty-one shots is not going to cut it against the Swedish net-minder, as the Devils learned in Game 1.
It is widely known that Lundqvist is terrific when moving from side to side in the crease, however many teams have had success against him by shooting high or shooting through a screen.
The Devils will come out shooting from all angles in Game 2 as they look to identify a weakness in the All-Star goalie's game.
New Jersey Is Resilient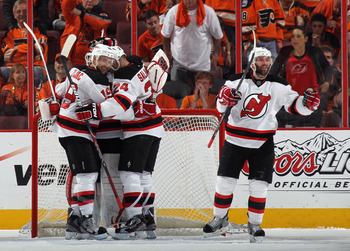 Bruce Bennett/Getty Images
By my count, New Jersey has been "up against the wall" three times so far in these playoffs. Games 6 and 7 against Florida and Game 2 against Philadelphia.
Against Florida, New Jersey faced elimination in back-to-back games, but they managed to win both in dramatic overtime fashion.
Also, many would have viewed a Game 2 loss after a Game 1 defeat against Philadelphia as basically a death certificate for the Devils. New Jersey won Game 2 of that series, scoring all of their goals in the final period.
New Jersey will be feeling the pressure once again against New York in Game 2. Another loss to the Rangers will put the Devils in a 2-0 hole against their rivals, a hole that will be pretty difficult to climb out from.
With the pressure on, New Jersey's stars will come out to play. Look for either captain Zach Parise or leading scorer Ilya Kovalchuk to leave their mark on a Game 2 victory.
Keep Reading

New Jersey Devils: Like this team?