Stanley Cup Playoffs 2012: Chris Kreider Comes Through Again for Rangers
May 16, 2012

Paul Bereswill/Getty Images
Chris Kreider is making this NHL stuff look almost easy.
The rookie from Boxford, Mass. outraced the New Jersey Devils' defense to a loose puck on the right wing boards in a scoreless third period on Monday night at Madison Square Garden and swung a pass back to the right point for an onrushing Dan Girardi, who slapped it home to give the New York Rangers a lead they would not relinquish.
Minutes later, Kreider, a two-time NCAA national champion from Boston College, broke over the Devils' blue line and snapped a quick, unscreened shot past future Hall of Famer Martin Brodeur to put New York up 2-0, and put Game 1 of the Eastern Conference final to rest.
It was much like Kreider's first career NHL goal in the first round against Ottawa, when he fired one home from the left circle past Craig Anderson for the eventual game-winner. Or in the next round, when he slapped a puck past Washington's Braden Holtby, also for a game-winner. His goal in Game 1 against New Jersey was much the same, except it didn't stand up as the game-winner because the Devils couldn't score at all that night.
That's not to say everything has been roses for the former BC forward since he turned pro shortly after leading the Eagles to their second national title in three years. Kreider saw much of the latter stages of the Capitals series from the bench after his gaffe in Game 4 in a 3-2 Caps win. His failed clearing attempt along the boards led directly to the game's opening goal by Alex Ovechkin and earned Kreider some sitting time, as he played just under seven minutes in Game 5, and just over six minutes in Game 6.
"The last thing I want to do is settle in," Kreider said to The New York Times. "I don't want to get complacent, especially at this level. If I get complacent, next thing I know I'm minus-two and giving Ovechkin a one-timer in the slot. I have to stay extremely mentally focused."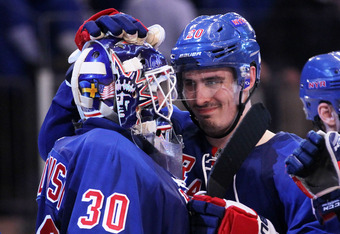 Bruce Bennett/Getty Images
He got more than 13 minutes of ice time in the deciding seventh contest, ending up a minus-one with three shots and one hit as the Rangers finally eliminated the Capitals.
On Monday night, Kreider had 21 shifts in more than 15 minutes of play while tallying two huge points. He also finished plus-one with three hits, while scoring on his only shot. Along with 21 saves by Henrik Lundqvist ,and 26 blocked shots in all by Rangers skaters, Kreider was one of the biggest reasons why New York now has a one-game series lead over cross-river rival New Jersey.
"It is electrifying watching him do this, figure things out like this on the fly," said BC head coach Jerry York, who helped mold the former first-round draft choice into a more complete player, to the New York Daily News. "Not just figure them out, but do it on a team like this, in the media capital of the world."
Kreider, 21, who played with professional players at the previous two World Championships, seemed to be readying himself for the NHL even as BC was making its run toward its fifth-ever national title, and third NCAA crown in the last five years.
He scored both goals in a 2-0 preliminary win over Air Force at the NCAA Northeast Regional in Worcester, Mass., which prompted Air Force head coach Frank Serratore to joke, "Where's he (Kreider) going to be in three weeks—New York?"
Kreider then had one goal in a 6-1 semifinal win over Minnesota at the Frozen Four in Tampa, before the Eagles topped Ferris State in the national final.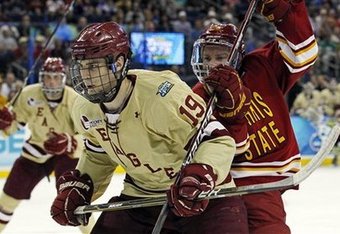 More than that, Kreider used his size (6'3", 225 lbs), shot and speed to create even more opportunities for himself. He started shooting from far out rather than skating all the way in, even if he had the room, likely because he knew he wouldn't have the same time and space to get off that same shot in the NHL—and certainly not in the Stanley Cup playoffs.
Three quick-strike, long-range goals later for the Rangers, all of them important ones, and it seems that Kreider's putting those self-taught lessons to good use.
"He's always had the requisites," added York. "He's strong, fast, can hit, can skate, can shoot the puck. And, on top of all that, it looks like he's made for the big city, doesn't it?"
And to think that he still had one year of college eligibility to go before signing with the Rangers in April. Opposing schools in Hockey East, BC's conference, are surely breathing a sigh of relief that Kreider won't be back for his senior year at the Heights.
Now it's just the Devils who have to deal with him.