5 Most Overpaid, 5 Most Underpaid College Football Coaches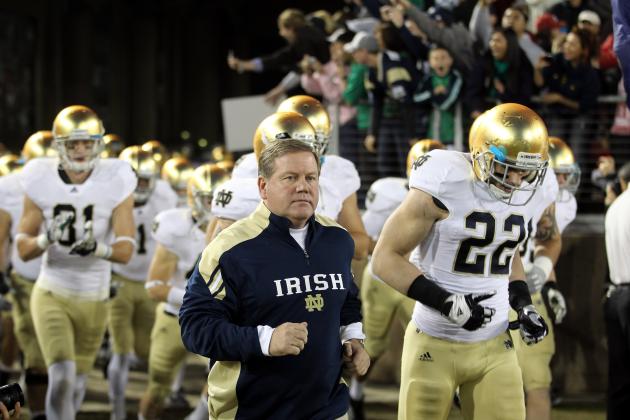 Ezra Shaw/Getty Images
Does Brian Kelly's performance at Notre Dame thus far warrant him making a reported $3 million per season?
With every day that passes, college football is a business that is growing at a lightning-fast rate.
While most of the financial noise surrounding the game is centered around the astronomical television contracts that have recently come to light, quietly, coaches' salaries are climbing at a similar pace. Alabama head coach Nick Saban has ascended to the top of the ladder and joins Mack Brown of Texas as coaches with salaries north of $5 million per season.
However, in a race to stay competitive in the market for quality coaches, some schools may not be getting the most bang for their bucks, while others are enjoying bargain rates and winning big at the same time.
So which coaches are being overpaid and which of them deserve a raise?
Here are the five most overpaid and the five most underpaid college football coaches.
Begin Slideshow

»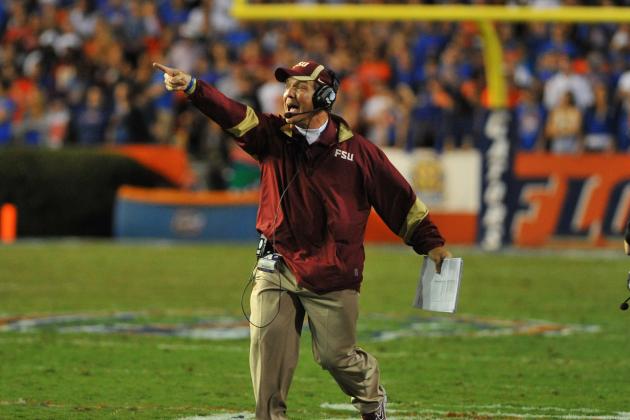 Al Messerschmidt/Getty Images
Fisher is the top earner in the ACC despite failing to lead FSU to a league title or BCS bowl berth.
Jimbo Fisher's $2.75 million salary makes him the ACC's top earner, which places him above five coaches in the league that have led a team to a BCS bowl appearance (something Fisher has yet to do at Tallahassee).
Fisher has guided FSU to a respectable 19-8 record in two years (only 12 teams nationally have won more games in that span), but the harsh reality is that his record is viewed as an underachievement thus far.
Considering the way he has recruited and a favorable outlook for the upcoming season, a lot of doubts could be erased if FSU ends its ACC title drought this year.
However, until then, Fisher has work to do to rationalize the hefty paychecks he's currently receiving from the university.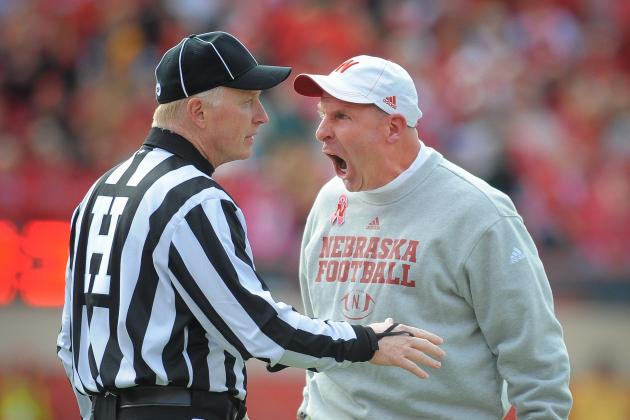 Eric Francis/Getty Images
Pelini is paid among the top 15 coaches in the nation despite losing four games in each of his four seasons in Lincoln.
Pelini has produced at least nine wins in each of his four seasons in Lincoln—yet each year ended with four losses, and a 38-16 record overall.
Those numbers aren't terrible, but they aren't fitting for a coach earning a yearly salary ($2.78 million) that places him among the top 15 highest paid coaches in the country.
While Pelini deserves credit for stabilizing the Cornhuskers program after the debacle that was the Bill Callahan era, the fact that he makes as much or more than four of the coaches that won BCS conference titles in 2011 seems a bit odd.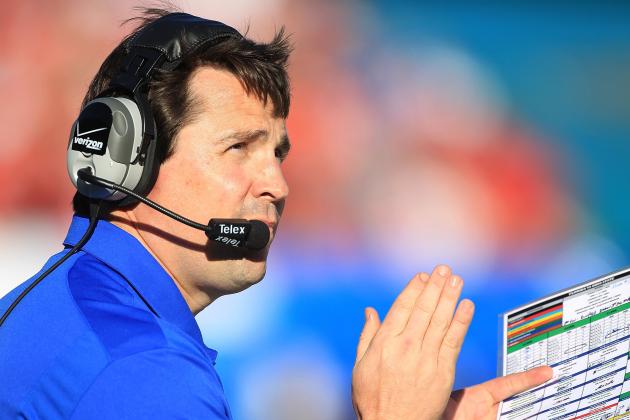 Scott Halleran/Getty Images
Despite strenuous circumstances, Muschamp's six-loss debut makes his $3.2 million salary look like a poor investment to this point.
Granted, Will Muschamp's inclusion on this list may be unfair given that's he's only roamed the sidelines in the swamp for one season.
Muschamp's $3.2 million salary is more of a product of coaching at one of the nation's top programs, but going 7-6 in his first season does not warrant him being one of the 10 highest-paid coaches in the nation.
To his credit, Muschamp has remained headstrong despite being faced with the impossible task of succeeding Urban Meyer's results while trying to clean up the mess made in the wake of his sudden departure.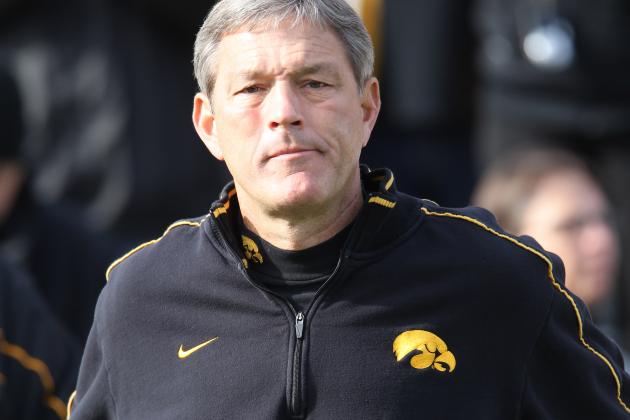 Reese Strickland/Getty Images
Ferentz commands $3.78 million per season, which places him in the top 5 earners amongst college football coaches.
Ferentz is unquestionably a quality head coach, and he deserves to be paid amongst the top coaches in the NCAA.
That said, the only coaches that rake in more money than his $3.785 million per year figure are names like Nick Saban, Mack Brown, Bob Stoops and Urban Meyer—each of whom have national titles and multiple BCS bowl victories on their resumes.
Ferentz' two BCS bowl appearances and two Big Ten titles over his 13-year career in Iowa City are impressive. But that's awfully similar to what Wisconsin's Bielema has been able to accomplish in half the time and at a considerably lower price.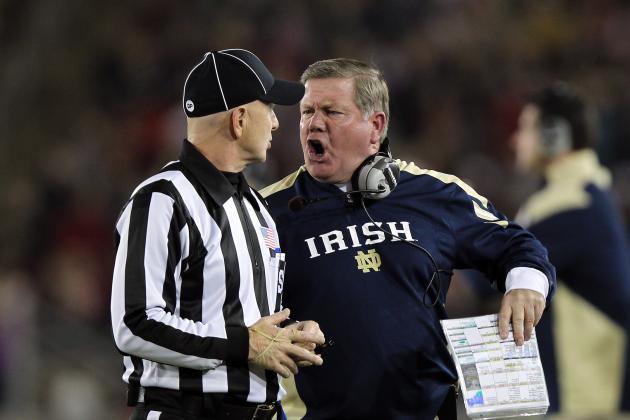 Ezra Shaw/Getty Images
Just two years into his tenure in South Bend, Kelly has work to do to justify his $3 million per year salary.
Brian Kelly is the latest head coach trying to stabilize Notre Dame's once proud program, but a pair of 8-5 seasons have done little to ease the doubts emanating from the throng of the Fighting Irish supporters.
Kelly is reportedly making $3 million per year, which would place him in the neighborhood of college football's 10 highest-paid coaches.
While Kelly has made strides in upgrading the talent currently flocking to South Bend, his pay grade requires those fixes to be made sooner rather than later.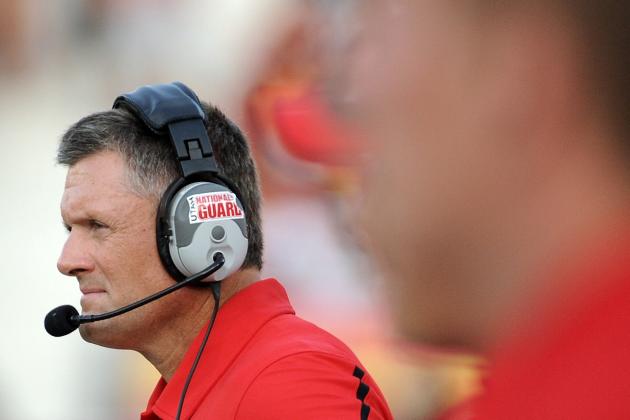 Harry How/Getty Images
Whittingham has taken a program built by Urban Meyer and elevated it into a consistent winner.
Since Whittingham took over for Urban Meyer back in 2005, he has led the Utes to a 66-25 record and was named the national coach of the year in 2008 after guiding his squad to a 13-0 record and a 31-17 victory over Alabama in the Sugar Bowl.
Despite finishing 8-5 last season in Utah's inaugural year in the Pac-12, Whittingham managed to earn his sixth bowl victory in seven tries with a 30-27 win over Georgia Tech in the Sun Bowl.
Whittingham's latest raise will net him roughly $2 million per season, placing him in the middle pack of his Pac-12 peers.
Considering Oregon's Chip Kelly and newly hired Rich Rodriguez at Arizona are the only other coaches in the conference with BCS bowl victories on their resume, Whittingham deserves to be paid amongst the top tier of coaches in the Pac-12.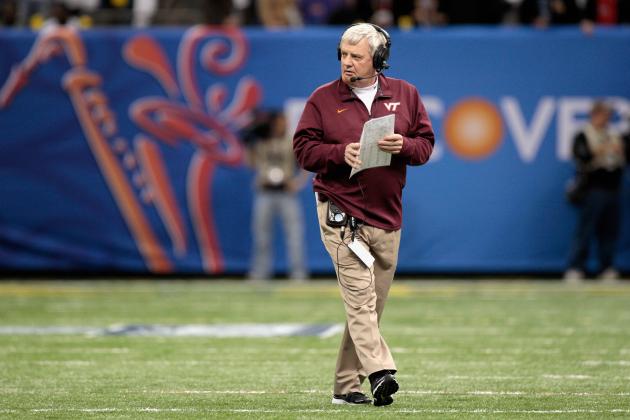 Chris Graythen/Getty Images
Considering how Virginia Tech has dominated the ACC, Beamer deserves to be the league's top paid coach.
With the late Joe Paterno no longer roaming the sidelines at Penn State, Frank Beamer is now the longest tenured head coach in the country, with this upcoming season being his 26th in Blacksburg.
Amongst active college football coaches, Beamer trails only Oklahoma's Bob Stoops (eight) in BCS bowl game appearances (six).
Beamer has led the Hokies to four conference titles since moving to the ACC in 2004, yet he's only the fourth highest paid coach in his conference at slightly less than $2.3 million.
The Hokies have been the class of the Atlantic Coast, and even though they have only won one of their six BCS bowl games, Beamer—at the very least—deserves to be the top paid coach in the conference.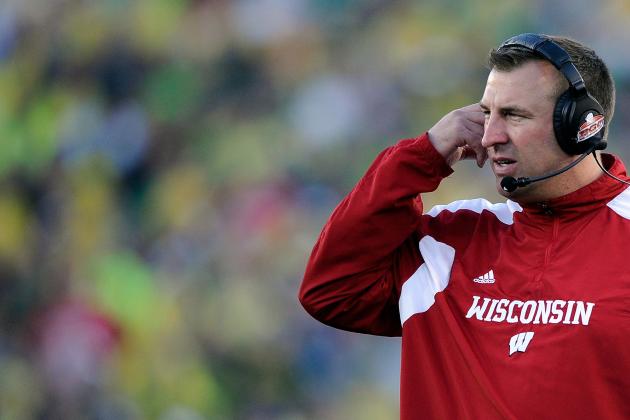 Kevork Djansezian/Getty Images
Bielema has elevated the Badgers program into a consistent powerhouse.
All Bielema has done since taking over for Barry Alvarez six years ago is go 60-19, which includes winning the last two Big Ten titles and making consecutive trips to Pasadena for the Rose Bowl.
His $2.5 million annual salary makes him the Big Ten's fifth-highest paid coach. But aside from the newly hired Urban Meyer at Ohio State, Bielema's credentials equal or better the likes of the other three coaches (Kirk Ferentz, Bo Pelini and Brady Hoke) in front of him on the pay ladder.
Wisconsin has become a program that has ascended onto the national stage during Bielema's tenure in Madison, so it's only right that his pay should reflect accordingly.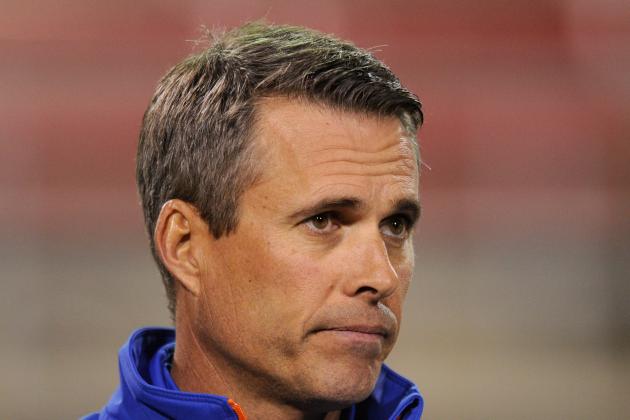 Ethan Miller/Getty Images
No coach has won more games than Petersen since he took over the Broncos program six years ago.
Petersen recently agreed to a five-year extension to stay in the land of the blue turf that will average roughly $2 million per year. That place him outside of the top 20 highest-paid coaches in the country.
That's not too shabby. But considering he has won 73 of his 79 contests, that figure is grossly under fair market value.
It also means that his name will undoubtedly surface every time a high-profile job opens up. And even though he has remained loyal to Boise State thus far, the thought of him moving on has to linger in the back of the minds of Broncos fans and administrators.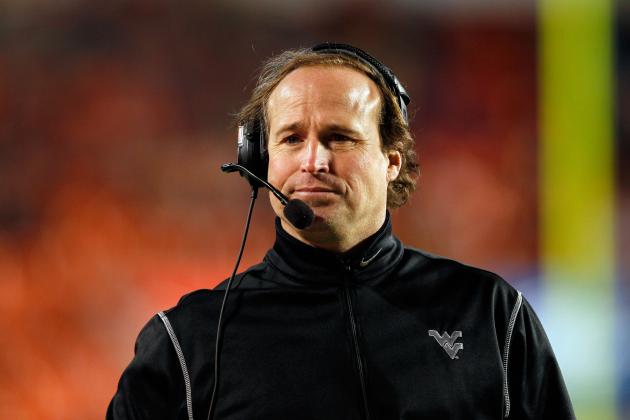 Mike Ehrmann/Getty Images
Holgorsen proved to be a huge hit in Morgantown after a wildly successful debut season in 2011.
Similar to Muschamp, a one-year sample size for Holgorsen makes his place on this list seem a bit premature. Still, a Big East title and a rousing Orange Bowl victory should qualify as a great start.
With his history in the Big 12 as an assistant at Texas Tech and Oklahoma State, Holgorsen is well prepared to lead West Virginia into the next era of Mountaineers football in their new conference home.
His deal is reportedly worth slightly less than $2 million per year, which would place him in the bottom third of the Big 12.
Should the Mountaineers hit the ground running in the Big 12, their brass would be wise to pony up the cash for one of the brightest young coaches in D-1 football.