25 Worst Things About the NFL Offseason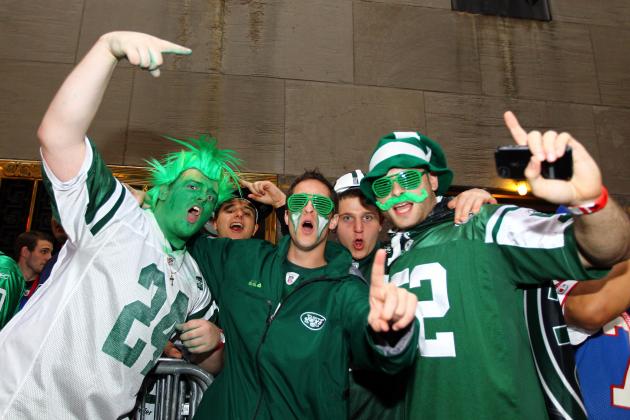 Al Bello/Getty Images

The NFL offseason is a difficult time for fans, so what better way to drown that misery than to highlight everything that makes it so terrible?
There are certain aspects that we miss about the regular season.
There isn't a handy reason to grab a beer with the buddies. There aren't any fantasy trades to discuss since there aren't any fantasy teams.
Other problems crop up due to the lack of actual football. With no action to analyze, fans must get their fix by reading all manner of articles.
On that note, click through to find the 25 worst things about the NFL offseason.
Begin Slideshow

»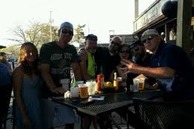 Photo via http://www.flickr.com/photos/1eyedz/7020644173/
For a large majority of Americans, Sunday is a bittersweet day. Sure, you don't work today, but you're well aware that the alarm will be set for the following morning.
If you start drinking on a random Sunday, it can be concerning. However, football games give the perfect excuse to drink away the pre-workweek blues.
People who live outside of their favorite team's market have it the best. NFL Sunday Ticket isn't cheap, so it makes much more sense to head to the local alcohol-serving facility that has the proper programming.
Coincidentally, a season's worth of bar tabs probably exceeds the price of having every NFL game in your own house.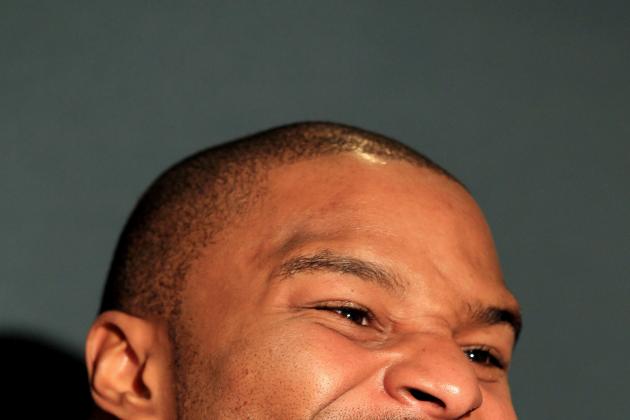 Scott Halleran/Getty Images

Players have to be ultra-competive to survive in the NFL, which always leads to some interesting exchanges. Yet, if there aren't any games, the passionate banter between squads doesn't have a natural genesis.
Osi Umeinyiora's tweet to LeSean McCoy wishing him a Happy Mother's Day was just a tease.
It's that kind of energy that pervades the league, especially when you have six days in between games to let things build.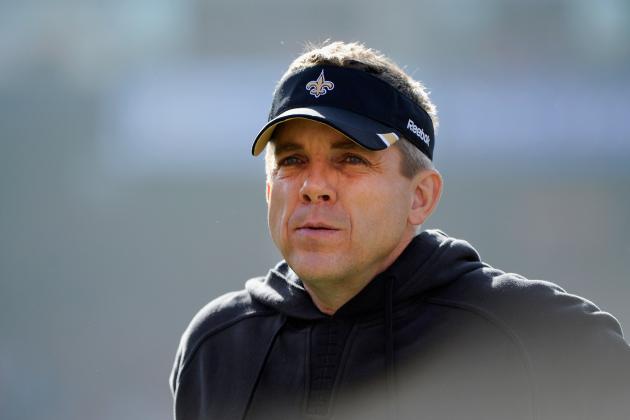 Thearon W. Henderson/Getty Images

The day-to-day activities of an NFL season provides plenty of distractions from non-football problems.
The offseason has nothing but empty chatter.
When you can't discuss how the New Orleans Saints offense matches up against the San Francisco 49ers defense, the background noise comes to the forefront.
And it hasn't been pretty.
From a bounty scandal to a growing, legitimate concern regarding repetitive head trauma, football has plenty of skeletons in its closet.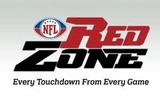 Fantasy football is a particularly important piston in the engine that drives the league's popularity. The NFL's RedZone channel is the whip cream on a piece of pie.
It isn't needed. However, once you've watched it, there's no going back.
The channel fulfills its promise to show you every touchdown from each game. It's incredible.
Plus, for those that can't afford NFL Sunday Ticket, it's a much cheaper alternative to shelling out a few hundred dollars.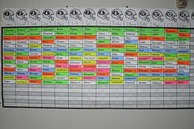 Welcome to football-nerd heaven.
Fantasy football used to be a niche activity. Now, it's an industrial monster.
The national obsession rakes in around $800 million a year and its popularity is only growing.
The draft is the kickoff to it all. Guys and gals spend weeks preparing, reading magazines, and making wish lists.
It's intoxicating.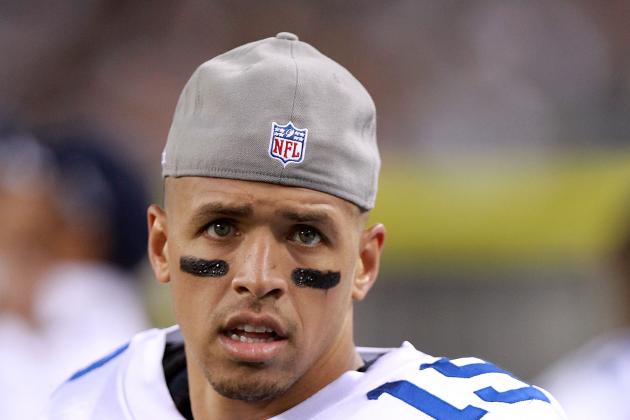 Ronald Martinez/Getty Images

Perhaps the best part of fantasy football is finding that diamond in the rough who changes the entire season. They happen every year and there's a certain sense of satisfaction in finding them.
Players like Miles Austin break out due to injuries to starters and never look back.
Everyone remembers their first lucky pick up who they rode to the championship.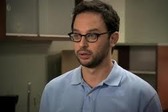 Just like the players, fantasy football addicts love to verbalize their upper hand. The only thing sweeter than finding a hidden gem is constantly rubbing everyone's face in it.
We can't help it. It's innate.
If you picked up Miles Austin for $5 one week and then rode him to the money, it's your American duty to make sure anybody within a fifty-mile radius is aware of it.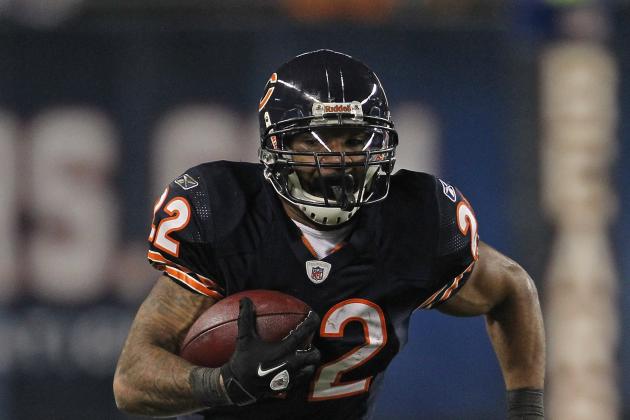 Jonathan Daniel/Getty Images

Few things are as anxiety inducing as a contract holdout by a megastar. The fans have no real insight into the negotiations and obsess over every second-hand detail.
It's demoralizing.
A fan can't fathom the thought process of the player or franchise while they're plotting how to split untold millions. All we want is to cheer for our favorite players.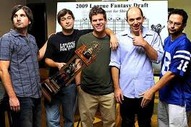 If you haven't watched FX's The League, stop reading and find the nearest streaming device. The fantasy-football centered show is phenomenal.
The show is the funniest on television and the basic premise is something that every football fanatic relates to.
Unfortunately, it only runs during the season.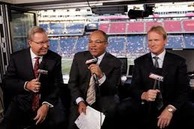 Nobody enjoys Monday.
Maybe bartenders because nobody is hounding them for a drink or their number, but that's about it.
Monday Night Football provides an excellent escape and a reason to go out on the most despised night of the week.
As if you needed any more of a reason.
Rough day at work? Undoubtedly. So head to the local tavern, grab a burger and enjoy the respite from real life.
Patrick McDermott/Getty Images

The list couldn't go much longer without at least one more fantasy football slide. The "sport" is just too large.
The crazy Monday night comeback from the dead is on par with the trash talk and waiver-wire pick ups.
Before work that morning, you were down 60 points with only Michael Vick and LeSean McCoy against the other guy's kicker. You had figured there just wasn't any way.
Then both go off for multiple touchdowns and they hit every yardage bonus. Final tally: random kicker, 3; Vick and McCoy 65.
Sweeter than Yoo-Hoo.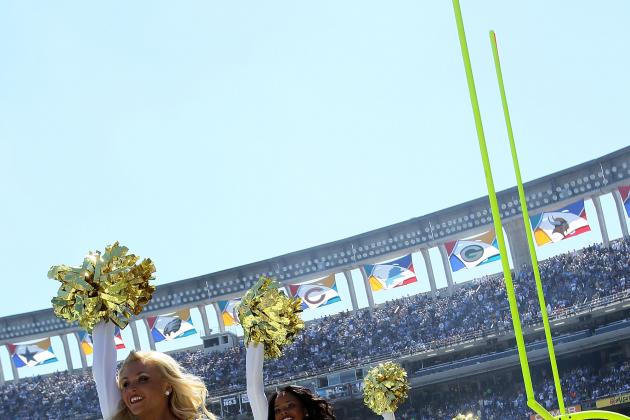 Stephen Dunn/Getty Images

Guys are pretty easy to figure out. The vast majority love bacon, beer and football.
So a girl in NFL team gear is noticed twice as often.
Guys always make mental notes when someone is wearing a team's colors. It's uncontrollable.
A girl rocking your squad's jersey? We can't help ourselves.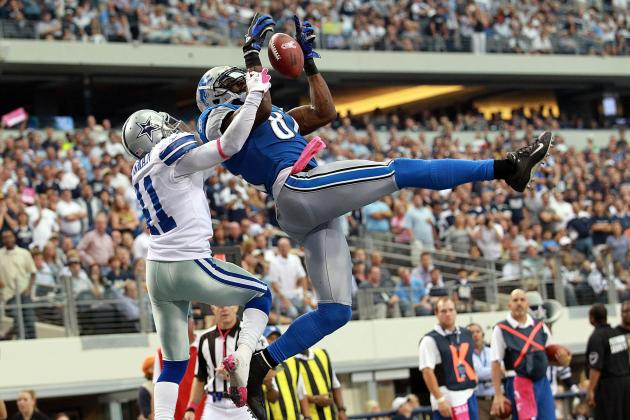 Ronald Martinez/Getty Images

Calvin Johnson is the latest prototype for unstoppable receivers. He's taller, faster, stronger and can jump higher than anyone on the field at almost any given time.
His ridiculous athleticism lends itself to an incredible array of catches. From over-the-head fingertip catches to pulling down a touchdown among three Dallas Cowboys, Johnson is something to look forward to every week.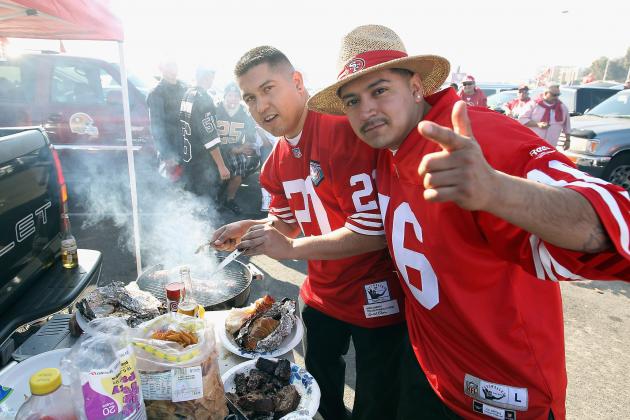 Ezra Shaw/Getty Images

Sunday morning with a beer and a brat while arguing about whether Andy Reid is a Hall of Fame coach or not. Sounds great.
Tailgating is an integral and beloved tradition in many NFL cities. They're more of an event since they're only certain to occur eight times a year.
The average American still grills out plenty in the summer, but you go all out for a tailgate while building your excitement until kickoff. It simply isn't the same.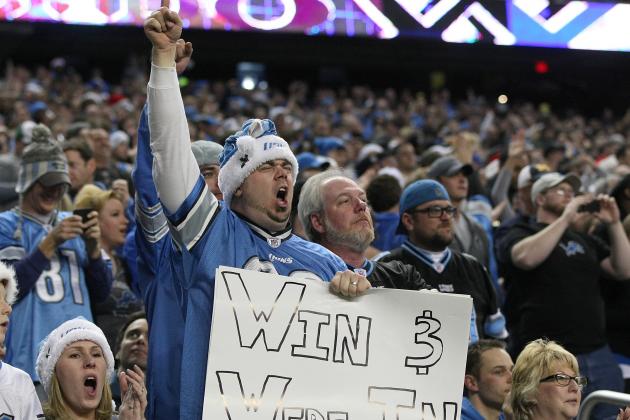 Dave Reginek/Getty Images

The camaraderie among sports fans can be glorious. When you have 50,000 people wildly excited about a common interest, there is a palpable feeling in the air of "being home."
During the offseason, the faithful will gather in small groups to watch the NFL draft, but there is little else to get excited about.
All we really want is to be among thousands of our closes friends and shake the stadium with our noise.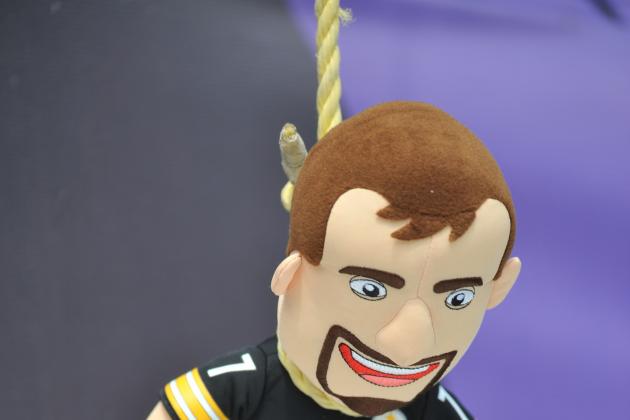 Larry French/Getty Images

There is a lot of positive energy surrounding fans and their favorite team. Those feelings are equaled only by the feelings felt for the rival team.
Green Bay Packers fans have little nice to say about the Chicago Bears, their fans, the city or Illinois in general.
Baltimore Ravens fans (pictured above) aren't exactly thrilled to welcome any Pittsburgh Steelers followers to the city.
Isn't it grand?
Running backs are being marginalized and undervalued in today's game. That hasn't stopped incredible runs from being one of everyone's favorite highlights.
There's a breathtaking quality to a run where a man refuses to be tackled. Fans of any team will re-watch the play multiple times to thoroughly bask in the glory.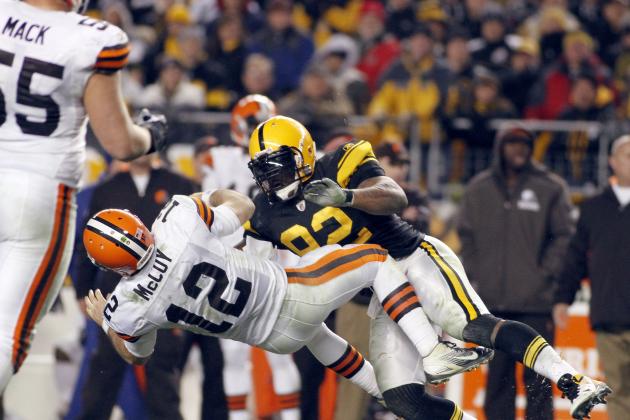 Justin K. Aller/Getty Images

The topic has become taboo due to the mounting evidence that repetitive head trauma is causing serious problems for players.
However, hitting is a fundamental part of football. The appeal of the violence releases something visceral in human beings that is embedded deep in our DNA.
The merits of a physical game versus the consequences need to be studied, understood and addressed. Yet, seeing James Harrison light someone up is invigorating.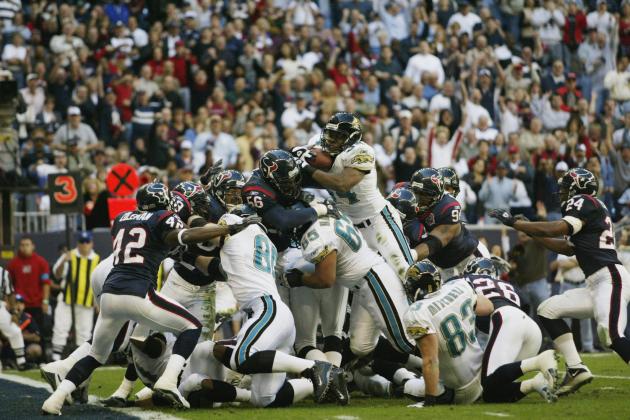 Ronald Martinez/Getty Images

When the defense turns away the opponent four-straight times inside the three-yard line, the crowd explodes. Similar to big hits and highlight-reel runs, the goal-line stand gets the blood pumping.
The tangible change in emotion is demonstrated by the required linebacker fist pump and stare down at nothing in particular.
The unfortunate reality is that few teams are driving for touchdowns in the offseason.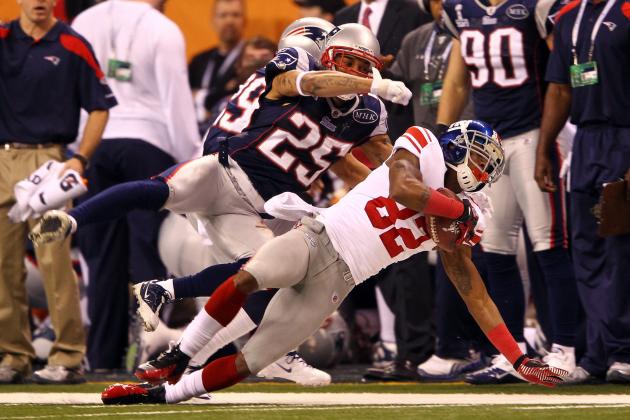 Al Bello/Getty Images

The fantasy football comeback is an amazing feeling, but it doesn't compare to watching your team change the outcome in frenetic fashion.
When they line up for the first play, you try to be positive. Yet, the long-time sports fan in you knows that the odds are long and you shouldn't get your hopes up.
You've been hurt before, so when it actually works out, the euphoria explodes in a primal yell while engaging in awkward jumping hugs with anyone in the vicinity.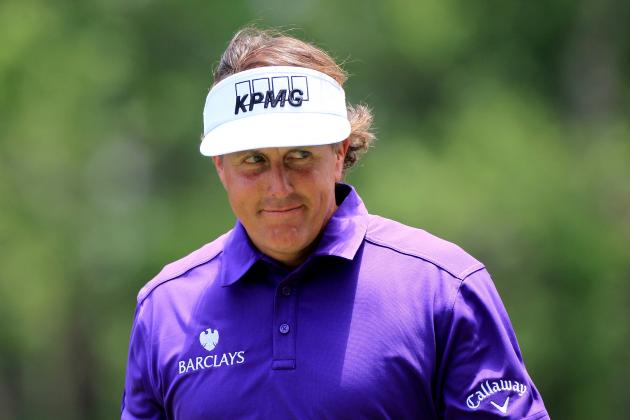 Sam Greenwood/Getty Images

The summer often feels like a sporting desert.
There are a few golf tournaments of note, but most would rather be outside playing their own round than watching strangers. The sport's "watchability" is middling at best.
Baseball can be fun, and even exciting, at times. Those times just happen to be few and far between.
The teams play 162 games, so it feels like none of them actually matter. That doesn't happen with football where each contest is a hallowed event.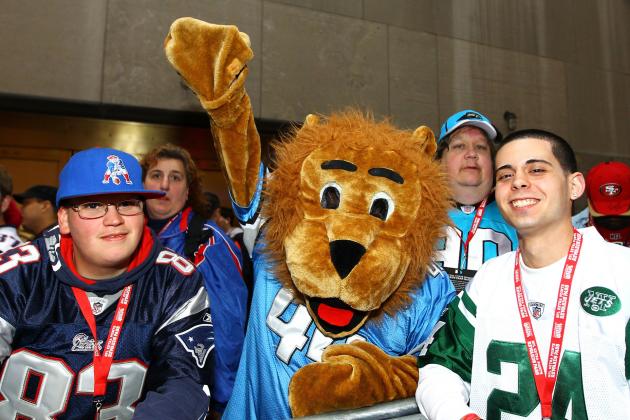 Al Bello/Getty Images

NFL fans are insane. Our collective thirst for the league is so insatiable that there is a booming industry centered around creating inconsequential content throughout the offseason.
The passion drives fans to click on any link about their team. That desire cannot be overcome regardless of how ridiculous the headline.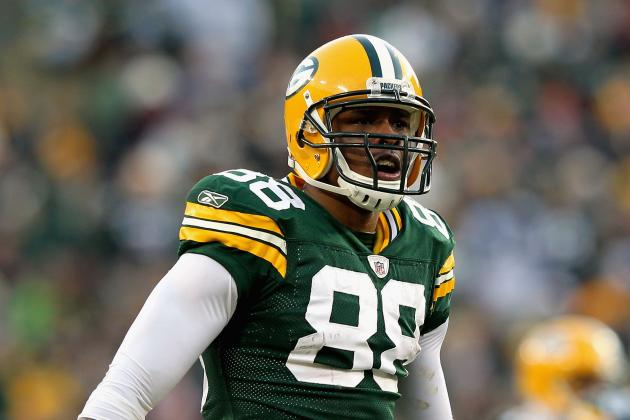 Jamie Squire/Getty Images

A derivative of the fans' need for sports writing is the ubiquity of power rankings. This certainly is not a judgment as this author is just as guilty as anyone else.
However, once the games start, there will be a real foundation for the weekly installments.
We all know the rankings are irrelevant, but they spark endless debates. They're as much a part of football these days as the forward pass.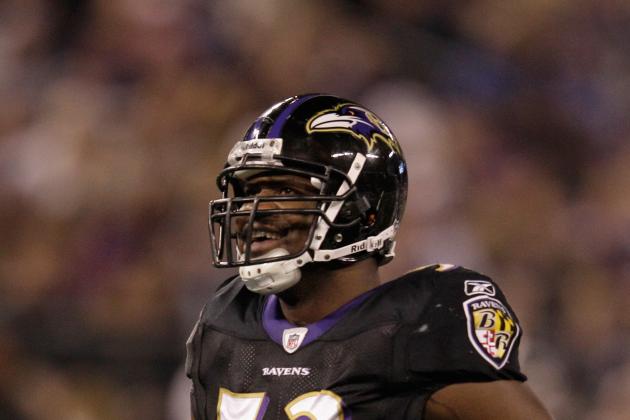 Rob Carr/Getty Images

Thursday Night Football provides the return to the college mentality.
In undergrad, the weekends started on Thursday night. After having to wait until Friday for 18 years, that realization is probably the single greatest thing about higher education.
Now that the NFL has devoted a full slate of games to Thursday night, every week will feel like a reunion.
So grab a couple 40s and some duct tape, we're kicking it old school.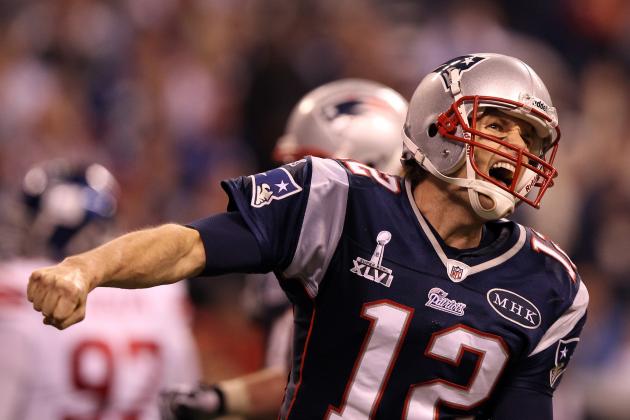 Ezra Shaw/Getty Images

This slideshow has hinted at it in every slide. Frankly, the offseason doesn't contain one game and that's downright depressing.
Yes, this is completely obvious, but it can't be ignored. The reasons all of the foregoing aspects, or lack thereof, are so terrible is because they all exist due to the games.
Come on September. We're waiting.