Australian Shooting Olympian Russell Mark Loses Borat Mankini Bet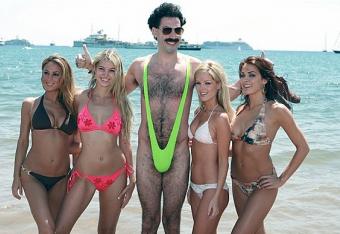 Photo Credit: The Telegraph

Olympian Russell Mark lost a friendly wager that mandates he walk into the opening ceremonies rocking a mankini ala Borat.
This story is both hilarious and a bit sad. The depressing part is that we may never get to see this bizarre scene come to fruition.
The London Daily Telegraph has a report that features one bet and a date with destiny, we hope.
It seems Russell Mark, an Australian Olympic shooting gold medalist, lost a wager to a teammate over an Australian Rules Football game.
Mark now has to wear a lime-green, Borat-style mankini during the opening ceremonies of the London Olympics.
I know what you are thinking, why would we want to see some 48-year old rock what is the fashion equivalent of dental floss?
Because it's absurd, that's why.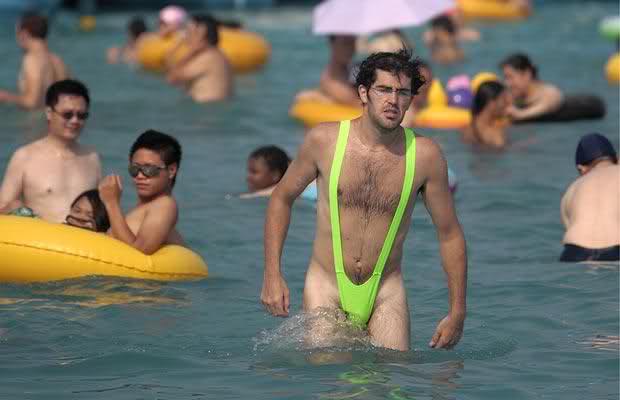 Photo Credit: Blame It on the Voices
The opening ceremonies will be filled with some nice little moments, but they are few and far between when it comes to athletes actually walking into the stadium.
The most boring part of the night would get a boost of hilarity when out of nowhere, some shooter is dressed in a mankini.
Those afraid of the Mark's gams need not worry. I seriously doubt he is allowed to go through with such a thing.
The same report cites an Australian Olympic committee spokesman who states:
Age is the problem here. Russell is no spring chicken, his days of being a model are long gone, and we don't think it would be a good look for the team to have Russell in a mankini.

Besides, this will be his sixth Olympics and he is a chance to be named as flag bearer. Imagine the flag bearer out in front of our team in a mankini. And a big, butch shooter at that.
Um, damn.
My dreams of seeing the parade of athletes be an exciting cavalcade of possibilities, we will have to settle for business as usual.
I mean, there is no way his country allows him to represent the nation in a ridiculous outfit. Right? I mean, not unless they are awesome and purely punk rock.
Please, Australia. Make this happen.
Follow me on Twitter and we can talk mankinis.
This article is
What is the duplicate article?
Why is this article offensive?
Where is this article plagiarized from?
Why is this article poorly edited?