How Kobe Bryant's Competitive Drive Will Keep L.A. Lakers NBA Title Dreams Alive
May 16, 2012

Harry How/Getty Images
Kobe Bryant's competitive drive is unlike anything we see traditionally. The "Black Mamba" has carved out a reputation of having a borderline psychotic work ethic that has led him to success at the highest level.
So why hasn't it rubbed off on Bryant's teammates in a series where the Los Angeles Lakers are playing a more talented team?
After being thoroughly embarrassed in Game 1 against the Oklahoma City Thunder, Kobe Bryant and his Lakers will look to set a different tone for the rest of the series.
The Lakers looked like a team that had just gone through a grueling seven-game series while the Thunder appeared refreshed, ready and rejuvenated after a clean four-game sweep of the Dallas Mavericks in the first round.
By halftime, the Lakers were down 15 points to a team that was outplaying them at both ends of the court, and it proved to be too deep of a hole to crawl out of for Kobe and his teammates.
This is a Lakers team that is not as good as the one that was handed a second-round exit last season.
This is a team that lost Lamar Odom and Shannon Brown from the second unit. While the emergence of Andrew Bynum has been critical for Los Angeles this season, both Bryant and Gasol are another year older. This is a new version of the Lakers, and they're a less talented bunch than they've been previously.
If this is a team that has any aspirations of getting beyond the Thunder and potentially competing for an NBA title this season, every single member of the team is going to have to dig deep down and channel their inner Kobe Bryant.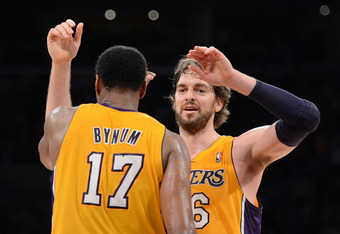 Harry How/Getty Images
I'm looking at you, Pau Gasol. I'm also looking at you, Andrew Bynum.
We see it when Bryant speaks in the huddle—he stresses communication between his teammates, playing their game and not to be intimidated by the pace of play. Acting as an assistant coach who is also the best player on the floor, Bryant is constantly in search of a way to light a fire under his teammates with the hope that they'll play an inspired brand of basketball.
Let's be honest: The Lakers need to play a near perfect game on every single night in order to have a realistic shot of winning at all this season with this roster. Los Angeles has no sixth man, is without a backup shooting guard and only has a reliable reserve for its big men because Jordan Hill finally got an opportunity to play in front of Josh McRoberts and Troy Murphy.
Despite the shortcomings of the team, Bryant still believes this is a championship-caliber team. He has to think that way to inspire his peers to play their best game every night they take the floor. Kobe understands his role as the leader of the Lakers, and his vocal leadership is something his teammates have to hear.
The Orange County Register's Kevin Ding epitomized what was missing from the Lakers in their Game 1 blowout.
The Lakers didn't come close to meeting one of the three fundamental offensive tenets Brown announced upon his hiring, the one that demands reversing the ball to the other side of the court. The Lakers saw the Thunder take away their basic options on plays, yet they never moved to their third and fourth options – no matter that Kobe Bryant reminded them explicitly in a first-quarter huddle: "Keep it moving."
Unless the Lakers heed Kobe's advice, he and his teammates are going to be heading home early for the second straight season.
Bryant will certainly do everything he can to extend his team's season, but he simply can't do it alone.
It's about time the Lakers played like every game is one step closer to the end of the line, because that's the reality of the situation.