Rick Carlisle Extension: Mavericks Coach Deserved New Deal Despite Down Year
May 15, 2012

Ronald Martinez/Getty Images
Rick Carlisle has proven himself as one of the better coaches in basketball throughout the years. That is why he deserved a new deal with the Dallas Mavericks this offseason despite their quick exit from the playoffs.
The Mavericks announced on Tuesday that they had re-signed Carlisle for four more years.
Owner Mark Cuban said in a statement, via USA Today:
"We are excited that Rick will be back with the Mavericks for at least the next four years. He is a proven winner, a great teacher and a coach that will help the Mavericks improve as a team and as an organization."
Forget the fact that the Mavericks barely held onto a playoff spot this season, entering the postseason as the Western Conference's No. 7 seed. Forget that they were swept by the Oklahoma City Thunder. This was an aging team that was destined to slow down.
What Carlisle did in his past three seasons with the Mavericks trumps this season's collapse. He led the Mavericks to three straight 50-game campaigns, accentuated by the team's championship in 2010-2011. He led them past the favored Miami Heat, proving experience and simple execution can transcend the more talented.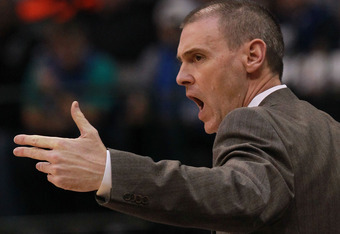 Ronald Martinez/Getty Images
Carlisle has been in the league for 10 seasons and missed the playoffs just once. This is despite coaching three different teams in the Mavericks, Indiana Pacers and Detroit Pistons.
Despite the usual cracks that he looks like Jim Carrey, he's anything but a comedian on the court, his intense demeanor evident from the moment he steps out on the court. He plans for every situation way beforehand and expects his players to execute his game plan perfectly.
Carlisle was told to work with an aging team this season, and the result was predictable—an early exit from the playoffs. But the Mavericks will have some money to spend this offseason, and you can bet they'll go after a high-profile player. Someone like, say, Deron Williams.
The reality is, if you give Carlisle a championship-caliber team, he's going to make the most of it. Cuban identified that, and Mavericks fans should be ecstatic they have the veteran coach for another four years.
Follow me on Twitter. We can talk about the NBA together.