Dirk's Sick NBA Finals Performance More Impressive Than Jordan's 1997 Flu Game
May 15, 2012

Ronald Martinez/Getty Images
When Kobe Bryant recently scored 31 points in Game 6 of the first round playoff series against the Nuggets despite a stomach illness, some pundits compared his performance to Michael Jordan's "flu game" in the 1997 NBA Finals.
I didn't see or hear of a single mention of another great sick playoff performance that happened not 15 years ago, but just last year in the NBA Finals.
And I argue that Dirk Nowitzki's performance was at least as important to his team as Jordan's was, and even more admirable considering that Dirk was leading the Mavericks against the heavily-favored Heat while MJ's Bulls were favored to beat Utah in the 1997 finals.
Another reason Dirk's performance in Game 4 of the Finals last year was more impressive than Jordan's in 1997 was that the Mavs absolutely had to win that game. If Dallas had lost, the Mavs would have been down 3-1 and would have had to play two of the final three potential games in Miami. No team has ever come back from such a deficit in the Finals to win the NBA championship, though a few have done so in earlier playoff rounds.
Had the Bulls lost to Utah in Game 5 in 1997, they still had the final two games at home. Numerous teams have rallied from a 3-2 deficit to win the title, including the Lakers in 2010.
Still another reason it was more impressive was that Dirk was fighting to overcome a playoff "loser" image to lead Dallas to its first NBA title. Jordan didn't have to play with that kind of pressure in 1997 as he had already led the Bull to four titles by then.
After Dirk's sick game, many argued that it didn't compare with Jordan's "legendary" flu game. Some claimed Dirk was not as sick as Jordan, even though Dirk's temperature reached a reported 102 during the game, about as high as Jordan's did in 1997.
Some claimed Dirk's stats didn't measure up to Jordan's. Dirk might not have matched MJ's stats, but he came relatively close. Dirk played 39 minutes to MJ's 44. Dirk scored 21 points to Jordan's 38, but Dirk out-rebounded Jordan by four. Jordan had four more assists and more steals. Both shot less than 50 percent.
Both scored the winning basket in close games and led their teams to comeback wins. Dirk's winning basket with 14 seconds left in a three-point victory capped a 10-point, five-rebound performance in the final period, as he led his team back from a nine-point deficit in the last 10 minutes.
Dirk, who also played with a torn tendon in a finger, was affected to the point that he couldn't even speak during his sick game.
Teammate Tyson Chandler put the performance in perspective: "The average person, you know, has sick days and battling 100-something (fever), it's just tough to get out of bed. This guy is playing against the best athletes in the world."
Dirk's willingness to give his all even with a 102-degree temperature seemed to inspire his teammates more than Jordan did in 1997. Chandler had probably his best game of the finals with 13 points and 16 rebounds. Deshawn Stephenson probably did likewise with 11 points while helping to limit Lebron James to 8 points. Shawn Marion had an above-average performance with 16 points, while Jason Terry scored 17.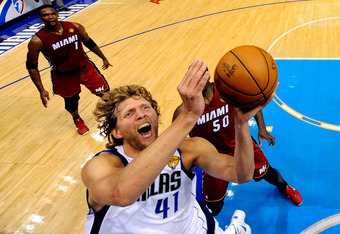 Pool/Getty Images
In MJ's flu game, Scottie Pippen managed 17 points but only shot 29 percent. Dennis Rodman had just seven rebounds and two points. About the only teammates who played at least up to their potential were Luc Longley, who scored 12 points on six of seven shooting in 26 minutes, and Toni Kukoc, who had nine points on three of five shooting and four rebounds in 24 minutes.
Jordan did get more help from teammates than Kobe did during his recent sick game, when the Lakers were blown out despite Bryant's 31 points. Bryant's failure to inspire teammates by his sick performance further shows how tough it can be to do that, even when the stakes are high.
Dirk's Game 4 performance set a tone for the Mavs' final two wins, which were not quite as close as that game. It propelled the Mavs to their first—and perhaps only—title.
That is the ultimate reason it was more impressive than Jordan's 1997 flu game. Note that I am saying it was more impressive of an athletic feat, not that Dirk outplayed Jordan statistically.
A Gatorade commercial that runs these days features Jordan hitting the winning three-point basket in his flu game and implies that drinking Gatorade had something to do with his performance. Health groups lament that the commercial wrongly encourages kids to play while ill.
But the real question is left hanging: why did Gatorade have to dig out a 15-year-old sick playoff performance when it had one from just last year?