2012 NHL Playoffs: 5 Coaches to Replace Dale Hunter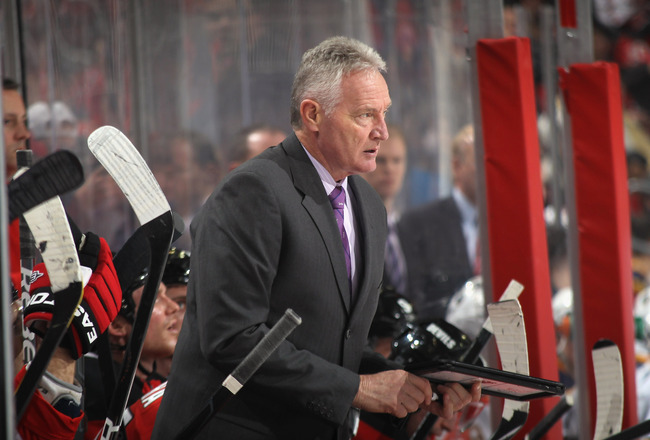 Bruce Bennett/Getty Images
Less than two days after being eliminated by the Rangers on Saturday night, the Washington Capitals were dealt a potentially crushing blow when Dale Hunter stepped down as the team's head coach.
Despite posting a rather unimpressive record during the regular season, the Caps' 14-game postseason run was more than enough to secure Hunter a contract extension, but the legendary former team captain opted to return to London, Ontario.
Now, the Caps will be moving on to their third head coach in less than a year, and George McPhee has faces the difficult task of selecting Hunter's successor.
Assuming McPhee was impressed with the Caps' play against Boston and New York, it appears likely that he'll go for a hard-nosed coach who preaches team defense and holds players accountable. With that in mind, here are five candidates McPhee should be looking at to replace Hunter.
5. Marc Crawford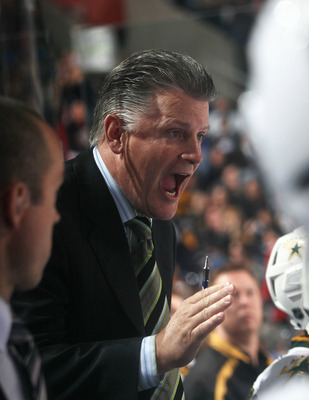 Bruce Bennett/Getty Images
Marc Crawford has been out of a job for more than a year since being let go by the Dallas Stars, but he's a proven winner who is one of the most qualified head coaches on the market.
Since winning a Stanley Cup with the Colorado Avalanche in 1996, Crawford enjoyed a successful stint behind the bench in Vancouver, and has demonstrated an ability to motivate superstar players.
Though he has a reputation for being a bit of a tyrant towards his players, Crawford would bring discipline and passion to the Capitals locker room, which may not be such a bad thing.
If the Caps were to knock on Crawford's door, the veteran bench boss would surely jump at the opportunity to get back into the NHL.
4. Adam Oates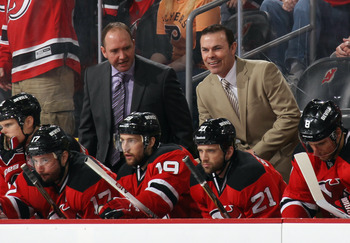 Bruce Bennett/Getty Images
Like Hunter, Adam Oates was at one point the Capitals' captain, and fans in D.C. remember him for his on-ice intelligence, vision and selfless play.
As an assistant coach with the Lightning and Devils, Oates has helped guide his teams to berths in the Eastern Conference Finals in each of the last two seasons, and has been lauded for his work with the teams' special teams units.
The Capitals could certainly use a coach who could help the team better use their offensive weapons on the power play, and Oates' resume is more than enough to earn the respect of his players.
None of the Caps' last four coaches had NHL head coaching experience prior to being hired by Washington, which bodes well for Oates, who is in his third season as an assistant coach.
Oates may not be seriously considered due to his lack of coaching experience, but McPhee must recognize that the former playmaking center is a rising star in the coaching ranks.
3. Larry Robinson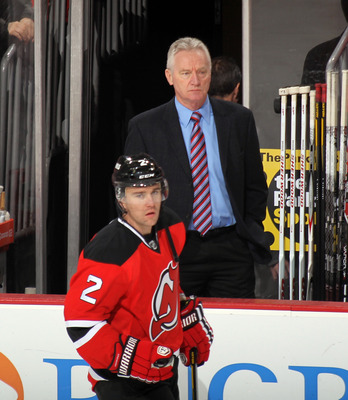 Bruce Bennett/Getty Images
As far as playing careers go, Larry Robinson has the most decorated resume of any coach being suggested for the vacancy behind the Capitals' bench.
The Hall of Fame defenseman is a proven winner as a coach as well, having guided the New Jersey Devils to a Stanley Cup championship in 2000.
As an assistant coach with the Devils, Robinson has been instrumental in building New Jersey into a defensive juggernaut, despite not having the star power on the back end they once enjoyed.
If McPhee is looking for a coach who will listen to his players and brings a winning pedigree to the table, Robinson should get a long look for the job.
Having a coach as experienced as Robinson could also benefit many of the young defensemen on the Caps' roster, which is something McPhee can't overlook.
2. Patrick Roy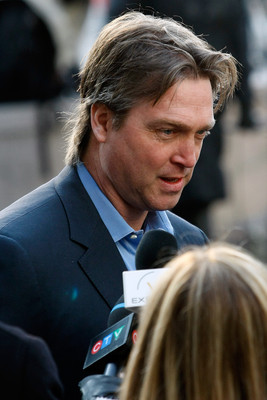 Richard Wolowicz/Getty Images
Widely regarded as a top contender for the vacancy behind the bench of the Montreal Canadiens, Patrick Roy has long been considered to be one of the top coaches in Major Junior hockey for his work with the Quebec Remparts of the QMJHL.
If the Caps were to pursue Roy, it's possible that the Hall of Fame netminder would prefer to coach the Capitals over the Habs for a couple of reasons.
First of all, Washington's team is much closer to being a contender than Montreal, and the pressure he'll feel immediately won't be anything close to what he'd face in Montreal.
Generally speaking, the odds of McPhee being able to convince Roy to leave the Remparts (who he owns as well), are longer than any other candidate on this list. Roy is comfortable with the Remparts, and it doesn't appear he's in any rush to make the jump to the next level.
With that being said, Roy said he'd listen to offers from NHL teams, so if McPhee comes calling, Roy will at least entertain the idea of coaching the Capitals.
1. Bob Hartley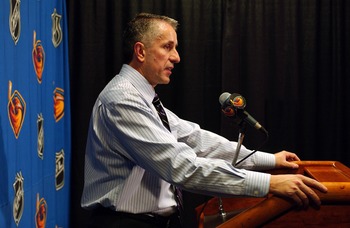 Scott Cunningham/Getty Images
Speaking of coaches with winning pedigrees, former Stanley Cup Champion Bob Hartley has been in search of his next head coaching job in the NHL after being let go by Atlanta in 2008.
Hartley is a proven winner, as evidenced by his recent Swiss League championship, in addition to the Stanley Cup ring he earned with the Avalanche in 2001.
Regarded as a soft-spoken coach, Hartley has demonstrated an ability to motivate star players, which is a quality that has to be taken seriously by the Caps' management team.
Though Hartley's been out of the league longer than most would have predicted given his success with Colorado, there are a number of teams on the market for a new voice behind the bench, and he'll garner serious consideration from at least one.
Keep Reading

Washington Capitals: Like this team?