Pacers vs. Heat: Paul George Is Key to Indiana Victory in Game 2
May 15, 2012

Gregory Shamus/Getty Images
The Indiana Pacers fell nine points short of a victory in Game 1. Reversing their fortune in Game 2 will rest firmly upon Paul George's shoulders.
The Pacer swingman scored six points, half of his season average. He was a non-factor on the glass and did not look to make enough plays for himself.
George must be better in Game 2. His lanky 6'8'' frame creates matchup problems because of the versatility that accompanies it. He can play multiple positions and defend them as well.
The Pacers cannot afford to go down two games against Miami.
George must rise to the occasion.
Star Potential
The Pacers do not have a superstar player. George, and Danny Granger, are the closest thing Frank Vogel has to work with.
While George is not there yet, he oozes oodles of star potential. A 6'8'' shooting guard with a long-range stroke and superb athleticism is a hot commodity in today's NBA. George fits every part of that bill.
Indiana needs George to realize some of his potential sooner rather than later. He cannot match LeBron James' production at this point, but he can neutralize it with some production of his own.
George's athleticism allows him to work the perimeter or post up smaller players. He has a raw array of scoring moves, but those will get better with time.
George only attempted five shots in Game 1. He must be more aggressive. George's unique skill set pose problems for Miami, and any other team for that matter.
Defensive Ability
George's lanky frame matches up well with James. James has an obvious advantage in the strength department, but George's long arms can disrupt James' jump shots.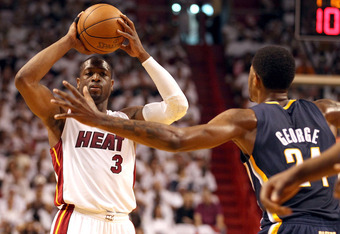 Marc Serota/Getty Images
George was a great defender throughout the 2012 regular season. He averaged over one steal per game and is a capable shot-blocker.
The Pacers need George to shutdown James, Wade or whoever else he may match up with in Game 2. Keeping Miami's star players out of the stat line is just as important as scoring the ball himself.
If George plays inspired on the defensive end, the Pacers will snatch a playoff victory on the road and even up the series. If he can't, the Pacers will face an impossible two-game deficit heading back to their home crowd.
George has struggled shooting the ball so far in the playoffs. That doesn't mean he can't contribute.