NHL Playoffs 2012: Kings vs. Coyotes Game 2: Live Score, Analysis and Reaction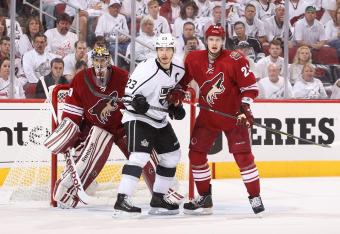 Christian Petersen/Getty Images
The 2012 NHL Playoffs roll on tonight with the Phoenix Coyotes and Los Angeles Kings taking to the ice for Game 2 of their best-of-seven series at 9pm EST with Los Angeles leading the series 1-0.
The Coyotes dropped Game 1 on Sunday night by a 4-2 score to the Kings, but the score didn't illustrate just how one-sided the affair actually was.
For all of your NHL Playoff coverage, stay tuned to Bleacher Report.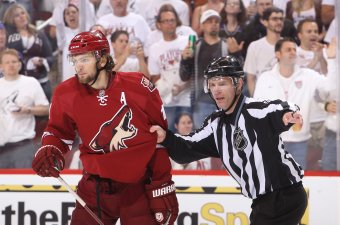 Christian Petersen/Getty Images
Post-game reactions.
This game had the makings of a great game.
That is until Shane Doan and the Coyotes literally blew up and disintegrated in front of their home fans.
The Coyotes had home ice advantage to start this series, but now must find a way to win four out of the next five, including three games in LA.
This game wasn't really close after the Shane Doan penalty.
The Coyotes were great killing penalties until the Shane Doan major provided ample opportunity for the Kings to blow out the Coyotes in every sense of the word.
This game in essence, boiled down to discipline and the lack there of.
Los Angeles got under the skin of the Coyotes, starting with goaltender Mike Smith, and moving up to the team's supposed leadership.
Shane Doan is a great hitter and fantastic leader when he plays within the rules of the game.
But the Shane Doan that played tonight was completely different. He was undisciplined; and in being undisciplined essentially gave his team permission to take liberties that should have never been taken.
The Coyotes are going to be a frustrated bunch after this game, but they have to learn from their mistakes.
They played a solid team game when they weren't being frustrated or taking five-minute major penalties for stupid things.
That's all for now, but remember to stay tuned to Bleacher Report's continuing coverage of the NHL Playoffs, the Conference Finals, and the Stanley Cup Finals.
For more article updates, Follow @isaacesmith91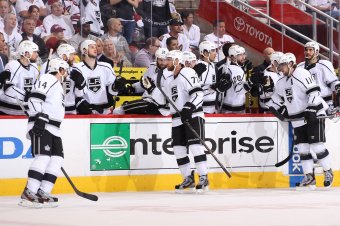 Christian Petersen/Getty Images
Apologies to Jeff Carter, the first power play goal that I had attributed to Anze Kopitar was changed to Jeff Carter's goal.
This means that Jeff Carter had a hat trick tonight, scoring three of his team's four goals.
Phoenix now goes back to Los Angeles the same way that the number one and two seeds went to Hollywood.
Down two games to none.
The pressure is really on Phoenix and this series might be done before it ever had a chance to get started.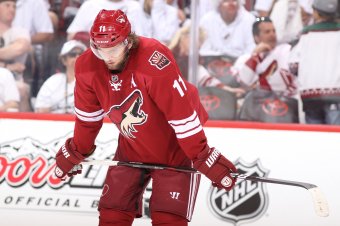 Christian Petersen/Getty Images
The Kings had better get their top players off of the ice for the remaining couple of minutes in this game.
The Coyotes' players clearly have no problem taking liberties on the Kings' players and if that hasn't been clearly evidenced by now, you likely weren't watching the game. Time to put out the third and fourth lines Coach Sutter.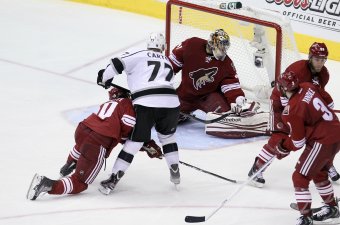 Jeff Gross/Getty Images
4-0 Kings.
The Kings have just been on the power play for too long.
Jeff Carter picks up his second goal of the game with a Johnny-on-the-spot like goal, taking a rebound goal and parking it in the back of the cage for a 5-on-3 power play goal.
Derek Morris had taken a kneeing penalty right after Hanzal's major boarding penalty.
This game has just gotten out of hand, and the Kings are still on the power play on the major.
It's unfortunate because although I was joking about the Coyotes wanting to be on the penalty kill for the rest of the game, it seems that's the attitude that they have taken.
And division rivals will be division rivals, and there will be "pleasantries" exchanged.
Just a short while later, another scrum ensues and Dustin Penner goes to the box for the Kings.
Might see some ejections here courtesy of the 10 minute misconduct rule and the game having less than five minutes left in it.
So much behind the scenes stuff, it almost makes sense why there has been so much hitting from behind and tempers flaring.
Penner and Vermette get the gate for the Kings and Coyotes respectively as the Kings have this game wrapped up.
They are going back to Los Angeles with a 2-0 series lead.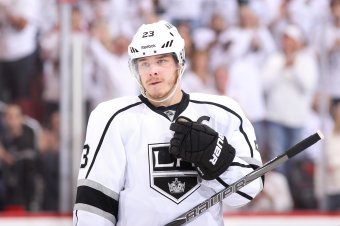 Christian Petersen/Getty Images
Wow.
Just wow.
Dustin Brown just got pushed into the glass by Martin Hanzal.
He's up and about, but that's going to be some supplemental discipline for sure.
Hanzal picks up a major for boarding and a game misconduct.
One captain gone, one assistant captain gone.
So about that leadership....
Hanzal will likely get suspended for that hit, it wasn't even close.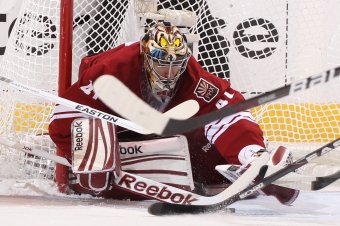 Christian Petersen/Getty Images
Mike Smith makes a fabulous save on a 2-on-1, but comes up a little bit gimpy.
Keep an eye on that potential injury (leg) for future playoff games.
Los Angeles takes another run at Mike Smith and this time they're caught for goaltender interference.
Dwight King makes no attempt to avoid the blue paint and runs Smith over.
This tactic has been used by the Kings and has been very successful in getting Smith off of his game, but it's come back to bite them now. They just have to hope their penalty kill continues to hold.
Christian Petersen/Getty Images
Start of the third period now.
Let's see if the 'Yotes can mount any kind of offense or if they have already thrown in the towel.
A comeback from down 3-0 at this point would be nothing short of a miracle.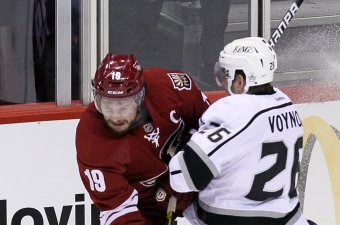 Jeff Gross/Getty Images
Second period analysis.
Although the Coyotes played a solid first 15 minutes of the second period, they could not get out of the period unscathed.
The laziness that has plagued the Coyotes in the first two periods came back to bite them on the scoreboard.
Doan took a dumb boarding penalty, assuring him that he wouldn't be back this game (and possibly miss next game as well).
As a captain of the team, Doan should know better. He's got nothing to prove and everything to lose by making the hit on Trevor Lewis.
Mike Smith, who until this point has been solid in the playoffs, lost his cool. The Kings are completely inside Smith's head now and this was clearly evidenced by the second goal he gave up to Jeff Carter.
Carter had no business scoring on the shot he took, and Smith just moved off the post and made a mental error that set off the fiasco to follow.
The once very disciplined Coyotes, averaging under 10 penalty minutes per game in the regular season and the playoffs, now find themselves with 25 penalty minutes through just two periods in Game 2.
15 from their captain, the supposed leader of their team.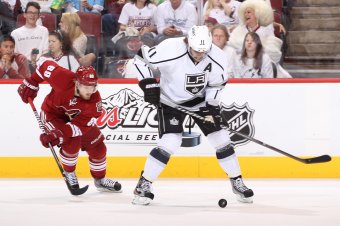 Christian Petersen/Getty Images
This game continues to get out of hand as Phoenix finally scores on the power play.
Took them a 5-on-3 to do it, and that only came around as a result of the delayed penalty to Daymond Lankow slashing penalty on the Shane Doan major for boarding.
Anze Kopitar scores for the Los Angeles Kings and they still have two and a half minutes on the major penalty as power play time.
Before the goal however, Mike Smith was taking some liberties on Dustin Brown, as he slashed him in the mid-section when he came in front of the crease.
Brown got two minutes for diving and Smith got a slashing penalty.
This game continues to go down hill for the Coyotes and the Kings continue to aggravate their opponents into taking dumb penalties.
The second period ends now with the Kings leading 3-0.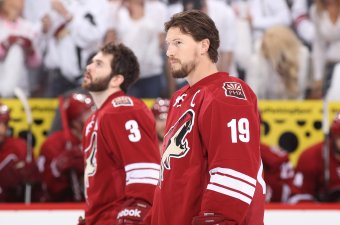 Christian Petersen/Getty Images
After the scrum, Los Angeles received a power play (Keith Yandle got two for roughing).
On the power play, Trevor Lewis gets boarded from behind by Coyotes' captain Shane Doan.
Lewis stays down on the ice for a few minutes and Doan gets a game misconduct and a major for boarding.
Not what the Coyotes needed at all, but a huge opportunity for the Kings to end their power play woes.
This play will likely result in further review from League disciplinarian, Brendan Shanahan as Doan is ilkely considered a repeat offender.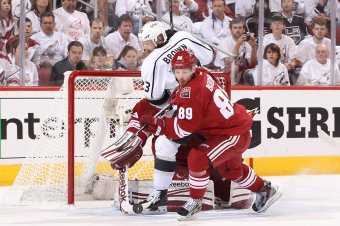 Christian Petersen/Getty Images
Coyotes now up the fore-check.
Mikkel Boedker misses a tremendous opportunity on a rush and puts it just wide of the far post with Quick sliding the wrong way.
Five minutes to go in the second period.
The Coyotes just can't seem to get a coherent breakout going as the Kings will not let them have it.
Mike Smith gets bowled over for the umpteenth time tonight, tempers flare and the players scrum in front of the net.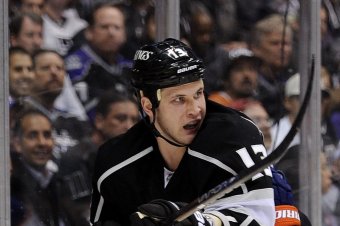 Harry How/Getty Images
n
Kyle Clifford takes a foolish penalty: holding the stick of Shane Doan.
Coyotes back to the power play to try and establish any kind of offense.
Just under 11 minutes to go in the second period.
Kings have killed 26 power plays in a row now after that last kill.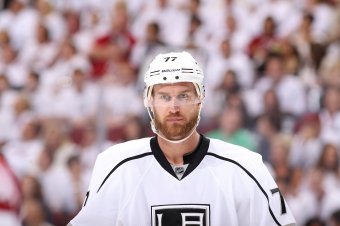 Christian Petersen/Getty Images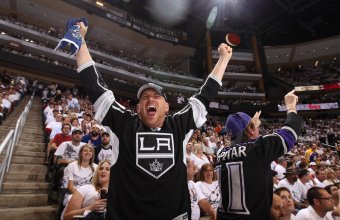 Christian Petersen/Getty Images
The Coyotes are out-chancing the Kings 5-0 in this period, but Jonathan Quick has either made saves or watch the puck go wide of his crease.
Thanks to Quick's brilliance, the Kings now have their second goal of the game, and now lead 2-0!
Make that goal Jeff Carter from Dustin Penner and Mike Richards.
Talk about secondary scoring, the Kings have it all going in that regard.
Carter beat Smith on a wiffle-ball like shot. Smith came out expecting a fastball and Carter fanned on the shot partially as he was falling to the ice, and the Kings capitalize and now have a commanding 2-0 lead.
Is Mike Smith crumbling under the Kings' pressure?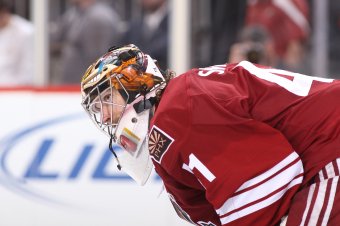 Christian Petersen/Getty Images
Start of the second period, still looks like it's casual friday as far as the Coyotes are concerned. Mike Smith tries to play the puck behind the net, waits too long and the puck comes out front of the goal with no goalie in the net.
Luckily for Smith, the Coyotes cover up.
At the other end, Jonathan Quick is keeping his team in the game, with several saves that should have been more difficult that Quick made them look.
Phoenix is outshooting the Coyotes so far 4-1, but that will have to be a consistent effort for the rest of the game if they are to have any chance at coming back in this series.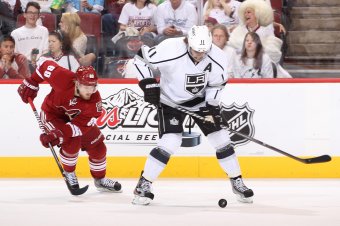 Christian Petersen/Getty Images
Thoughts on first period.
The Coyotes have simply been playing undisciplined hockey.
Although dominating the face-offs (17-9), the Coyotes have given the puck away twice.
The Coyotes do have four takeaways in the first period, but their blunders (Roszival tripping on the puck etc.) are coming back to haunt them.
Mike Smith faced 15 shots in just the first period.
He made 44 saves on 47 shots (and an empty net goal against) in Game 1, and if you remember my prediction I said that there's no way the Coyotes win this game if they give up 35 shots or more.
The Kings have been capitalizing on their scoring chances and have been very opportunistic through one period of play.
Los Angeles still needs to clean up in front of their own net, as they are allowing too many wide open scoring chances to Phoenix.
This game could easily be tied at 1, or even 2-1 Phoenix. Jonathan Quick has the confidence of his team mates, and he is playing as such.
It will be interesting to see what the Coyotes do to tweak their game for the second period and beyond; and if the Kings can in fact sustain the pressure that they put on the Coyotes in Game 1 and in the first period of Game 2.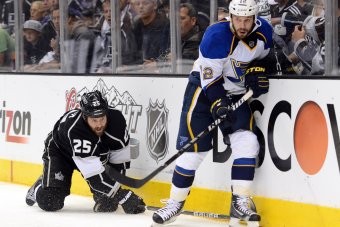 Harry How/Getty Images
Phoenix to the power play now as Dustin Penner's tripping penalty sends him to the box for two minutes.
Coyotes can't capitalize and the first intermission comes with the score Los Angeles 1, Phoenix 0.
The Kings have received a lot of flack for their power play and only scoring four goals in 53 chances now, but the Coyotes have only five goals in the playoffs.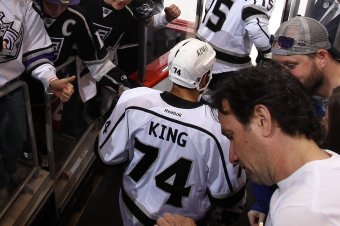 Christian Petersen/Getty Images
Scoring change on that goal, it's now being given to Dwight King (his third goal in two games of this series) assisted by Drew Doughty and Trevor Lewis.
1-0 Los Angeles on yet another power play after the Coyotes' Boyd Gordon trips Justin Williams.
Dustin Brown just absolutely demolishes Oliver Ekman-Larsson into the boards.
Phoenix kills off another Kings' power play and the Kings fall to 0-2 for the night on the man advantage.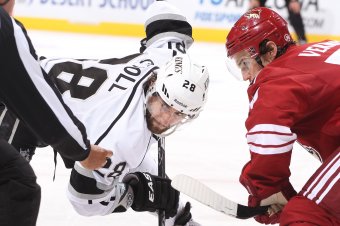 Christian Petersen/Getty Images
Justin Williams gets absolutely robbed by Mike Smith.
Roszival flubs the puck at the defensive blue line and Smith robs Williams high to the glove side.
Just seconds later, Smith can't pick up the Jarret Stoll deflection on the point shot and it's 1-0 Los Angeles!
Los Angeles is 5-1 when scoring first in the playoffs.
NHL.com is technically giving the goal to Drew Doughty on his point shot, but it was either deflected by Dwight King or Jarret Stoll in front of the net.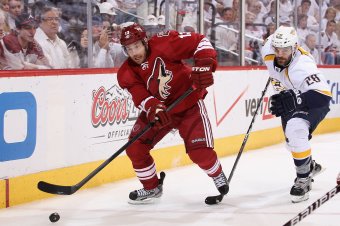 Christian Petersen/Getty Images
Phoenix kills off the Whitney minor for hooking, Los Angeles falls to 4-52 in the playoffs. Here's a thought for Phoenix. Just play the odds and take some more penalties.
Los Angeles can't seem to score on the power play, so might as well make them pay for their poor power play.
Christian Petersen/Getty Images
Looks like Mike Smith is in for another rough night. He hasn't given up a goal yet, but he's stopped nine shots already and been bumped and run into at least three times.
Phoenix to the penalty kill here after Ray Whitney goes off for hooking at 8:53.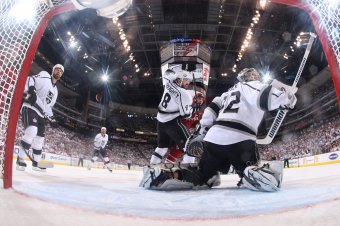 Christian Petersen/Getty Images
Jonathan Quick and Mike Smith are taking turns coming up with huge stops for their respective teams.
Quick stopped a shot from point blank after Ray Whitney stole the puck and chipped it around a Kings' forward and walked in almost untouched on Quick.
Smith one ups Quick as he robs the Kings on a point shot save with about five people in front of Smith.
Quick won't be out done, and some how keeps the puck out of the net on a mad scramble in front of the net while being down on the ice.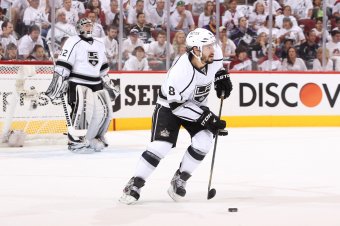 Christian Petersen/Getty Images
Derek Morris draws the ire of the crowd as he shoots one in on Jonathan Quick from center ice and Quick stops him.
The crowd laughs and claps sarcastically. 15 minutes to go in the first.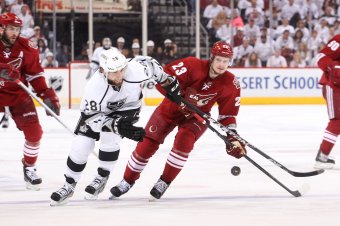 Christian Petersen/Getty Images
Couple of early chances both ways, still scoreless.
Michael Rozsival broke his stick, leading to a chance in front of Mike Smith, but Rozsival quickly recovered and pushed Kopitar down in front of the net.
At the other end of the ice, Drew Doughty got a little bit careless behind his net with the puck and it almost resulted in the first Phoenix lead of the series.
Both teams are hitting hard in the early going, we'll see which team breaks physically first.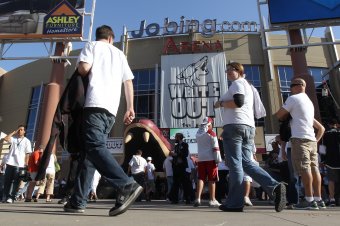 Christian Petersen/Getty Images
Just about ready to go in Phoenix. Enjoy the game everyone, the opening face-off is up next.
Expect a completely different game than Game 1; it should be a memorable one.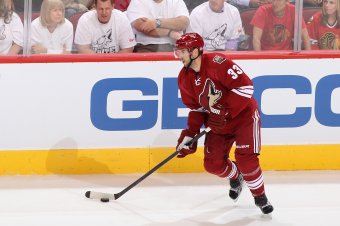 Christian Petersen/Getty Images
Per NHL's Dan Rosen, Coyotes' defenseman Adrian Aucoin was not on the ice for warm ups so unless he makes a surprise entrance. Expect either Mark Stone or David Schlemko to get the spot instead.
Adrian Aucoin is not on the ice for warmups. Mike Stone is. He could play tonight. Hasn't played in the playoffs yet.
— Dan Rosen (@drosennhl) May 16, 2012
This article is
What is the duplicate article?
Why is this article offensive?
Where is this article plagiarized from?
Why is this article poorly edited?