Matt Forte Needs to Sign His Tender and Get to Bears Camp
May 15, 2012

Jonathan Daniel/Getty Images
Heads up folks, this one's going to sting a bit.
I didn't buy into Matt Forte after his sensational rookie year. There are a lot of statistical reasons I could throw at you but to be honest, we all miss some and Forte was definitely one of mine.
I've since been impressed with his tenacity and ability, his work ethic and believe him to be nearly criminally underpaid.
That said, he needs to sign his tender and get into camp.
How can I support two seemingly diametrically opposed viewpoints?
Simple. It's in the best interests of everyone involved.
Forte is due to make $7.7 million if he signs his franchise tender. That's no chump change and both we and he know it. It's also less than he should be making overall, something again that both he and we know.
The Bears aren't budging. You suspected as far back as the end of the 2011 season but you knew they weren't budging when they signed Michael Bush to a four year contract back in March.
That wasn't a sign they were really thinking about Forte long term.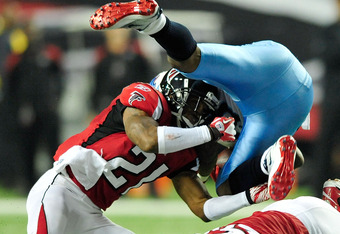 Grant Halverson/Getty Images
The fact is that as far as most teams are concerned, there are very few irreplaceable running back in the league right now, maybe less than a handful.
Chris Johnson kind of ruined it for everyone, by the way. After signing his huge contract, he laid a giant dodo egg in his next season. He got his money and coasted for a year. Every team worries their back will do the same.
Another reason that fat paycheck for Forte might not happen:
Even 'elite' backs have a hard time trying to get more money—look at Arian Foster. His contract looks much bigger than it is.
The five-year deal is worth $43.5 million, including $20.75 million guaranteed. That's a ton of cash, especially since it pays $30 million in the first three years.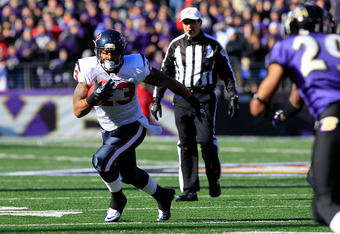 Chris Trotman/Getty Images
However when you break down the deal, it only comes to $8.7 million a year—assuming he even sees the end of the contract which players often do not. That was only the fourth highest salary by a running back in the league—to a guy who is arguably one of the, if not THE, best running backs in the game.
I like Forte but he's no Arian Foster. The market for backs is not what it was. A $7 million dollar guaranteed payday is a great deal and next year it will be untenable to franchise him again—it will simply cost too much.
There is a risk to him, of course. Forte got hurt last year and he could again. Sometimes backs who play the 'good soldier' end up hurt and screwed—just ask former Jet and Seahawk running back Leon Washington who signed his tender, showed up, did well and then shattered his leg. The Jets rewarded him with a pink-slip.
There is that risk. The thing to remember is that Forte lacks any real leverage, just like Washington, even though he's 100 times better than Washington ever was.
Bringing in Bush was the trump card for the Bears.
Forte should sign his tender and get paid now. He'll either get a bigger, long contract from the Bears after he signs or from another team next year. To paraphrase something Wes Welker recently said, he's got 7.7 million reasons to play.
If he gets the contract he wants, and gets hurt, will he get paid more? If he gets hurt so bad he can't play? No, he'll never see the rest of his contract.
Further, if he holds out and misses camp, there is a history of players ending up hurt that first season anyway. Darrelle Revis and Steven Jackson are good examples of that.
If Forte does hold out and then has to cave he runs the risk of getting hurt for less money than he wants anyway.
It sucks. I'll come right out and say it. Forte played very well for rookie money over his career, behind at times horrific lines and with no real offense to help at times.
Once upon a time, he would have been rewarded with a fat contract.
Those days are over now. The running back position is not worth what it once was for most players and every time a player gets a big payday and then does nothing (again, Johnson comes to mind), the position is further devalued.
Forte's not going to like it. I can't say I do either.
But he'll have to lump it if he wants a shot at a free agent payload in 2013.