John Danks: Chicago White Sox Lefty Takes Home AL Worst of the Night Honors
May 15, 2012

David Banks/Getty Images
John Danks has had a rough go of things this season. The Chicago White Sox lefty entered his start against the Detroit Tigers on Monday with a 2-4 record and a 5.89 ERA.
Things proceeded to get even worse.
Making his eighth start of the season, Danks was in trouble early and often. A pair of RBI doubles in the first inning put the White Sox in a 3-0 hole, and Danks quickly found himself in trouble again in the third. By the time the third inning was over, the Tigers had a 5-2 lead, and Danks had thrown 80 pitches.
White Sox manager Robin Ventura decided he'd seen enough from Danks after that, as he didn't let him go back out for the fourth.
Danks' final pitching line doesn't look so good: 3 IP, 9 H, 5 R, 5 ER, 3 BB, 0 SO, 80 P, 42 S.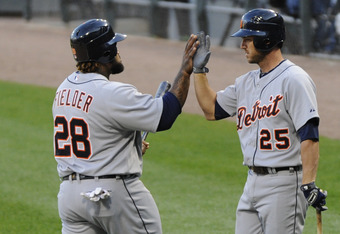 David Banks/Getty Images
The good news is that Danks managed to avoid losing the game, but he did exit it with a 6.46 ERA and a 1.61 WHIP for the season. He now owns a 5.36 ERA for his career against the Tigers.
For the record, Monday's start was the first time all season that Danks failed to strike out at least one batter.
Danks was, however, trending towards a zero-strikeout game. He lasted seven innings in each of his last two starts, but he punched out just one hitter in both of them.
I wouldn't go so far as to label Danks a strikeout pitcher, but he's having even more trouble than usual punching hitters out this season. Per FanGraphs, his K/9 is down from 7.13 in 2011 to 4.94 this year, and he's lost some fastball velocity. Not surprisingly, Danks' declining K rate is coupled with an increased walk rate and an increased opponents' batting average.
My grand conclusion: Danks is struggling this year. Go, tell the people!
After Monday's start, though, the bright side is that the only way to go is up. Danks is not an ace, but he's not a guy who is going to maintain an ERA well over 6.00 all season. He'll turn things around eventually.
For now, Danks has no choice but to wear some shame, for I am bestowing the American League "Worst of the Night" award on him. He earned it.
It's not all bad. I gave the Worst of the Night award to Addison Reed yesterday for his performance on Sunday, so at least Danks has company in his misery.
And besides, it's not like the White Sox are paying Danks all that much.
Oh...wait...never mind.
If you ever want to nominate someone for "Worst of the Night" honors, hit me up on Twitter.