Pacquiao vs. Bradley: Complete Guide to a Bradley Victory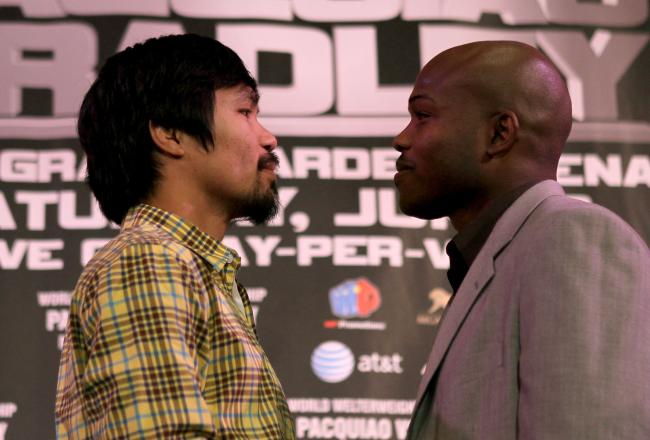 Stephen Dunn/Getty Images
Manny Pacquiao and Timothy Bradley will wage their WBO welterweight battle on June 9th at the MGM Grand in Las Vegas. Most boxing enthusiasts believe a Pacquiao victory is inevitable, but Bradley is far from hopeless.
Bradley's undefeated record needs a marquee victory. He is currently ranked No. 1 at 140 pounds, and is currently the world's No. 10 pound-for-pound fighter.
He has the power and quickness to stick with Pacquiao, but he must establish a style capable of defeating Pac Man's lethal inside-out attack.
Pacquiao is the clear cut favorite, but Bradley has a reputation of his own. The following tactics can allow Bradley to pull off the upset and catapult his career.
Establish Position
Pacquiao has not been challenged by many fighters outside of Juan Manuel Marquez. Marquez has battled Pacquiao three separate times. Marquez's footwork played a major role in these close contests.
Bradley must establish outside position to protect himself from Pacquiao's lethal attack. Defense will be the name of the game, especially with Bradley's suspect knockout power.
Pacquiao will try and keep Bradley off balance with an array of straights and hooks. Bradley must protect himself by taking away Pacquiao's space and tying him up whenever possible.
Defense and footwork will pay major dividends for Bradley, if he can stay smart.
Bradley only has 12 knockouts in 28 career contests. He must avoid a slugfest.
Take Advantage of Early Distractions
Pacquiao has to be distracted, right now. He knows a matchup with Floyd Mayweather is looming. Promoter Bob Arum told ESPN.com that Pacquiao has been a different person since his victory over Marquez.
Will Mayweather and Pacquiao ever square off?
Maybe Pacquiao's new attitude will be a good thing, but that would be hard to believe. The attitude that carryed him to titles in eight different divisions is not an attitude worth changing.
Pacquiao has political aspirations and possibly a waning interest in boxing.
This should urge Bradley to charge out of his corner in Round 1. Bradley needs to take advantage of Pacquiao's state of mind early in the fight before Pacquiao settles into fight mode.
Muck it Up
Bradley will not win this fight with a beautiful knockout. Instead, he will need to keep Pacquiao from unleashing his furious assault.
That requires Bradley to give Pacquiao less time, less space and fewer openings. Bradley needs to stay inside of Pacquiao, utilize tie-ups and stay behind his jab.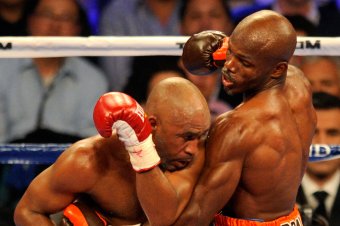 Ethan Miller/Getty Images
Bradley's jab will keep Pacquiao at a distance. Bradley's 69" inch reach will keep Pacquiao away and force him to attack from the perimeter.
Pacquiao's best punch is his straight left hand. Pacquiao will not be able to use his left if Bradley takes away space.
Bradley does not need to run and hide, but he needs to be careful. Pacquiao has considerable power and Bradley must avoid his heavy hands.
Bradley's quickness and technique will determine this fight. If he can 'muck it up', he can pull the upset on HBO's pay-per-view.
This article is
What is the duplicate article?
Why is this article offensive?
Where is this article plagiarized from?
Why is this article poorly edited?