Devils vs Rangers Game 2: New Jersey Stars Who Must Step Up to Avoid 2-0 Deficit
May 15, 2012

Bruce Bennett/Getty Images
Despite a strong forecheck and spirited effort on the road in Game 1 of the Eastern Conference Finals, the New Jersey Devils succumbed to the New York Rangers in the third period and ultimately dropped a 3-0 decision. To ensure that they aren't facing a virtual must-win situation when they get back home, the Devils need a win in Game 2.
New Jersey has surprised a lot of people during the postseason as it ousted the heavily-favored Philadelphia Flyers last round, so the Devils obviously own the key for playoff success. Unless some of the Devils' stars start playing like their contracts suggest they should, though, the Rangers could certainly take advantage and put New Jersey on the outs before it ever had a chance.
Here are three studs who will need to be at their best on Wednesday night in order to even up the series as it heads back to Newark.
Martin Brodeur
Considered by most to be one of the greatest goaltenders of all time, Martin Brodeur has experienced a career resurgence of sorts this season at the age of 40.
He held up well for the Devils against the Flyers and Florida Panthers, and he'll have to be in top form against the Rangers as well.
Brodeur was under siege for most of Game 1 and was able to stand tall until the third period when the Rangers were able to net a couple tallies.
With a goals against average barely over 2.00 and a save percentage of .921 this postseason, Brodeur has been an absolute rock between the pipes for New Jersey.
When you consider that possible Vezina Trophy front-runner Henrik Lundqvist is occupying the blue paint on the other end, that should be incentive enough for Brodeur to channel his inner youth.
If Lundqvist continues to get the better of him, then the Devils don't stand a chance.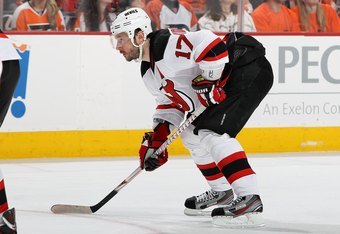 Jim McIsaac/Getty Images
As one of the highest-paid players in the league and a top-five scorer during the regular season this year, Devils forward Ilya Kovalchuk is going to have to be a major factor for New Jersey moving forward.
There aren't many players in the NHL with as much scoring ability as the five-time, 40-goal scorer, and it will need to shine brightly in a series where goals are going to be hard to come by.
Since the Rangers have four lines that are defensively responsible, Kovalchuk isn't going to have a free ride all series long. New York thrives by not allowing the opposition any space to maneuver in the offensive zone and also by closing down shooting lanes and blocking shots.
All of that is going to be very frustrating for Kovalchuk, but he needs to fight through it. As the trigger man on the power play, the responsibility to score with the man advantage will fall squarely on Kovalchuk's shoulders and he'll need to live up to his billing.
Travis Zajac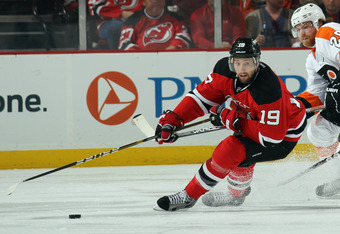 Bruce Bennett/Getty Images
Despite missing all but 15 regular-season games this year due to injury, Devils center Travis Zajac has been a huge part of the team's playoff success. With five goals and five assists, Zajac is the second-leading playoff scorer for the Devils behind Kovalchuk.
He isn't only valuable due to his scoring, though, as he is winning 58 percent of his face-offs, playing big minutes on the power play and penalty kill, and defending the opposition's top line as well.
It's going to take an all-around effort to even things up with the Rangers and Zajac may very well be the Devils' most complete player. Even if he doesn't contribute on the score sheet in Game 2, there are so many other little things that he can do to lend to a winning effort.
Even with how well he has played in the postseason, there aren't many people talking about Zajac, but he'll have to be a key player if New Jersey is going to tie up this series.
Follow @MikeChiari on Twitter