Why Sending Will Middlebrooks Back Down for Youkilis Would Infuriate the Fans
May 15, 2012

Jim Rogash/Getty Images
Objectivity is something highly valued by every MLB team. It allows them to assess each player without being tied to intangibles that ultimately have no bearing on the player's on-field worth. Call it a by-product of the "Moneyball" era, but this cold way of measuring player value has become a universally accepted tenet of modern baseball.
With that in mind, let's take a look at two Red Sox players this season:
Player A: .64 AB, .219 BA, 2 HR, 9 RBI, 5 BB, 20 K, .635 OPS
Player B: 46 AB, .304 BA, 4 HR, 13 RBI, 3 BB, 13 K, 1.021 OPS
While it may be a bit obvious, can you guess who each player is?
Player A is Kevin Youkilis. Player B is Will Middlebrooks.
The significant edge Middlebrooks has in nearly every category is pretty obvious, so great exposition on this topic is not needed. There will certainly be some regression for Middlebrooks over the long term, as pitchers begin to adjust and find the holes in his offensive game.
However, Middlebrooks is clearly the better option right now. The team is 5-6 with the young third baseman in the lineup, which given their struggles this year is actually a pretty good record.
After winning four games in a row, the Red Sox look like they have finally found some of the energy that they have been so severely lacking all season. While this boost cannot be attributed directly to one person, Middlebrooks' success has played a huge role in the resurgence of the previously deader-than-dead Sox.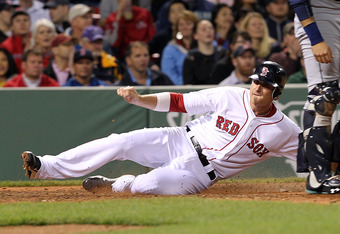 Jim Rogash/Getty Images
Fans, too, have taken a liking to the young player. In the face of such an unlikable team, Middlebrooks has represented hope for both the present and the future. He has recorded hits in all but two of his 11 games with the Sox and has recorded extra base hits in seven.
This franchise does not often have young position players who come in ready to make an immediate impact. Even Dustin Pedroia struggled initially, batting .182 in April of 2007 before finally hitting his stride en route to winning rookie of the year.
That Middlebrooks has been able to do so well right from the start is a testament to just how good a player he is. Bobby Valentine has shown faith in him, slotting him in at fifth in the order in each of the Sox's last six games.
And what does all of this success earn Middlebrooks? Quite possibly a bus ticket back to Pawtucket when Youkilis returns.
Valentine told NESN.com yesterday that he is not ready to make a decision on Middlebrooks' immediate future, saying only that "We'll do exactly what's right."
To Sox fans, "what's right" is seemingly obvious: Middlebrooks has to play. Youkilis has had a remarkable run, but like many veterans before him, he's had his spot usurped by a younger player.
Sending Middlebrooks down to Pawtucket would be a disaster for the Sox both on and off the field. Fan interest is already waning, and if the team elects to willingly send one of their future stars out of town it may turn fans off entirely.
It's even easier to evaluate this choice from a baseball perspective. What team in their right mind sends down one of their most productive hitters and a guy who has provided excellent balance and protection in the lineup?
No matter what Jonathan Papelbon says, Sox fans are not stupid. They know how good Middlebrooks has been both in Triple-A and in Boston. He gives the team energy and a potent right-handed bat. There is nothing left for him to do at the minor league level.
He belongs on the MLB roster and in the everyday lineup. The Middlebrooks phenomenon is such a rare one that if the Sox choose to turn their back on it, the long-term effects could be disastrous.