Southern Conference Spring Football Preview: Furman Paladins
May 15, 2012

Last season at this time, Furman head coach Bruce Fowler was busy trying to hire a staff for the 2011 Football season, however, this season Fowler and the Paladins appear to be in much better shape.
Fowler did about what was expected of him in his first season back in Greenville, after spending nine seasons in Nashville as the defensive coordinator for the Vanderbilt Commodores under longtime friend and Commodores' head coach Bobby Johnson.
The Paladins finished the campaign with a 6-5 overall mark and a 5-3 league ledger, which was good enough for a third-place finish in the Southern Conference standings.  
Not only did the Paladins improve their overall record by one game in Fowler's first season at the helm, the Paladins also captured a pair of wins over top-five foes, handing No. 4 Wofford a 26-21 loss on Oct. 22 and No. 3 Appalachian State a 20-10 setback on Nov. 5.
The win over the Appalachian State Mountaineers snapped a six-game skid to the Black and Gold, dating back to the 2005 campaign, and was just Furman's second win over ASU since 2001. The two wins over top-five ranked opponents last season marked the first time in school history that Furman has knocked off a pair of top-five foes in the regular season in school history.
Furman saw another of its staples from previous years return in 2011, as Paladin fans played witness to the return of a physical ground game. For the first time since 2003, the Paladins had a running back rush for over 1,000 yards, with Jerodis Williams eclipsing the millennium mark, with 1,055 rushing yards rushing in 11 games last season.
Fifteen starters return to highlight the 2012 campaign, however, the Paladins lost arguably their best players on both sides of the football, with first-team All-Southern Conference quarterback Chris Forcier having graduated, as well as first-team All-America cornerback Ryan Steed and first team All-SoCon linebacker Kadarron Anderson on the defensive side of the football.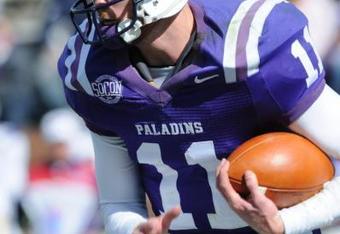 While the Paladins struggled more than expected at times on the defensive side of the football, the aggression and physicality was back on the defensive side of the football for the Paladins. That was something that had been lacking in the twilight of Bobby Lamb's career at the helm of the program.
Though the Paladins finished ranking eighth in the SoCon in total defense (374.5 YPG) last season, the Paladins did manage to effectively cause turnovers last season, as the Paladins completed the campaign tied overall for turnover margin (+9, 0.82) with the Chattanooga Mocs.
On offense, the Paladins were explosive, finishing the 2011 season ranking fourth in scoring offense (28.6 PPG), fifth in total offense (389.4 YPG), fourth in rushing offense (166.8 YPG) and fifth in passing offense (222.5 YPG).  
That explosiveness came from Forcier under center, who set a school record for passing efficiency (172.36) in a single-season, and ended the campaign ranking tops in the FCS in that particular stat. Forcier threw a single-season school-record 23 TDs, while his 2,265 yards passing for the campaign were fourth-most in program history.
 Forcier became the first Furman quarterback to garner first-team All-SoCon accolades since 1996, when Braniff Bonaventure garnered first-team All-SoCon honors.
If the Paladins hope to return to postseason play for the first time since 2006, it will have to start by getting consistent play from the quarterback position this fall. Dakota Derrick and Travis Eman competed for the starting job in the spring, with the senior Derrick emerging from spring drills as the starter for the Paladins, but Eman, a redshirt freshman, did not seem to be all that far behind.
Derrick, a 6-4, 210-pound product of Conway, S.C., is slated to take over the reins under center this fall, as he came out of the spring as the starter. Derrick has a big arm and has developed his accuracy as his career has progressed. Derrick saw limited action last season, completing 8-of-17 passes for 104 yds and a TD.
Derrick has a pair of starts in his career, and is 1-1 as a starting quarterback, defeating Western Carolina during his sophomore season. In that 31-17 win over the Catamounts, Derrick completed 12-of-23 passes for 122 yards and a pair of TDs, while rushing 12 times for 71 yards in the win. For his entire career, Derrick has completed 28-of-58 passes for 300 yards, with two TDs and an INT.
Derrick will have some stiff competition on his hands for the starting quarterback position, competing with Eman for the starting responsibilities under center. Eman has a strong arm and good speed, and is the quarterback of the future for Furman football. In his senior season at Cansius High School, Eman passed for 1,575 yards and 26 TDs, while rushing for 971 yards and 20 scores to lead Canisius to a 7-3 season.
Eman was impressive during the spring for the Paladins, completing 10-of-15 passes for 134 yards and an interception. 
Furman will have one of the best ground options in the Southern Conference this fall, with the return of senior running back Jerodis Williams (199 rush att, 1,055 yds, 9 TDs, 5.3 YPC). Williams is a key piece to the puzzle once again for the Paladins this fall, and all he did last season was become Furman's first 1,000-yard rusher since 2003, when Hindley Brigham rushed for 1,048 yards.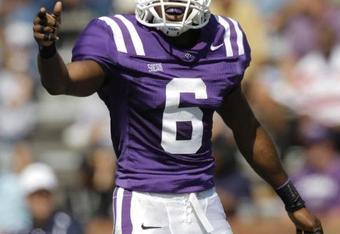 Williams was instrumental in the Paladins' 6-5 campaign, helping Furman re-establish itself as a team that could move the ball effectively on the ground when it needed yards. Williams provided the punch for Furman's ground attack in each of the first two games last season, posting a 142-yard, three TD performance in the season-opening loss at Coastal Carolina, while following up that performance by going for 122 yards on 28 carries in the Paladins' 16-6 road win.
Williams also got it done against the name opponent on Furman's schedule last season, posting a big day in Furman's 54-32 loss to Florida. In that contest, Williams went for 133 yards and a pair of TDs, including a season and career long 77-yard scamper for a score late in the third quarter.
Joining forces with Williams in the Furman backfield this fall will be Hank McCloud (58 att, 241 yds, 1 TD), who is coming off a strong redshirt freshman campaign, which saw him provide plenty of support to Williams in the Paladin backfield.
McCloud, a 5-8, 184-pound sophomore, is a running back that runs much more powerfully than his frame would suggest. He ended the campaign as the Paladins' third-leading rusher, and posted his best overall rushing performance in the win at Western Carolina, rushing for 61 yards on 12 carries in the win.  Look for McCloud to be used more as a receiving option out of the Paladin backfield next fall, as he ended the 2011 campaign with three receptions for 37 yards.
Furman has lost some quality talent to graduation over the past couple of seasons, graduating the school's all-time leading pass-catcher, Adam Mims, two years ago, and will have to replace two of the top four receiving options this fall, with the graduation of Sederrick Cunningham and Tyler Maples. Cunningham proved useful as a deep ball threat down the stretch last season, while Maples was a reliable underneath threat as a possession receiver, but did possess quickness and was an excellent route-running wideout.
The cupboard, however, is certainly not bare when looking at the talent returning in Furman's receiving corps for the 2012 season, led by the return of maybe the top tight end in FCS football, in senior Colin Anderson (40 rec, 696 yds, 7 TDs, 17.4 YPR).
Anderson is not only a reliable, big target, he is also extremely athletic. He is the first tight end to lead the Paladins in overall receiving since 1996, when Luther Broughton was the Paladins' main threat in the passing game.  In his previous three seasons combined, the former high school quarterback from Dallas, Texas, has hauled in 60 passes for 1,043 yards and 11 TDs.
Anderson's 11 TD receptions in three seasons are the most ever by a Furman tight end, surpassing the former great Brette Simmons' 10-career TD catches from 1974-78. Anderson is also within striking distance of Furman's all-time receiving yards mark for a Furman tight end, which also currently held by Broughton, who finished his four years in the Purple and White with 1,565 yards receiving. Anderson needs 523 yards receiving this fall to set a new all-time mark. His seven TD grabs in a single season last fall ranked tied for sixth all-time for TD grabs in a single-season by a receiver.
 Anderson also threw a TD pass on a double-pass in the season finale loss at Florida. His TD pass was a 47-yard strike to a wide-open Cunningham, who had gotten behind the Florida secondary for the easy score.  
When Furman is not looking to Anderson, the Paladins will no doubt be looking to Ryan Culbreath (18 rec, 265 yds, 2 TDs, 14.7 YPR) and Daniel McFadden (8 rec, 180 yds, 2 TDs, 22.5 YPR).
Culbreath has tight end size, at 6-4, 215 lbs. He has an excellent pair of hands and with his physicality, has the ability to cause matchup problems for the SoCon's smaller corners. Culbreath will once again line up as the Paladins starter at split end. Culbreath had four catches for 63 yards and a TD in a late-season loss to Elon, while hauling in three passes for 69 yards, including a season-long 43-yarder, in a 26-21 win over fourth-ranked Wofford. With a big season this fall, Culbreath could start putting himself on the NFL radar heading into his senior campaign of 2013.
While Culbreath will start at split end, expect Daniel McFadden to move Cunningham's former position as the starting flanker for the Paladins. McFadden has the type of speed to get behind defenses just as Cunningham provided last season. McFadden turned in his strongest performance of the 2011 campaign in the 62-21 win over Presbyterian, hauling in a pair of passes, both of which went for TDs (39 and 20 yds) for 59 yards in the rout. He had a season-long 61-yard reception in Furman's late-season loss to Elon.
One of the real surprises at wide receiver this fall for the Paladins could be walk-on Will King (3 rec, 20 yds, 1 TD) and redshirt freshman Gary Robinson. King caught his lone TD pass in Furman's win over PC, while Robinson's speed could be a factor this fall, likely backing up McFadden at flanker.  Robinson could also be a significant contributor on special teams for Furman this fall.
The offensive line must find a way to replace a couple of veteran starters, graduating both center Daniel Spisak and First-Team All-SoCon offensive tackle Ryan Lee. Both will be missed, but a solid nucleus of three regulars return for the 2012 campaign, including a pair of all-league honorees.
Furman left tackle Dakota Dozier was a Second-Team All-Southern Conference selection last season, and has been called by the current coaching staff as having the potential of being one of the best to ever suit up along the offensive line for Furman. The 6-4, 291-pound product of West Columbia, S.C., started all 11 games for the Paladins last season, and has great feet and overall athleticism.
Joining Dozier in all-conference recognition last season was redshirt freshman Charles Emert, who garnered SoCon All-Freshman team accolades after starting at various positions along the offensive front last season, with the majority of those starting assignments coming in four starts at left guard.  The Statesboro, Ga., native showed his versatility by also logging starts at right tackle last fall.
Rounding out the returning starters along the offensive line for the Paladins heading into the 2012 season will be Ryan Storms, who will likely enter preseason camp as the starter at right guard entering fall camp. Storms has garnered starts in 12 games out of the 16 he has played in his career.
The only real question mark for the Paladins remains at the center position, with the graduation of Spisak. Spisak was a stalwart along the offensive line each of his four seasons for the Paladins, logging action as the Paladins' full-time starter at center for three seasons. Spisak might be replaced by Emert at center in the fall, as that was Emert's originally recruited position.
The defensive side of the football actually saw the Paladins yield two less yards in Bobby Lamb's last season at the helm than the 374.9 given up by the Paladins in Fowler's first season at the helm.  It was evident, however, that there was a different mentality on the defensive side of the ball for the Paladins in 2011.
The biggest noticeable difference was the Paladins' physicality, with numerous hits that jarred football's loose last season, which had been a missing element for Furman defenses since the early 2000s. The Paladins finished the 2011 campaign tied for first in turnover margin (+9, 0.82) last season, and with 25 total sacks on the campaign, Furman tripled its total of eight sacks last season and totaled more sacks in 2011 than the past two seasons combined.    
There are significant losses to be accounted for on the defensive side of the football, as the Paladins lose their two top defensive players from a year ago, in cornerback Ryan Steed and linebacker Kadarron Anderson, who both garnered numerous accolades during their respective senior seasons, including All-America honors.
A solid contingent of eight starters returns on the defensive side of the football for the Paladins in 2012, including a few solid honors candidates. It was just a few years ago that many that followed the Furman football program were maligning the defensive line talent, however, now the unit might be the strongest on the Furman defense.
One of the leaders on the defensive side of the football this fall for the Paladins will be rising senior defensive end Josh Lynn (49 tackles, 10.5 TFLs, 5.0 sacks). The 6-4, 264-pound native of Fort Lawn, S.C, completed the 2011 season garnering second team All-Southern Conference honors.
Lynn was instrumental in helping revive what had been a stagnate pass-rush for the Paladins in recent seasons. Lynn's five sacks were good enough to lead the Paladins in that category last season, and was part of a season which saw the Furman defense amass a total of 21 sacks. Lynn enters his senior campaign with 21.5 tackles-for-loss and six sacks.
The other bookend position will feature another player on the defensive line who should enter the 2012 campaign as an All-SoCon honors candidate, in Shawn Boone (27 tackles, 4.0 TFLs, 3.0 sacks, 1 PBU). Boone's power and athleticism have made him a force in his first two seasons as a starter.
The real area of concern for head coach Bruce Fowler heading into the 2011 season was the defensive interior, which was a little undersized. The Paladins have three of four defensive tackles that logged a majority of the action returning for the 2012 season. The only loss as a result of graduation heading into 2012 is Cody Reynolds.
Colton Keig (32 tackles, 2.5 TFLs, 1 FR) returns for his senior season at defensive tackle, while Neal Rodgers (21 tackles, 1.0 TFL, 0.5 sack) and Tyreek Phillips (23 tackles, 1.5 TFLs, 1 FF). Phillips was regarded as a "project" player when he entered the program a couple of years ago, but under the direction of Ricky Logo, and now new defensive line coach Jimmy Lindsey, he has honed his raw skills and athleticism to become what coaches believe to be a major contributor in the teeth of the Furman run defense this fall.
The linebacking corps will not have the usual stalwarts Chris Wiley and the aforementioned Anderson, as both have moved on as a result of graduation, but the Paladins have stockpiled linebacker talent in each of the past couple of recruiting classes.
Headlining the Paladin linebacking corps this fall will be 'bandit' Mitch McGrath (87 tackles, 13.5 TFLs, 4.0 sacks, 4 INTs, 3 FFs, 1 FR). McGrath was arguably Furman's defensive MVP last season, despite playing somewhat in the shadows of his more heralded teammates, Steed and Anderson.  
McGrath's athleticism and physicality on the defensive side of the football last season was part of the defensive 'attitude' that Furman exhibited throughout the Bobby Johnson era and in the first few seasons of the Bobby Lamb era at Furman, as his bone-jarring hits were a constant reminder of the attempt at regaining respect. McGrath will no doubt enter the campaign as an all-conference selection and potential All-America candidate.
It was McGrath's performance in a 14-7 win at Chattanooga that nearly single-handedly won the tough road contest and earned him Sports Network National Player of the Week plaudits. All McGrath did was tally nine tackles, four sacks, an INT, force a fumble and recover a fumble in the seven point road win.  
The likely replacement at middle linebacker this fall is Matt Solomon (22 tackles, 1.5 TFLs). A solid reserve for three seasons behind Anderson and former Paladin standout middle linebacker Andrew Jones, Solomon will finally get his chance to make a name for himself in the middle of the Furman defense where so many predecessors in the middle have.
Wiley's likely replacement at the weak side linebacker post will likely be Gary Wilkins (46 tackles, 0.5 TFLs, 1 BLK), who might be the best athlete on the team. Wilkins saw significant action in his redshirt freshman campaign for the Paladins, and was a significant role player on special teams as well, using his leaping ability to affect punts, and even recording a partially blocked punt in the season-opener against Coastal Carolina. His 46 tackles were good enough to rank Wilkins sixth on the tackles ledger last season.
The secondary should once again be strong, returning three of four starters for the 2012 season, however, replacing the school's top all-time cornerback Ryan Steed will not exactly be easy.
Slated to draw the starting responsibilities at the respective cornerback positions this fall will be Derrick Murray (23 tackles, 1 INT) and Austin Williams (10 tackles, 1 PBU). Cortez Johnson (11 tackles, 1 FR), Marcus McMorris (18 tackles, 1 FR, 1 INT) and E.J. Vinsang (25 tackles, 2.0 TFLs, 1.0 sack) will also be in the mix to challenge for some significant playing time at cornerback this season.
Murray and Williams split starting duties at the corner position opposite Steed last season. I expect McMorris will make a strong charge at a starting job in fall camp. He was one of the most impressive young talents in the Furman last season.
The real strength of the secondary should be the safety duo of the potential all-league tandem of Greg Worthy (80 tackles, 2.0 TFLs, 3 INTs, 3 PBUs) and Nathan Wade (75 tackles, 5.0 TFLs, 1 FR, 3 PBUs). Both are physical and can be game-changers for the Paladins this fall.
Furman must see improvement from its place-kicking this fall, but rising junior Ray Early had a strong spring and appears poised and ready to overcome what was an abysmal sophomore season. The Paladins must also replace punter Chas Short.