50 Most Searched for Women in Sports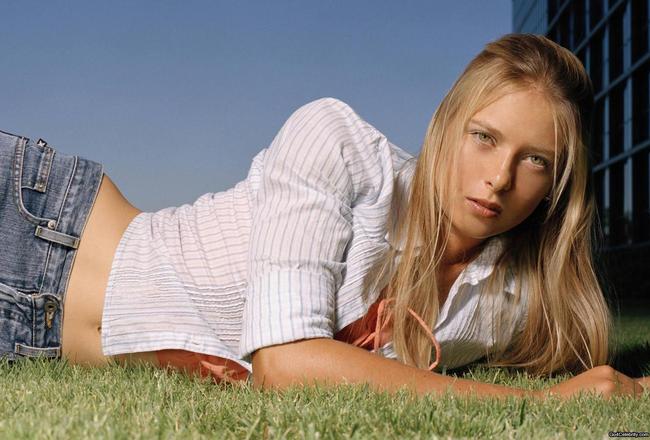 Image via searchweight.com

Avoiding women in sports is like teaching a pig to sing. It's a waste of time and you just anger the pig.
Beautiful athletes, attention-grabbing WAGs and chatty reporters continue to shadow the athletic realm with flashy smiles and provocative endeavors. But who is truly the most popular, you ask?
We're about ready to review the most searched for women in sports, those who continue to prance through the minds of all sports fans.
Based on Google's stats, we're going to present how many times each lady's name appears on the Internet.
Grab that calculator. Now let's begin.
50. Surfer Malia Jones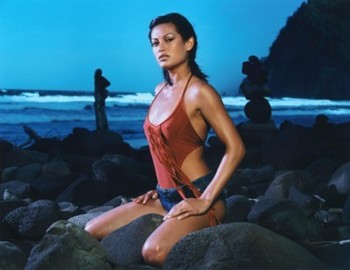 Image via posters555.com
Stat: About 454,000
Exotically breathtaking is the only way to describe surfer Malia Jones.
She's got it going on in all facets of the game.
49. Reporter Jenn Brown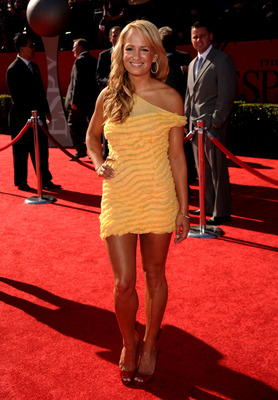 Jason Merritt/Getty Images
Stat: About 456,000
While most ESPN reporters earn a nice view count for their affiliation to the mecca of sports entertainment, Jenn Brown has one edge on the competition.
Her diverse array of sexy pics. Yeah, that'll keep them clicking.
48. Surfer Alana Blanchard
Image via alanablanchard.com
Stat: About 472,000
The sexiest surfer in the world is clearly not garnering enough love from the public.
Time to start searching for more.
47. Swimmer Stephanie Rice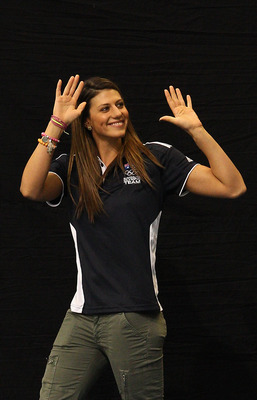 Quinn Rooney/Getty Images
Stat: About 605,000
This Australian swimmer has done little to stay in the shadows of her peers.
But Stephanie Rice's colorfully sexy pics offer her the most exposure.
46. Basketball Player Candace Parker
Christian Petersen/Getty Images
Stat: About 812,000
Whether fans are searching for her epically-foreheaded husband (Shelden Williams) or yearning for a video of Parker becoming the first woman to dunk in an NCAA tournament game, they're clearly engaged in her illustrious lifestyle.
She's just living the dream.
45. Mixed Martial Artist Miesha Tate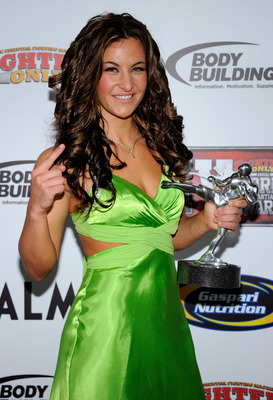 Ethan Miller/Getty Images
Stat: About 1,060,000
Few men aren't enthralled by a sexy mixed martial artist.
And considering Miesha Tate is the current Freestyle Cage Fighting Women's Bantamweight Champion, it's easy to see why she earns a majority of fans' views.
44. Figure Skater Sasha Cohen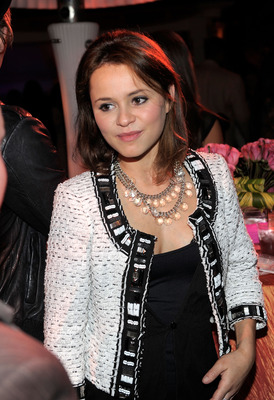 Charley Gallay/Getty Images
Stat: About 1,080,000
Usually, when you're an Olympic silver medalist (2006), a three-time World Championship medalist, the 2003 Grand Prix Final Champion and the 2006 U.S. Champion, you get searched for.
Such is the case with figure skating hottie Sasha Cohen.
43. Soccer Player Abby Wambach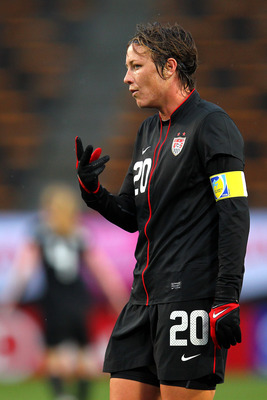 Koji Watanabe/Getty Images
Stat: About 1,260,000
A five-time winner of the U.S. Soccer Athlete of the Year award and the second-highest goal scorer in United States national soccer team history, Abby Wambach is a pure winner.
A fearless warrior on the pitch.
42. Soccer Player Hope Solo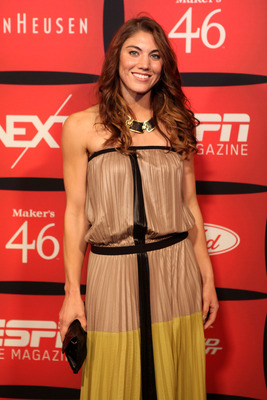 Robin Marchant/Getty Images
Stat: About 1,280,000
We're still not really sure if that's Jennifer Carpenter or not, but either way, Hope Solo continues to be a hot topic.
The star goaltender is just filling all the crevices of success.
41. Tennis Player Simona Halep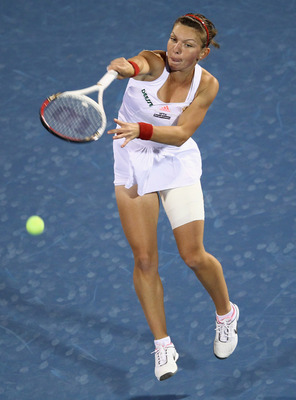 Julian Finney/Getty Images
Stat: About 1,470,000
The No. 4-ranked tennis player in Romania, Simona Halep is subtly becoming a mainstream figure around the world.
Her sexy mug only keeps fans coming back.
40. Golfer Michelle Wie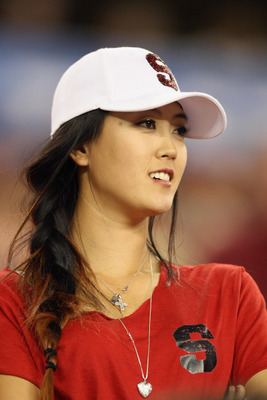 Donald Miralle/Getty Images
Stat: About 1,680,000
She became the youngest player to qualify for a USGA amateur championship and then turned pro before the age of 16.
You can bet golfing gal Michelle Wie is still receiving plenty of publicity years later.
39. Soccer Player Alex Morgan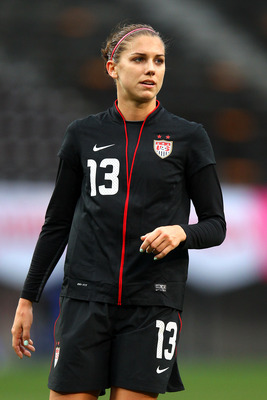 Koji Watanabe/Getty Images
Stat: About 1,890,000
It's become clear that while Hope Solo garners most of the attention, teammate Alex Morgan is the real gem on the United States national soccer team.
She continues to blossom.
38. Wrestler Ashley Massaro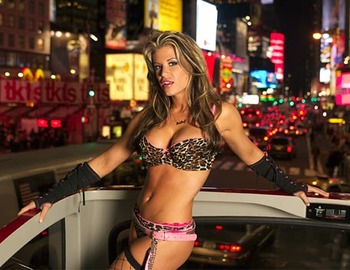 Image via fanpop.com
Stat: About 1,920,000
Currently signed to World Independent Ladies Division Wrestling, Ashley Massaro doesn't seem anywhere close to being finished in the world of sports and beauty.
This kind of swagger can't be taught.
37. Swimmer Amanda Beard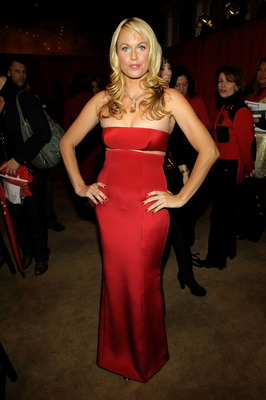 Larry Busacca/Getty Images
Stat: About 2,040,000
A seven-time Olympic medalist with two American Swimmer of the Year awards...nicely done, Mrs. Beard.
It's all about her raging confidence.
36. WAG Carrie Prejean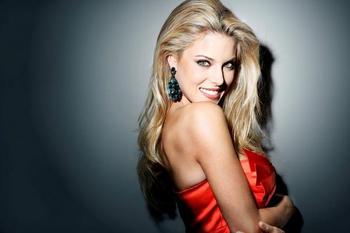 Image via hollywoodcelebgossips.com
Stat: About 2,150,000
As the former Miss California USA 2009 and the wife of back-up quarterback Kyle Boller, model Carrie Prejean has dabbled in pretty much everything.
She's even been an an ambassador for the San Diego Padres as a member of the Pad Squad since 2006, only strengthening her resume.
35. Tennis Player Vera Zvonareva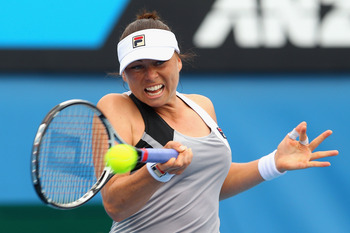 Cameron Spencer/Getty Images
Stat: About 2,610,000
She's got 12 WTA Tour singles titles, a bronze medal from the 2008 Beijing Olympics and a career-high ranking of World No. 2.
This Russian tennis star is quietly climbing the charts of recognition.
34. Volleyball Player Misty May-Treanor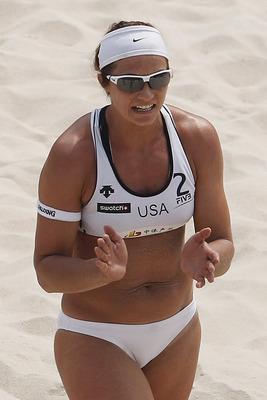 Lintao Zhang/Getty Images
Stat: About 2,730,000
One hundred and ten individual championship wins and a backup-catching husband (Matt Treanor).
Misty May-Treanor is closing in on greatness.
33. Tennis Player Daniela Hantuchova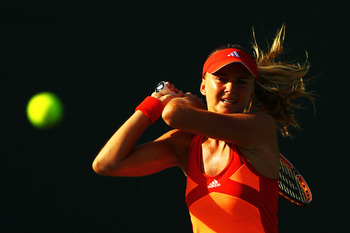 Al Bello/Getty Images
Stat: About 2,740,000
She may have become the fifth female tennis player to win the mixed doubles title in all four Grand Slam tournaments during her career in 2005, but it's Daniela Hantuchova's beauty that gets her most of the attention.
And her radiant performances.
32. Tennis Player Petra Kvitova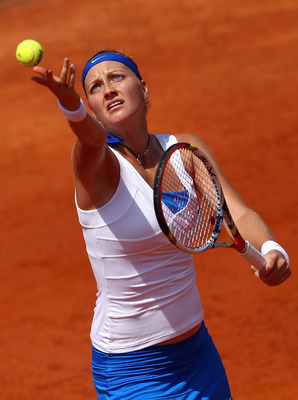 Julian Finney/Getty Images
Stat: About 2,930,000
This former World No. 2 won the 2011 Wimbledon Championships and the 2011 WTA Tour Championships singles titles, in turn becoming the first Grand Slam event winner born in the '90s.
As a result, she's a topical phenom.
31. Tennis Player Maria Kirilenko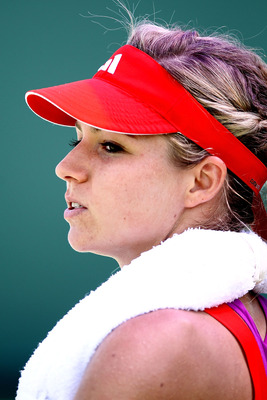 Matthew Stockman/Getty Images
Stat: About 3,010,000
Despite an unspectacular career-high ranking of No. 16, Maria Kirilenko has continued to dominate the tennis scene...away from the court, of course.
The icing on the cake is new NHL star boyfriend Alex Ovechkin, who should certainly keep Kirilenko relevant for a long time.
30. Artistic Gymnast Shawn Johnson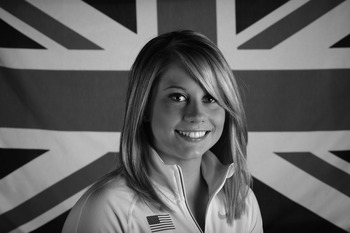 Harry How/Getty Images
Stat: About 3,050,000
She was the 2008 Olympic balance beam gold medalist and even won Dancing with the Stars in 2009.
Artistic gymnast Shawn Johnson's boyish name doesn't do her justice.
29. Soccer Player Heather Mitts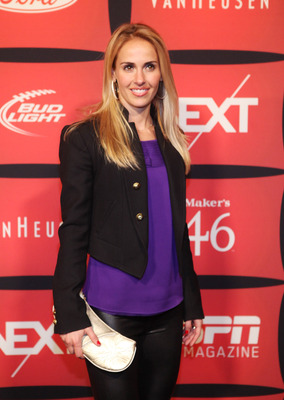 Robin Marchant/Getty Images
Stat: About 3,590,000
This stunner has two links to the glamorous world of sports.
She's married to NFL backup A.J. Feeley, and oh yeah, she's a soccer star.
Solid resume.
28. WAG Torrie Wilson
John Sciulli/Getty Images
Stat: About 4,440,000
Wrestler turned WAG, Torrie Wilson has come a long way since her days in the WWE and WCW rings.
Although dating Alex Rodriguez isn't quite a step forward.
27. Skier Lindsey Vonn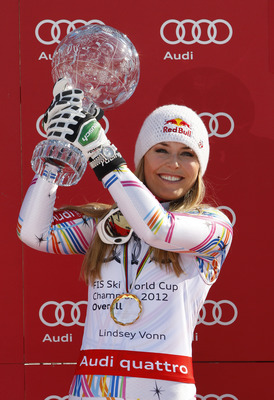 Alexis Boichard/Agence Zoom/Getty Images
Stat: About 4,580,000
She's been Sportswoman of the Year (2010), won four overall World Cup championships and hinted at dating Tim Tebow.
What else does alpine ski racer Lindsey Vonn need to do to get attention?
26. Reporter Erin Andrews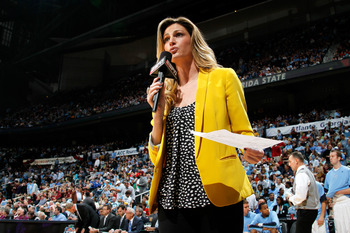 Kevin C. Cox/Getty Images
Stat: About 4,920,000
Once the sexiest, most beloved reporter in all of sports, Erin Andrews has seemingly faded a bit from the mainstream scene.
But she's always lingering in the shadows.
25. Reporter Sara Carbonero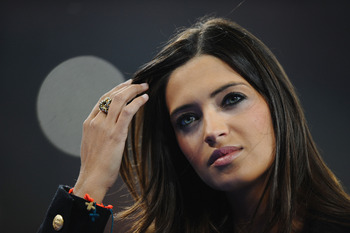 Laurence Griffiths/Getty Images
Stat: About 5,110,000
With perhaps the most riveting pupils in sports and a goalie boyfriend in Spanish footballer Iker Casillas, reporter Sara Carbonero continues to dominate the world of soccer.
She's a worldwide phenomenon.
24. Ring Girl Arianny Celeste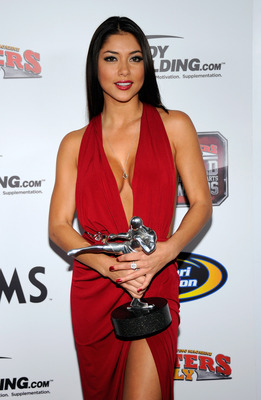 Ethan Miller/Getty Images
Stat: About 5,190,000
Arguably the sexiest woman in sports, UFC Octagon girl Arianny Celeste is the perfect catch.
And all she has to do is peruse the ring with an oversized card.
23. Tennis Player Victoria Azarenka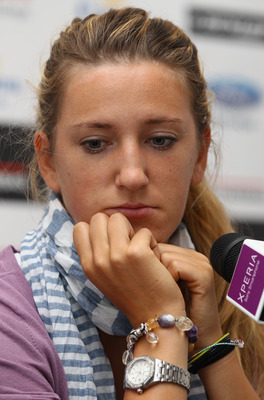 Julian Finney/Getty Images
Stat: About 5,280,000
After winning the 2012 Australian Open singles title, current World No. 1 tennis player Victoria Azarenka became the first Belarusian to win a Grand Slam in singles.
That'll keep her relevant for a while.
22. Mixed Martial Artist Gina Carano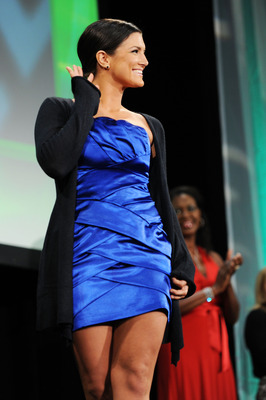 Stephen Lovekin/Getty Images
Stat: About 5,710,000
Once the face of women's MMA, Gina Carano has since taken her talents to the acting industry.
After her recent appearance in Haywire, Carano's name has been flooding the Internet even more.
21. WAG Abbey Clancy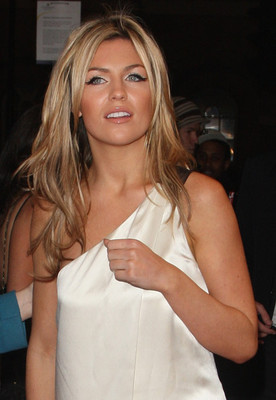 Image via fashcraze.blogspot.com
Stat: About 6,360,000
If you know any British model sexier than Peter Crouch's wife, please send us a letter immediately.
Abbey Clancy is the greatest creation since sliced watermelon.
20. Wrestler Trish Stratus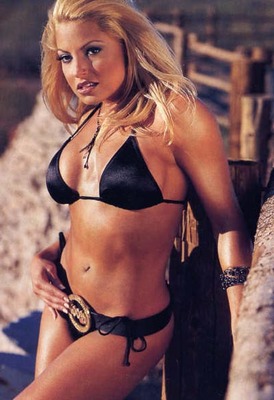 Image via onlineworldofwrestling.com
Stat: About 6,480,000
With pics like this, pro wrestler Trish Stratus isn't close to being finished on the sports scene.
19. Tennis Player Ana Ivanovic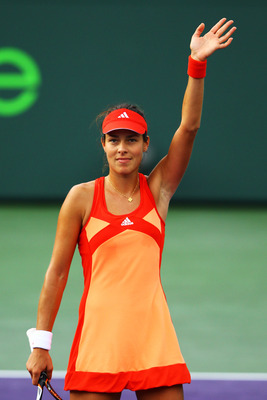 Al Bello/Getty Images
Stat: About 7,320,000
This former World No. 1 tennis beauty has 11 WTA singles titles, sure, but that's not what keeps her name filling Google searches.
It's Ana Ivanovic's prowess away from the court that headlines her dominance.
18. Tennis Player Caroline Wozniacki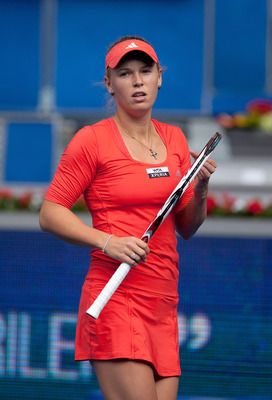 Pablo Blazquez Dominguez/Getty Images
Stat: About 7,920,000
After holding the World No. 1 ranking for 67 weeks, it was clear Caroline Wozniacki was here to stay.
But we believe it's her humor that keeps her trending.
17. Tennis Player Venus Williams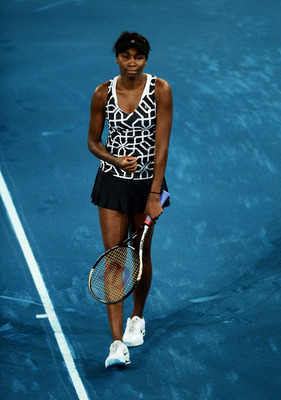 Jasper Juinen/Getty Images
Stat: About 8,090,000
The eccentric outfits must be what keeps Venus popular, because she's been a hot topic since she first reached the tennis scene.
The Williams sisters continue to rule the court.
16. Tennis Player Sania Mirza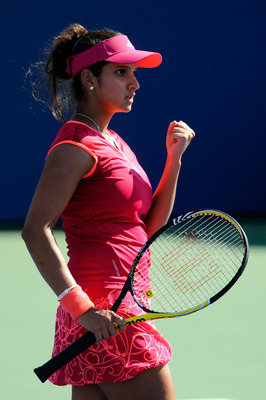 Patrick McDermott/Getty Images
Stat: About 8,200,000
Since being the most searched Indian sportsperson on Google in 2009, tennis player Sania Mirza has only increased her exposure.
She seems thrilled.
15. Tennis Player Li Na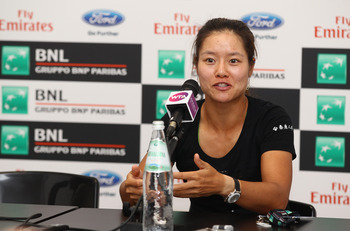 Julian Finney/Getty Images
Stat: About 8,480,000
Winning the 2011 French Open singles title and in turn becoming the first player from an Asian country to win a Grand Slam in singles certainly sparked an increase in Li Na's exposure.
But with a current ranking of World No. 9, she'll be trending far into the future.
14. WAG Gabrielle Union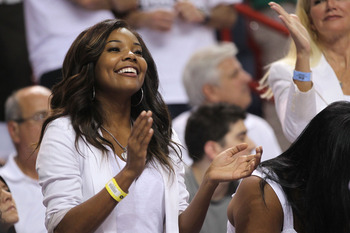 Mike Ehrmann/Getty Images
Stat: About 8,490,000
As the new girlfriend of Dwyane Wade, movie star Gabrielle Union can't get enough of the Miami spotlight.
Although it seems everyone around the world is entrenched in her life.
13. Wrestler Stacy Keibler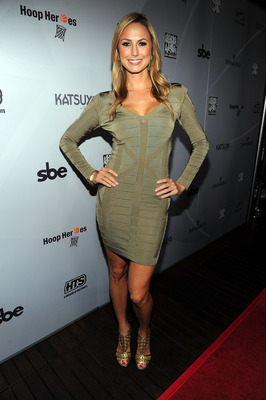 Alberto E. Rodriguez/Getty Images
Stat: About 9,670,000
She may not look like a world-class wrestler, but former WWE and WCW star Stacy Keibler always kept the crowd engaged with her long legs and sexy smile.
Unfortunately, current boyfriend George Clooney tarnished our dreams.
12. Tennis Player Anna Kournikova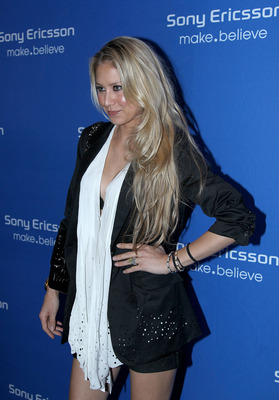 Mike Ehrmann/Getty Images
Stat: About 11,200,000
This Russian sensation continues to show us that winning (or lack thereof) on the tennis court doesn't quite define your level of fame.
It's all about the visage.
11. Auto Racing Driver Danica Patrick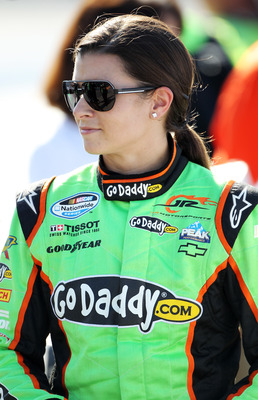 Jamie Squire/Getty Images
Stat: About 11,200,000
The sexiest and most accomplished female driver in the world is naturally going to garner plenty of attention.
But most searches are probably in hopes of finding answers to those ridiculous GoDaddy commercials.

10. WAG Elisha Cuthbert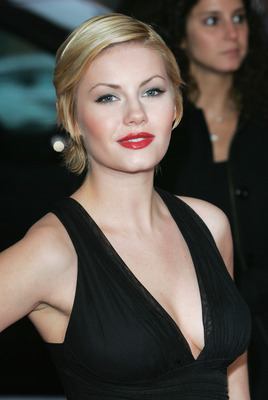 MJ Kim/Getty Images
Stat: About 11,600,000
Whether curious cats are searching for the "sloppy seconds" comments from her ex-boyfriend (Sean Avery) or eager to see her sexy visage, Elisha Cuthbert continues to hog sports fans' attention.
NHL defenseman Dion Phaneuf is now the lucky recipient of her love.
9. Superfan Larissa Riquelme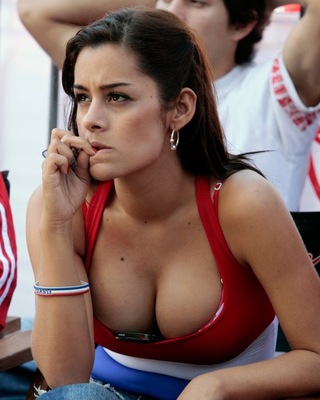 Image via whoateallthepies.tv
Stat: About 12,800,000
The most established model in Paraguay, Larissa Riquelme first popped onto the sports scene when she was photographed with a Nokia cell phone in her cleavage during the 2010 FIFA World Cup.
It's kept her relevant for quite some time now.
8. WAG Irina Shayk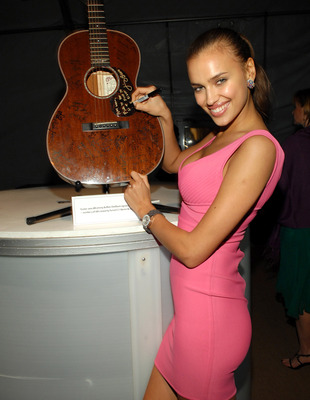 John Sciulli/Getty Images
Stat: About 15,200,000
As if Sports Illustrated swimsuit models don't get enough attention already, Irina Shayk only increased her exposure when she started dating footballer Cristiano Ronaldo.
People always want to know what these two lovebirds are doing.
7. WAG Brooklyn Decker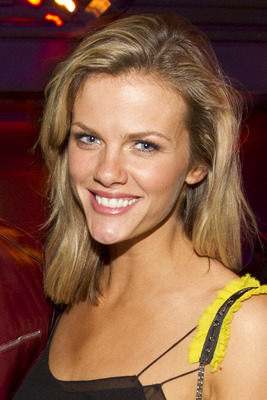 Christopher Polk/Getty Images
Stat: About 16,100,000
With a smile like this, people could care less that Brooklyn Decker is dating fiery tennis star Andy Roddick.
Although that certainly earns her a spot in the sports domain. Thankfully.
6. WAG Gisele Bundchen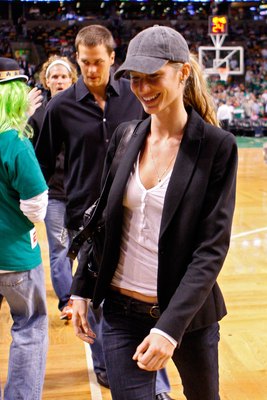 Jim Rogash/Getty Images
Stat: About 17,000,000
As long as Tom Brady is playing football and men exist, Gisele Bundchen will be trending like wildfire.
Her elegant ways are refreshing to say the least.
5. WAG Kelly Brook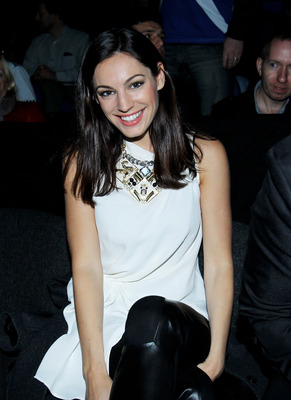 Matthew Lewis/Getty Images
Stat: About 17,700,000
Saying this glamour model prefers manly men would be an understatement.
Jason Statham, Billy Zane and now rugby-er Thom Evans. She is not to be messed with.
4. Tennis Player Serena Williams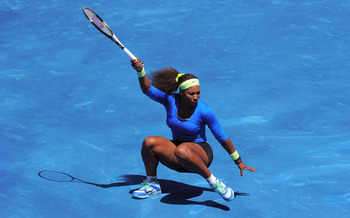 Mike Hewitt/Getty Images
Stat: About 18,300,000
There are many words to describe tennis legend Serena Williams. But beast seems to fit best.
It wouldn't be surprising to find out she's forcing sports fans to search for her through intimidation. Not sure how, though.
3. Tennis Player Maria Sharapova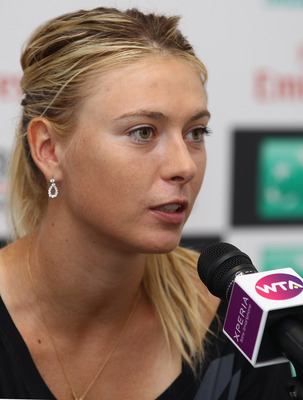 Julian Finney/Getty Images
Stat: About 24,400,000
A former World No. 1 with 25 WTA singles titles, Sports Illustrated Swimsuit Issue appearances and a breathtaking...personality.
The ultimate catch (we hate you, Sasha Vujacic).
2. WAG Carrie Underwood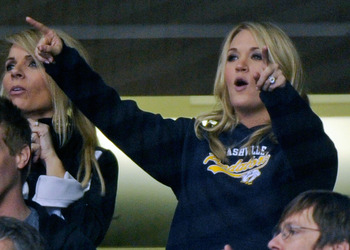 Frederick Breedon/Getty Images
Stat: About 40,500,000
If it wasn't for country singing legend Carrie Underwood, NHL center Mike Fisher would be known to few outside of hockey.
On the other hand, we thank him for bringing the blonde bombshell into the world of sports.
1. WAG Victoria Beckham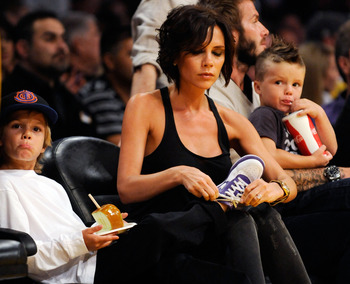 Kevork Djansezian/Getty Images
Stat: About 49,500,000
The Beckhams rule the United Kingdom, hands down. So it's easy to see why Posh Spice is a constantly trending search term.
Or fans just really miss the Spice Girls.
Keep Reading