Chicago Bulls: Should Phil Jackson Be a Consideration to Replace Tom Thibodeau?
May 15, 2012

Jonathan Daniel/Getty Images
Chicago Bulls' fans yearn for the days when the Bulls were the dominant team in the NBA, and they were hoping the current group could add some new trophies to the case. However, due to a combination of injuries, losses to dominant teams, and worn out players, this current team has failed to live up to expectations despite earning the best record over the past two seasons under coach Tom Thibodeau.
When Derrick Rose went down in Game 1 against Philadelphia, it became obvious that this wasn't going to be the year for the Bulls.
Not so obvious is the possibility that the man who has been given the most credit for the Bulls resurrection besides Rose may be the reason they're not winning in the playoffs.
Nobody can dispute their regular season record over the past two years. They topped the league each time, but in doing so, did they sabotage the real goal—winning a championship?
Nobody knows if they would have won this year, but, unfortunately, the team wasn't given a chance to find out if they had what it takes this time.
I've already written an article blaming Thibodeau for Rose's injury so I won't revisit that, but is his constant demand for treating each regular season game like Game 7 of the Finals doing more harm than good?
During the season, I compared Thibodeau to former Bulls' coach Doug Collins. Collins was viewed as the point A to point B type of coach—not the one to get them to a championship.
He was replaced after they fell to the "Bad Boys" (Detroit Pistons) for the second year in a row. The Miami Heat are the new Pistons for Chicago to deal with, and they very similar to the old championship Bulls teams.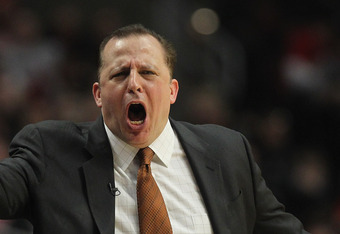 Jonathan Daniel/Getty Images
Miami can turn it on anytime they want and blow a team out, despite often playing lackadaisically. The Michael Jordan teams didn't necessarily do that, but at times they would toy with their opponent like a cat with a mouse. Then, they would turn it up a notch and blow them out of the gym.
Both Bulls teams had superstars. The 90's Bulls had the greatest player ever in Jordan. This team has the closest we have seen to him since in Rose. Luol Deng is no Scottie Pippen, but a more pressing comparison where this team falls short is that Thibodeau is no Phil Jackson.
Remember Thibodeau stalking the sideline every game, never sitting, and barking out orders until he had no voice. Here's the contrast you get in Jackson: Calmly sitting on the bench with his legs crossed. If he could've, he'd probably have been doing the New York Times crossword puzzle while smoking a pipe too.
In other words, Phil was always completely calm and in control.
Philadelphia shot far more free throws than the Bulls during their series. That's because Thibodeau doesn't know how to work the refs. Jackson would always put his thoughts out there before a playoff series. He'd talk about the things the opponent gets away with and shouldn't. He gave the officials something to think about before the games even began.
Thibodeau is the embodiment of the "City of Big Shoulders" that is Chicago. He works harder than anyone, staying up to the wee hours studying film and generally having no life outside of basketball that anyone knows of.
He expects his team to work harder than their opponents. In fact, he demands it. But is working harder always working smarter?
For all the studying he does, I don't see many adjustments. Adjustments are critical in the playoffs because you get very intimate with your opponent. Is he a hard worker, but not a deep thinker?
Collins was similar to Thibodeau in that he would constantly be racing the sideline, screaming out commands, even when the Bulls were up by twenty with a minute left.
The players got tired of that, and while I don't know for a fact, I think Jordan was a main reason that Collins was bounced and Jackson took over.
The rest, as they say, is history. The Bulls won six championships under Jackson, and they might have won that eight-peat often joked about on Saturday Night Live if Jordan didn't retire.
There are rumblings that Jackson is getting the itch to coach again after retiring from the Los Angeles Lakers last year.
Some think he could go back to L.A. if they lose to the Thunder. I doubt that because he's been there and done that. He already coached that team, so why leave in the first place?
Many observers think the New York Knicks would be a natural stopping ground for Jackson. He played for the Knicks, and he won a couple of championships. While New York has talent, it's an odd mix that I'm not sure Jackson would want to get involved with.
Some have suggested Miami if the Heat don't win this year. There's no way I see that happening. Pat Riley is running the show in South Beach, and the two of them would mix as well as oil and water.
That leaves Chicago. It's where he got his first chance as a head coach. It's arguably the scene of his greatest triumph—winning six championships in eight years.
Like he did with Jordan, he'd inherit a great player in Rose and a hardworking cast of talent to mold.
That fits the Jackson profile. He doesn't want to come to a team to rebuild. That's not him.
The Bulls have had the best record in the league for two straight years so there is obviously talent there. It just has to be utilized the right way. His legacy proves that he knows how to do that.
Thibodeau, along with John Paxson and Gar Forman, will be discussing where they see the team going in the future.
Spoiler Alert: Stop reading now if you don't want to know how they will do next season. With Rose and possibly Deng out until at least January, 2012-13 is likely going to be a transition season. In 2013-14, Rose will hopefully be close to the player he was, and the team will be ready to slay their demons.
The question for Bulls management whether they trust Thibodeau enough to evolve or if they would rather grab the proven winner in Jackson.
It's a tough choice, but nobody thought they would get rid of Collins when they did. It would be a great story: Jackson taking over for another overbearing coach and ending his career winning titles in the place he started.
Could this be deja vu all over again?