Cincinnati Bengals: Way-Too-Early Award Predictions
May 15, 2012

Joe Robbins/Getty Images
Is there any better time than months before the NFL season starts to hand out end-of-year awards to the Cincinnati Bengals? Sure, we can do this—and will do this—once January rolls around again, but at that point, it's less fun. So much is already known.
It's far more enjoyable to do some long-term prognostication. Besides, without setting expectations now we'd just be flying blindly into the 2012 season, with some murky idea that things are maybe going to sort of play out a certain way for a few of the Bengals players.
These awards provide a form of framework for those murky ideas. Besides, who doesn't love a trophy, even if it is inappropriately early in the year to hand them out?
Offensive MVP: Quarterback Andy Dalton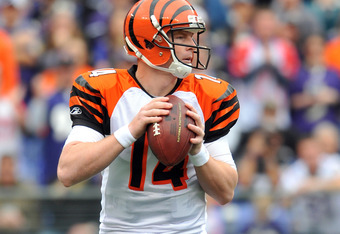 Larry French/Getty Images
Bengals quarterback Andy Dalton had a fantastic rookie season, one so good it's clear the team is building around his arm. Though Dalton will lack veteran targets this year, that's not going to harm his production much.
Surely, a quarterback only looks as good as his receiving corps. But Dalton's this year is going to be quite the threat, with A.J. Green his primary target and Mohamed Sanu and Marvin Jones battling for Dalton's attention.
The Bengals have a shot at becoming one of the top passing offenses in the league, and Dalton is the reason for it. Therefore, there's little doubt the Bengals' most valuable offensive performer this season will be the second-year QB.
Defensive MVP: Cornerback Dre Kirkpatrick
A rookie defender winning the Bengals' defensive MVP award? Well, stranger things have happened. Cornerback Dre Kirkpatrick was a first-round draft pick for a reason, and he's going to show just why in his first year in the league.
The Bengals brought in Kirkpatrick because they desperately needed a top talent at corner to replace Johnathan Joseph. Kirkpatrick certainly has the skill set to finally be an heir to Joseph, and in the pass-heavy NFL, he'll make such a significant impact that he'll earn this award well before the season is out.
Rookie of the Year: Linebacker Vontaze Burfict
Wait, what? Vontaze Burfict is going to be the Bengals' Rookie of the Year?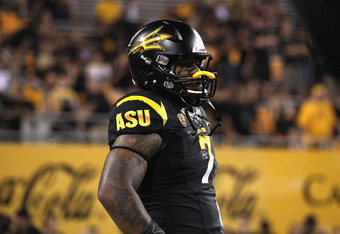 Christian Petersen/Getty Images
Well, why not? Going undrafted might just be the best thing to happen to the linebacker. He has a chip on his shoulder, something to fight for and a reason to improve his game that involves far more urgency than if Cincy had used a fourth-round pick on him.
Sure, this is quite the projection. First, I am assuming that Burfict not only makes the 53-man lineup, but that he also earns enough time in the starting rotation to make an impact. But remember, just a few months back, Burfict was considered a first- or second-round talent; those skills haven't magically vanished because he went undrafted.
The best player wins the spot; when he was picked up doesn't have everything to do with why a player ends up with a starting job. I think that if Burfict can display the talent that made him a name worth talking about, then he is set up well to make a major impact in his rookie season. 
Most Improved Player: Safety Taylor Mays
This summer, five safeties will be battling it out for the starting job alongside Reggie Nelson, and it's Taylor Mays' chance to shine. Mays played out his second season with the Bengals last season after spending his rookie year with the San Francisco 49ers.
In 2011, Mays was a backup for Chris Crocker and was active for just 10 games, notching just seven tackles. He's the favorite to win Crocker's old starting job, and once he does, he should easily have the best year of his brief professional career.