SEC Football: Ranking the SEC Defensive Tackles
May 15, 2012

Kevin C. Cox/Getty Images
Every Tuesday, The SEC Blog will rank the top player at each position for each team in the SEC. Today, we rank the best defensive tackle at every school in the conference. Keep in mind, with some teams running a 4-3 and others running a 3-4, this list is as much system-based as any position on the field. For the sake of continuity, any interior defensive lineman is considered a defensive tackle.
14. Bryon Bennett, Ole Miss
Bennett saw action in all 12 of Ole Miss' games last season, with eight starts. He finished the season with 15 total tackles and 2.5 tackles for loss. Depth is an issue for the Rebels across the board, and Bennett is being counted on to be a leader.
13. Jonathan Mathis, Texas A&M
Mathis missed all of last season with a knee injury, but is expected to start at tackle in A&M's new 4-3 defense. In 2010, Mathis tallied 41 tackles and 3.5 tackles for loss. He's a solid player for the Aggies, but the injury concern is there.
12. Maurice Couch, Tennessee
Couch only started four games last season, but he saw action in 12. The 6'2", 292-pound junior will have to adjust to new defensive coordinator Sal Sunseri's 3-4 scheme and step in for recently departed defensive tackle Malik Jackson.
He will get help from fellow defensive lineman Darrington Sentimore, who was with Sunseri at Alabama from 2009 to 2010.
11. Kelcy Quarles, South Carolina
Quarles was named a second-team Freshman All-American by CollegeFootballNews.com following the 2011 season. He recorded 28 tackles and two tackles for loss as a freshman and played in 12 of South Carolina's 13 games. Quarles and Byron Jerideau will provide a solid interior line for the Gamecocks.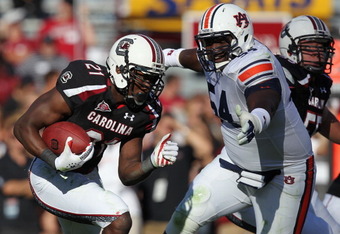 Streeter Lecka/Getty Images
10. Jeffrey Whitaker, Auburn
Whitaker tallied 25 tackles and two tackles for loss last season as a sophomore for the Tigers. He is part of a rebuilt Auburn interior defensive line that also features junior Kenneth Carter and sophomores Gabe Wright and Angelo Blackson.
9. Byran Jones, Arkansas
The defensive ends got most of the publicity on Arkansas' defense last season, but Jones put together a pretty solid season himself. The 6'2", 312-pounder finished last season with 47 tackles and 4.5 tackles for loss. Jones and Robert Thomas will solidify that Razorback interior line.
8. Mister Cobble, Kentucky
Cobble and Donte Rumph constitute a solid one-two punch for the Wildcats. As a sophomore, Cobble tallied 33 tackles and three tackles for loss. If there is a strength for the Wildcats this season, it's on the defensive line.
7. Sheldon Richardson, Missouri
Richardson is a solid player, but still hasn't lived up to the hype that earned him the No. 4 overall recruiting ranking by Rivals.com in 2009. He has a nose for the backfield, notching eight tackles for loss and two sacks.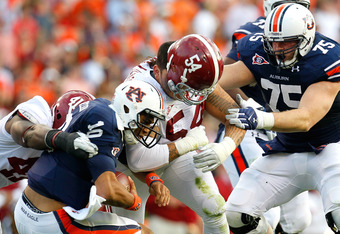 Kevin C. Cox/Getty Images
6. Jesse Williams, Alabama
Williams started all 13 games for the Tide during its 2011 national championship run, during which time he had 22 tackles and four tackles for loss. The senior is expected to be the starter at nose tackle in 2012.
5. John Jenkins, Georgia
Jenkins only started seven games last season, but appeared in all 14. The rising senior tallied 28 tackles, six tackles for loss, three sacks and an interception last season. He is being counted on to free up space for All-American linebacker Jarvis Jones.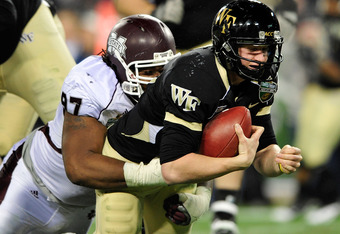 Grant Halverson/Getty Images
4. Josh Boyd, Mississippi State
Boyd has been around forever in Starkville and is looking to cap off his fine career with a solid season in 2012. He finished last season with 51 tackles and eight tackles for loss. The 6'3", 300-pounder will be playing at the next level in 2013.
3. Dominique Easley, Florida
Easley started 12 games last season, notching 37 tackles, 7.5 tackles for loss and 1.5 sacks. He tore his ACL in the Gators' final regular-season game against Florida State, but he's expected to regain his starting spot when he's back to 100 percent.
2. Rob Lohr, Vanderbilt
Lohr started all 13 games for the 'Dores last season, earning career highs with 41 tackles, 11.5 tackles for loss and five quarterback sacks. He earned SEC Defensive Lineman of the Week honors in Week 2 of 2011 vs. UConn with four tackles for loss.
1. Bennie Logan, LSU
In the shadow of Michael Brockers, Logan tallied 57 tackles, 6.5 tackles for loss and three sacks as a sophomore in 2011. He won SEC Defensive Lineman of the Week honors with his five tackles and three tackles for loss.