UFC 146: Junior dos Santos' Fight Against Frank Mir Getting Personal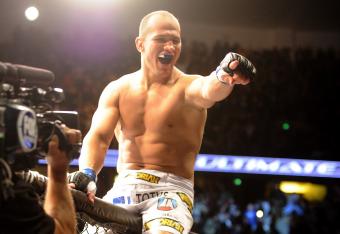 Jason Merritt/Getty Images
Despite being a "scary, scary dude" (h/t Joe Rogan), Junior dos Santos is one of the most likable guys in MMA. So you have to take him on his word when he says his upcoming heavyweight title defense against Frank Mir is purely professional and there are no personal feelings involved.
You have to believe him when he says he doesn't want to hurt Mir, despite the fact that Mir ruthlessly snapped the arm of his mentor Antônio Rodrigo Nogueira at UFC 140 in December last year.
Then again, it is becoming increasingly hard for Dos Santos to hide an underlying level of distaste he has for Mir, and memories of that fateful night in Toronto begin to play larger in the Brazilian's mind as their showdown draws near.
In a recent episode of UFC Primetime, Dos Santos, in conversation with Big Nog, is heard saying "[Frank Mir] is not a man. Against Shane Carwin, he pretended he was hurt. He's full of it."
This week on Ariel Helwani's MMA Hour, he explained his words.
What I was saying was I can see that in his fights, when he's in a bad situation...it's easy for him to give up... But when he's living in a good moment in the fight, he's a monster. He can capitalise on all the good moments and enjoy that moment really well, like he did with Big Nog. But in bad moments, it's easy for him to give up.
Mir was the first person to TKO Nogueira and last year became the first to submit him. The title challenger has since boasted of his ability to break arms in the Octagon and last month challenged Dos Santos' insistence that there was nothing personal in their upcoming match, contending that Nogueira's loss will certainly play in the heavyweight champion's mind.
Jon Kopaloff/Getty Images

I think it will be a nice feather in his cap if he wins to say, "Oh I got one for my master"-type scenario. I do think it has to be a little nerve-racking that the guy you roll with as a coach got submitted by the guy you're about to face. That has to be a little bit in the back of your mind.
Nogueira has known Dos Santos since he began his career in MMA and has served as his jiu-jitsu instructor. As a member of Team Nogueira, the words coming out of Mir's mouth are clearly beginning to get to the Brazilian. As Dos Santos told Helwani:
He likes to talk a lot of things...As a fighter he's a pretty good fighter...but he likes to talk, and that is not so good for me to hear when he says something stupid...He said something like when he fought Big Nog, my mentor, he said a lot of things, and now he start to say things like "he's fat" he's going to smash my joints in the fight...I don't care about that because I know he likes to promote the fight but sometimes it's not so good to hear.
As things stand, Dos Santos is the heavy favorite, so perhaps getting into his head is just what Mir needs to gain an edge in their fight. It's a tactic Mir has used before when he taunted Brock Lesnar that his would be the first death in the cage. However, in that instance Mir was forced to eat his words as a fired-up Lesnar pounded him mercilessly for almost two rounds.
Dos Santos will hope to do the same when the pair meet at UFC 146 on May 26 at the MGM Grand in Las Vegas.
For more MMA goodness, check out my blog: The Fight Week.
This article is
What is the duplicate article?
Why is this article offensive?
Where is this article plagiarized from?
Why is this article poorly edited?