WWE Rumors: John Cena, Big Show, Mark Henry and Tuesday's Top WWE News
May 15, 2012

Gallo Images/Getty Images
One of the biggest problems that I have with WWE today is the complete lack of respect that the people producing the show—namely, Vince McMahon—have for the people watching the show who enjoy wrestling. 
Last night's RAW was a perfect example of just how much McMahon loves to slap his audience in the face with the most overbearing, obnoxious and flat-out dumb angles that turn people away from the product. 
On the flip side, at least we get annoying John Cena back telling his awesome jokes, so that's something. 
Here are some rumors, rumblings and grumblings to get you past the train wreck that was RAW last night. 
JOHN CENA AND JOHNNY ACE IN THE FEUD THAT MUST CONTINUE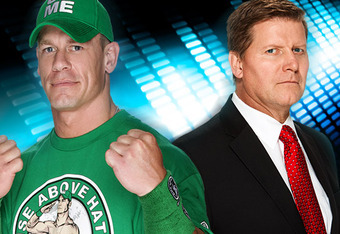 Here's hoping that you are enjoying the Cena vs. John Laurinaitis feud, because advertisements have the two doing battle one more time at No Way Out on June 17. Just when things couldn't get any better, you hear something like this. 
Question on Everybody's Mind: Will WWE really go back to the Cena vs. Ace well again?
Our Take: The fact that Johnny Ace is even getting one match against Cena proves that we should never think about what WWE is going to do. Still, it is hard to believe him having two matches at two consecutive pay-per-views with Cena. 
Hype Meter: 5 out of 5 Acts of Stupidity
I don't put much stock in what local advertisements say for WWE. The company is so clearly booked on a week to week basis without any regard to long-term planning, so any event advertised more than one day out is going to see the card change a few hundred times. 
Deeper Dive
Local Advertisements for No Way Out Reveal Main Event (NoDQ)
-------------------------------------------------------------------
BIG SHOW WILL BE JOHNNY ACE'S NEW RIGHT-HAND MAN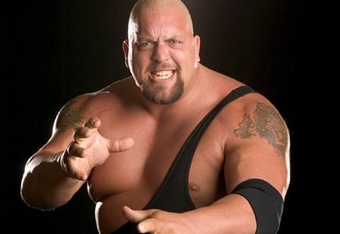 This is a personal prediction more than a definitive rumor, but anyone watching that angle last night, which really made Big Show look like a threatening presence, could clearly see where things were going. He is going to show up at Over the Limit and screw Cena in the match with Laurinaitis. 
Question on Everybody's Mind: What does this do for Lord Tensai?
Our Take: That implies WWE still cares about Lord Tensai. Given the tepid reaction to his return, and the "Albert" chants he always hears, perhaps McMahon finally realized that the Tensai experiment wasn't going to work. 
Hype Meter: 4 out of 5 Crying Giants
If WWE does, in fact, use Big Show as Laurinaitis' new lackey, it could not have done a worse job in making him look like a menace. Nothing says monster quite like having a seven-foot tall man crying like a baby with Laurinaitis standing in front of him. 
Deeper Dive
Update on Big Show's WWE Future (NoDQ)
Another Absent WWE Star, and Laurinaitis Lackey, Soon to Return (B/R)
------------------------------------------------------------------------
MARK HENRY TO GO UNDER THE KNIFE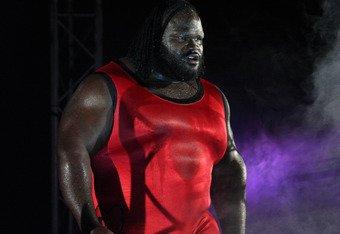 Gallo Images/Getty Images
Mark Henry is one of the most fragile wrestlers in recent WWE history, so his announcement that he would be undergoing surgery should come as no surprise. He does vow to return when healthy. 
#wwe tomorrow I go under the knife. When I return I will be the fire breathing, pain inflicting,face melting better than ever Mark Henry!

— TheMarkHenry (@TheMarkHenry) May 15, 2012
Question on Everybody's Mind: What will Henry be when he returns?
Our Take: He will likely revert back to being what he was before the end of last year—a part-time performer who beats some jobbers and works on the undercard of pay-per-views. He is too much of a health risk to trust in a big spot. 
Hype Meter: 4 out of 5 Halls of Pain
Henry may not have been anyone's favorite worker, but last year WWE finally found an angle that worked for him and he was actually interesting for the first time in his career. One big reason it worked is because there was a plan and no one cut it off before it had a chance to get over. It's amazing how that works.
Deeper Dive
Stars Who Made the Most of a Storyline Injury (B/R)
---------------------------------------------------
MATT MORGAN AND WWE, REUNITED AND IT FEELS SO...MEH?
Since WWE loves to bring talent back once it has had some semblance of success anywhere else, it should come as no surprise that Matt Morgan is on WWE's radar. Who doesn't want another bad worker with no personality on RAW or SmackDown?
Question on Everybody's Mind: Will WWE really push Morgan this time?
Our Take: The last time Morgan was in WWE was from 2003-05, and he was working with guys like Brock Lesnar and Big Show. So don't underestimate Vince McMahon's love for slow big men.
Hype Meter: 3 out of 5 Blueprints
You would think that a company like WWE would try to raid actual talent from its competition, like Samoa Joe or A.J. Styles. But since they don't have that "WWE look," they aren't even on the company radar. 
Deeper Dive
WWE Teasing Matt Morgan (Figure Four Weekly)
--------------------------------------------------------------
Ending things on a much more positive note, Tuesday night's episode of Ring Rust Radio on Blog Talk Radio, which airs live at 7 p.m. ET will feature former WCW Heavyweight Champion and WWE Superstar Diamond Dallas Page. 
To listen to the sure-to-be entertaining interview with DDP, bookmark this page and click here when the show goes live. You can also follow Ring Rust Radio on Twitter by clicking here.