Miami Heat: Will Chris Bosh's Absence Prevent LeBron James from Winning a Ring?
May 15, 2012

Marc Serota/Getty Images
LeBron James can't catch a break. Somewhere, someone is blaming him for Chris Bosh being hurt. I'm not breaking news here in telling you that Bosh strained a lower abdominal muscle (not sure I could even have that injury) and is out indefinitely.
The Miami Heat are up on the Indiana Pacers 1-0 with the next three games coming tonight, Thursday and Sunday. Bosh clearly won't play in those games and appears to be out for the series.
How will the Heat handle his absence on the court?
Ronny Turiaf and Joel Anthony will get his minutes at center with Udonis Haslem continuing to play power forward. This is a very different lineup without Bosh. The inside game dramatically suffers since neither Turiaf or Anthony are strong post players. LeBron's shortcomings there have been well documented.
Before we start feeling sorry for the Heat, let's remember they still write in numbers six and three in the scorer's book. LeBron and Dwyane Wade personally outscored the Pacers 42-38 in the second half of Game 1.
Let's not kid anyone here. An underlying story here is how does Bosh's injury affect LeBron's chances of finally winning a championship?
There have been many great players who didn't win a championship. You're probably familiar with the list. Karl Malone, John Stockton, Charles Barkley, Patrick Ewing to name a few.
None of them is LeBron. None of them graced the cover of Sports Illustrated as a high school junior, dubbed "The Chosen One."
Which means that it's different for LeBron to not win a championship. He won't just join the list of great players to never win one, he will top the list as the greatest to never win one.
His freakish size and skills have him in the discussion of greatest player of all time. He can't stay in the GOAT discussion without a ring. Championships count more in basketball than any other sport.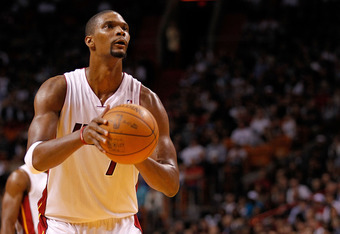 Mike Ehrmann/Getty Images
At the table for the discussion:
Bill Russell: 11
Kareem Abdul-Jabbar/Michael Jordan: Six
George Mikan/Magic Johnson/Kobe Bryant: Five
Larry Bird: Three
Wilt Chamberlain: Two
LeBron just won his third MVP in four seasons. The company he's keeping?
Abdul-Jabbar: five in seven years.
Russell: five in eight.
Wilt/Bird: three in a row.
Magic: three in four years.
Jordan/Moses Malone: three in five years.
Does LeBron lack the killer instinct to win a championship? Does he fade when it counts?
It's getting harder and harder to answer those questions with a no.
LeBron's skill set and size are unmatched in NBA history. He's 6'8" and 250 pounds. Russell was 6'9" and 220 pounds. Think about LeBron's ball handling and shooting at his size. It's stupid.
Will this be the year that LeBron wins the first of the many he said he would bring to Miami? No.
Indiana will give the Heat a fight in this series, but I think Miami still advances. While everyone assumes Boston will beat Philadelphia, the 76ers didn't get the memo and will give the Celtics all they want. I don't think either will stop Miami from getting to the finals.
That's where they predictably run into the Oklahoma City Thunder and Bosh or not, I predict the Thunder to hoist the Larry O'Brien trophy this year.
Follow on Twitter@sprtsramblngman.