Tottenham: Rating Every Player's Performance for the 2011-12 Season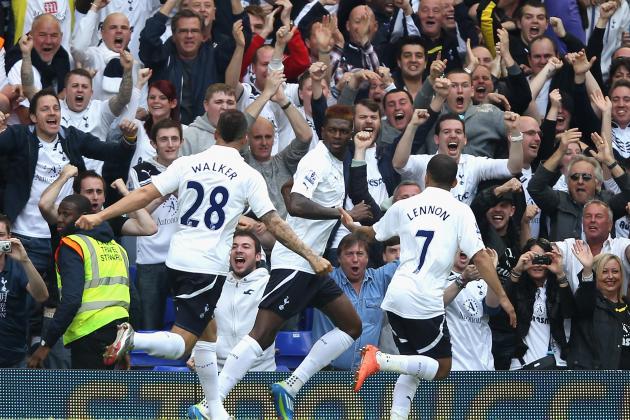 Clive Rose/Getty Images

Tottenham's roller-coaster of a season is finally over, and most Spurs' fans will likely have mixed feelings about the end result.
Fourth place is normally the position most Tottenham fans start the season hope their team will reach, but this season, it just doesn't have the same feel that it had previously.
That's because Tottenham could've easily finished the season with so much more.
For the first season in ages, Spurs were well clear of Arsenal, and even looked like title contenders early on. Even when the title bid quickly came to an end, the dream of finishing well ahead of their biggest rivals was very much alive.
But then came the post-North London derby decline, and we all know what happened next. Arsenal kept winning games, Spurs kept drawing or losing, and just like that, Tottenham lost the third-place position they'd held for much of the season.
In the end, things could've been much worse, as Chelsea and Newcastle both looked capable of overhauling Tottenham for fourth down the stretch. That Tottenham were able to recover their groove and hold onto fourth is an achievement in itself.
Ultimately, Bayern Munich's performance against Chelsea will likely determine how Spurs' fans view this season. If Bayern win, Tottenham are two games away from returning to the Champions League group stage.
If Bayern lose, Tottenham are back in the Europa League, a competition Harry Redknapp clearly doesn't care for.
So, for now, it's all in Bayern's hands. But that doesn't mean we can't evaluate Tottenham's players' performances to this point. Here are the Tottenham 2011-12 EPL Season Squad Ratings.
Note: Only the players who finished the season with Tottenham will be evaluated and rated.
Begin Slideshow

»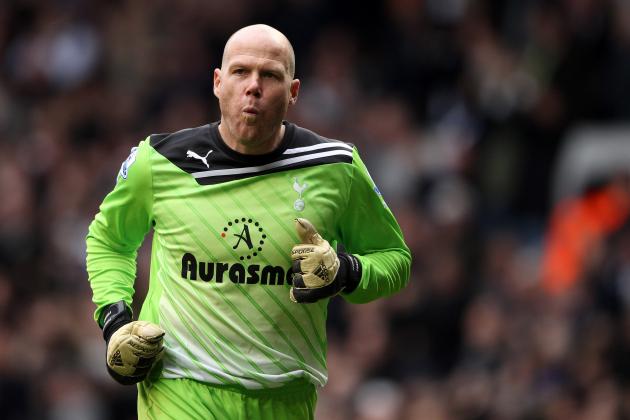 Scott Heavey/Getty Images

Brad Friedel
Brought in on a free transfer from Aston Villa, Friedel did everything asked of him, and then some. Friedel started all 38 Premier League matches this season, and conceded only 41 goals, securing 14 clean sheets in the process.
But really, stats can't summarize Friedel's contributions to Tottenham this season. He made hardly any errors, pulled off some incredible reaction saves, and coped with having to play with a constantly-changing centre-back duo.
For someone who'll be turning 41 in a couple of days, that's incredible, and Tottenham will be hoping he chooses to prolong his football career for at least another season.
Rating: 9/10
Carlo Cudicini
Cudicini was Tottenham's cup goalkeeper for the season, and he proved to be a fairly reliable presence in goal whenever called upon.
His last game, a 5-1 loss to Chelsea, will be one he'll want to forget about but, otherwise, Cudicini allowed only four goals in 10 games, keeping six clean sheets.
Rating: 7.5/10
Heurelho Gomes
For Gomes, this season was pretty much simply about seeing out the rest of his contract. After his numerous errors last year, he was demoted to third-choice keeper at the start of this season.
He ended up playing four games, two of which were clean-sheet wins, one of which was a penalty shoot-out loss to Stoke in the Carling Cup, and the other a home loss to PAOK, which ended Spurs' Europa League campaign prematurely.
Rating: 5.5/10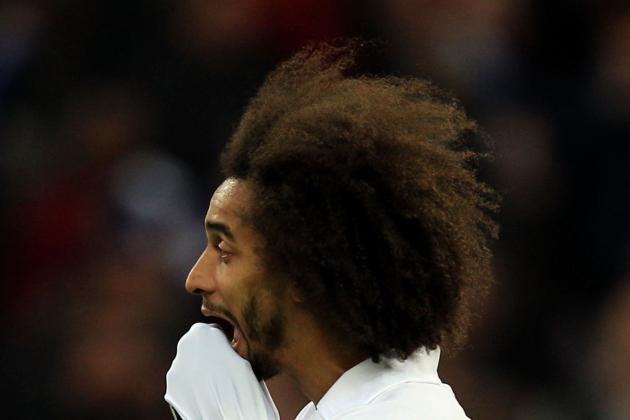 Michael Steele/Getty Images

Benoit Assou-Ekotto
Assou-Ekotto was almost completely unchallenged as Tottenham's left back this season. Though this didn't affect his game too negatively, there were many games when you could sense the lack of urgency or drive in BAE's game.
There were games this season when BAE was excellent (see the rescheduled Everton match) and games when he was downright awful (see the second North London derby). All in all, he got the job done, but I would really urge Harry Redknapp to provide him with some competition next season.
Rating: 7/10
Danny Rose
I like Danny Rose, and I really think he deserved more opportunities to show his talents this season than the three starts Redknapp gave him at the end of the season because BAE was recovering from surgery.
But his red card against Aston Villa was stupid, and cost us third place. That'll be the enduring memory for me and many other Tottenham fans about Rose's season.
Rating: 6.5/10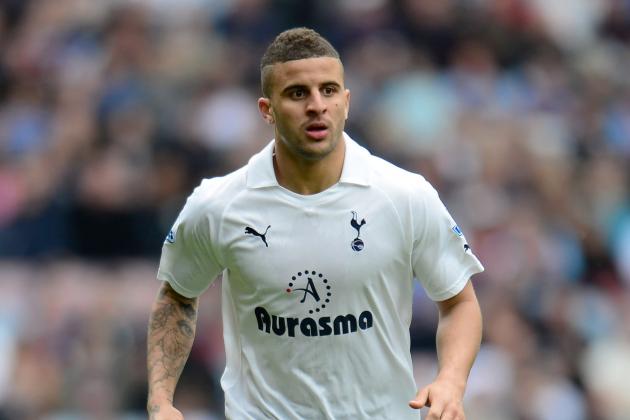 Shaun Botterill/Getty Images

Kyle Walker
Like Assou-Ekotto, Walker has practically no competition for his place in the team. Corluka was in the team for the two early season losses by Tottenham to the Manchester giants, but afterwards, the Croat found himself on the periphery while Walker become a regular in the starting lineup.
Though he has yet to utilize his pace in the most efficient manner, he has scored two beautiful goals to win two key games for Tottenham, and has defended with consistency for Spurs, earning him the PFA Young Player of the Year award. If he keeps developing, he'll be a future England and Tottenham great.
Rating: 8/10
Adam Smith
It's kind of funny how Smith has played in League One, the Championship and the EPL all in the same season. But 15 minutes of Premier League action is definitely not enough to determine anything about his ability and potential.
Rating: NA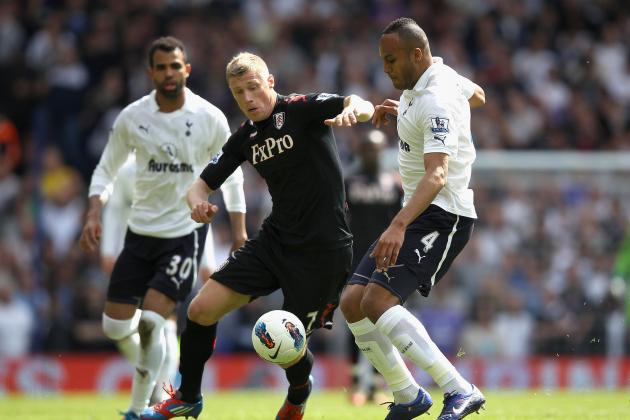 Clive Rose/Getty Images

Younes Kaboul
"Kaboul, Kaboul, Kaboul is on fiyuuhh"—Of the many Tottenham chants I heard this weekend, this one gave me a good laugh.
With 33 Premier League starts, Kaboul was Tottenham's most played center-back, and he managed to establish himself as a quality one too.
He still has plenty of room to grow, but there were hardly any downright awful performances by Kaboul this season. If he can up his "excellent" performances and turn a few of his average ones into good ones, he might just become one of the world's players at his position.
Rating: 7.5/10
Ledley King
King's season really fizzled out after Tottenham's 5-0 win over Newcastle. Mistakes started to creep into his game, injury issues re-arose and, in his last six starts, Tottenham were 0-1-5.
But prior to that game on Matchday 25, King was a rock. So much so that it seemed Tottenham could not lose with him in the starting lineup. Hopefully, the King we saw at the start of the season is the same King we'll see next season.
Rating: 6.5/10
William Gallas
Gallas was Tottenham's fourth-choice centre-back this season, but you wouldn't know it from the amount of playing time he got. It was usually his fault to some degree whenever Tottenham lost with him in the lineup, but he was generally solid in the games he was asked to play in.
Next season will be Gallas' last with Spurs, which sounds just about right to me.
Rating: 6.5/10
Michael Dawson
It's been a season wrecked by injuries for Michael Dawson. Between an Achilles injury and an injury to his ankle ligaments, Dawson has made only seven league appearances, three of which came in three of Tottenham's worst matches of the year (United away, City at home, Arsenal away).
Dawson was great last season, and Redknapp will be delighted to welcome him back into the team next season after a summer of recuperation.
Rating: 6/10
Ryan Nelsen
The reception Nelsen received by Tottenham fans this weekend and his Whoscored.com ratings would indicate that he hasn't been a good fit with Tottenham, but I beg to disagree.
He's effectively our fifth-choice centre-back, and I believe he brings plenty of experience and quality to the table despite being so far down the pecking order.
Is that enough to justify a new contract? That's another question entirely. With so many young, potential-filled centre-backs joining Tottenham's squad next season, the answer just might be no.
Rating: 6/10
Bongani Khumalo
I continue to know next-to-nothing about why Khumalo is actually at Tottenham.
Clearly, Redknapp's signing of Nelsen this January showed that he has no intention of ever playing Khumalo, and the South African is already 25; he's not a young guy who's suddenly going to become world-class. Surely he'll be sold this summer.
Rating: NA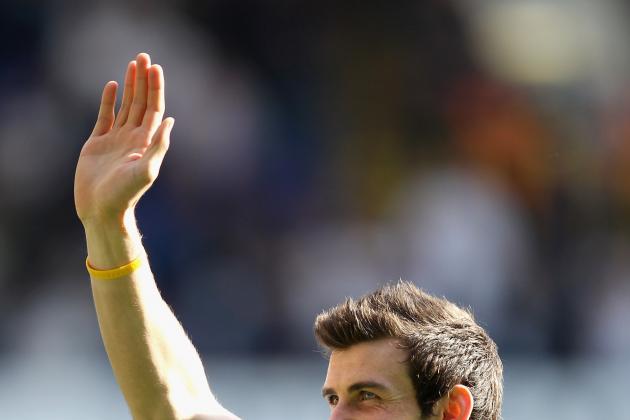 Clive Rose/Getty Images

Gareth Bale
10 goals and 14 assists from a winger in 36 games is great production. But, like Tottenham's season, it could've been so much more.
After a hot stretch from Matchday 10 to 23, Bale's goals dried up, even though his number of shots stayed sky high. He kept recording assists, though they weren't always the prettiest.
Returning to be a disciplined left winger and better shot selection will be two big things for Bale to work on this summer.
Rating: 8/10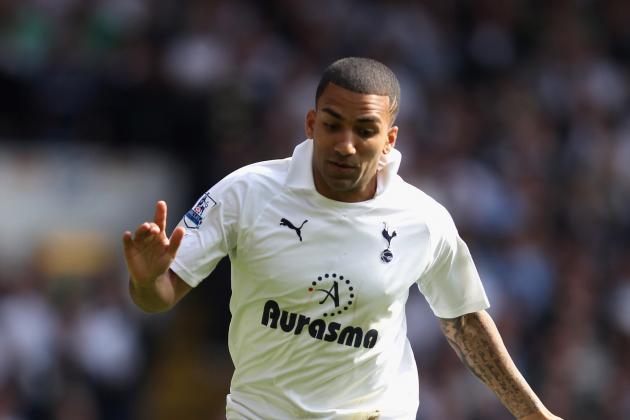 Clive Rose/Getty Images

Aaron Lennon
Even when he doesn't produce assists or goals, Lennon's pace and energy brings life to Tottenham's offense, life that was missing for big chunks of the season, as Lennon only managed to start half of Tottenham's league matches this season.
When available, Lennon was good; he still could improve his crossing and decision-making, but he was a big improvement over pushing Luka Modric or Rafael van der Vaart out wide. His biggest task will be to get stronger and avoid picking up so many niggling injuries.
Rating: 7/10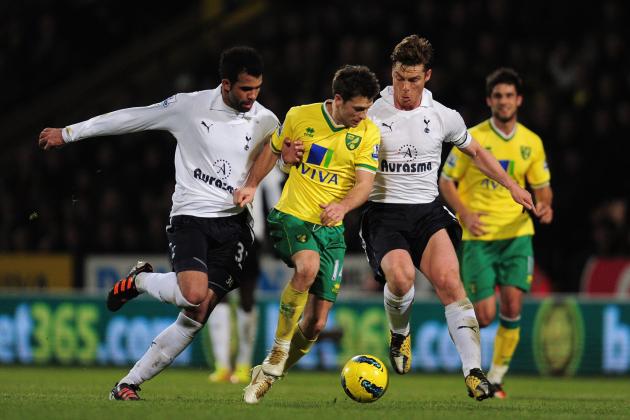 Jamie McDonald/Getty Images

Scott Parker
Parker got a little too carried away with his yellow cards from Matchday 22 to 27, but generally, he was giving it his all on the pitch game in game out. 3.7 tackles per game, 3.1 interceptions per game, and lots and lots of heart.
Rating: 8/10
Sandro
Injuries somewhat limited Sandro's season, but he still brought his tackling toughness and grit to Tottenham in 17 starts and six substitute appearances.
Although Redknapp has shown his distaste for it in the past, it might do Sandro some good to further his offensive game and become a bit of a box-to-box midfielder. He has the shot power to do it, and Parker's cover gives him room to run forward without worrying about rushing back.
Rating: 7/10
Jake Livermore
Redknapp's "flavor of the season" was Jake Livermore. He played in 24 Premier League matches, though 17 of those appearances were made as a substitute.
He's clearly got potential, and his confidence has certainly grown with more playing time. But I've yet to see him bring something to the table that neither Scott Parker nor Sandro have. Until that happens, I won't be very impressed.
Rating: 6.5/10
Tom Huddlestone
Unfortunately, knee problems kept him out for practically the entire year, minus three substitute appearances and one start in the Europa League. Next season he'll hopefully return to make the defensive midfield positions more competitive.
Rating: NA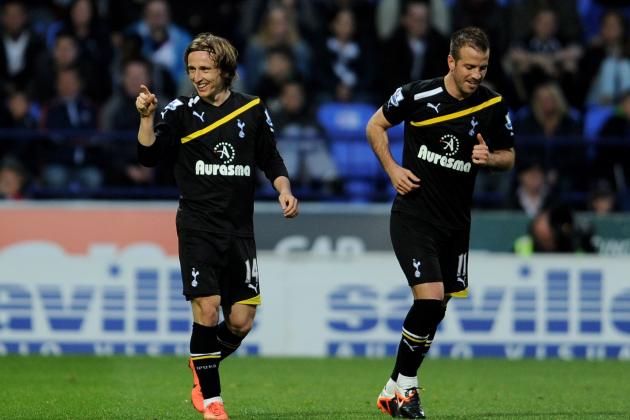 Michael Regan/Getty Images

Luka Modric
When "the big slump" hit Tottenham during and after the North London derby, even Modric could not escape its influence. He struggled when moved out of position, but even in the center of midfield, his control of the game was not as good as it had been earlier this season.
Like his teammates, Modric would eventually recover, and a goal vs Bolton seemed to signal a complete return to form. Still, while the goals from Modric have been great, adding more assists ought to be a major objective for the Croation playmaker, even if his game isn't necessarily about goals and assists
Rating: 7.5/10
Rafael van der Vaart
Van der Vaart had an incredibly hot start to the season, then followed that with an incredibly cold run of games (one goal in 14 league matches). He then proceeded to finish the season with roughly a goal every two games.
Consistency is something VDV will definitely want to work on this summer, and improving his link-up play wouldn't hurt either. From his advanced position behind the striker, it is certainly possible to pick up 10-plus assists with a little less selfishness.
Rating: 7/10
Niko Kranjcar
Kranjcar must've thought he was dreaming when Redknapp elected to name him a starter for four consecutive matches from January 31st to the end of February. Unfortunately for him, though, the SPurs boss made him one of the first scapegoats in the aftermath of the "North London disaster."
When he got playing time, Kranjcar's lack of pace was evident, but he did what he was asked to do, made smart decisions, and had good movement. Definitely a quality bench option who once again deserved more playing time than he received.
Rating: 6.5/10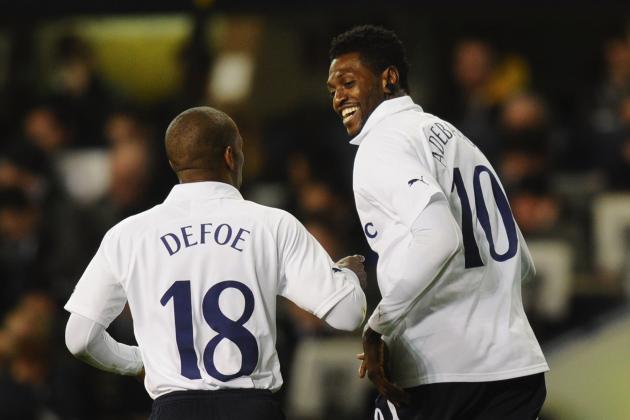 Mike Hewitt/Getty Images

Emmanuel Adebayor
For all the criticizing I and others have done of Adebayor this season, there's no way anyone can call 17 goals and 11 assists from a centre-forward anything but a good season.
I still wouldn't want Tottenham to match the insane wages he's currently earning, but I'm glad Redknapp has shown interest in retaining Adebayor. We could certainly do much, much worse.
Rating: 8/10
Jermaine Defoe
In 1299 minutes of Premier League action, Jermaine Defoe bagged 11 goals, scoring a goal every 118 minutes. For comparison, Gareth Bale scored a PL goal every 322 minutes, VDV scored one every 211 minutes, and Adebayor scored one every 166 minutes.
More impressively, Defoe's end of the season tally in all competitions is 17 goals and 8 assists. In the super-limited playing time Defoe has received this season, those numbers are incredible.
The jury is still out on what Defoe's role should be. He plays well as a super-sub, but he's also proven himself to be a capable goalscorer when started. As long as Tottenham are able to keep him though, they'll continue to benefit from his services in either capacity.
Rating: 7.5/10
Louis Saha
After a super-hot start vs Newcastle and another goal in the Arsenal derby, Tottenham fans and Redknapp were in love with Saha, but ineffective performances against United, Stoke and Norwich showed that the Frenchman was indeed too far removed from his prime.
His four goals were helpful to Tottenham in varying degrees, but I wouldn't want him around as Spurs' fourth-choice striker come next season. He's been a downgrade from Roman Pavlyuchenko.
Rating: 6.5/10
Giovani dos Santos
Hopefully this summer will be when Redknapp finally allows Dos Santos to leave for a club that will value and play him.
Dos Santos could've been great, and indeed did show flashes of greatness vs Cheltenham and Shamrock Rovers (in the Carling Cup and Europa League respectively), but Redknapp simply refused to give him a chance, and that's all that can be said about that.
Rating: 6.5/10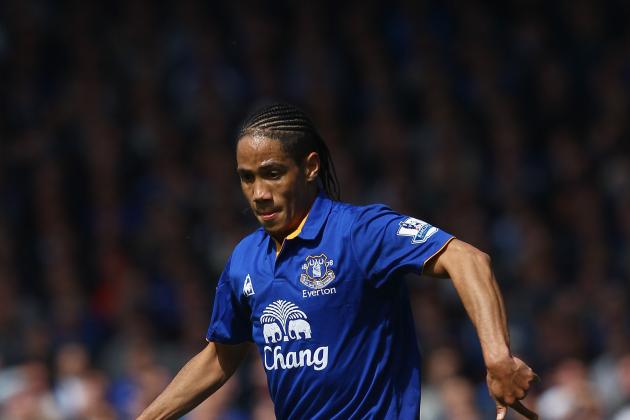 Clive Brunskill/Getty Images

Unfortunately, Harry Redknapp's lack of a rotation policy caused Tottenham to lose two very talented players: Steven Pienaar and Roman Pavlyuchenko.
Pienaar's excellent production in the second half of the season, and Everton's great upswing in performance have highlighted just how special a player Pienaar is. When he returns from his loan, it's unlikely he'll have any interest in doing anything but signing back with Everton.
Pavlyuchenko has yet to produce consistently for Lokomotiv Moscow, which is sure to make Tottenham fans feel a sense of vindication, but with a summer to transition he'll almost surely return to the 10-15 goals a season he was producing prior to moving to Tottenham.
Vedran Corluka and Sebastien Bassong are two other players who will likely depart this summer with Pienaar. They've both tasted regular football with their respective clubs, and will not be eager to sit back on the bench at Tottenham.
In the youth department, Adam Smith and Cameron Lancaster have all been given a taste of Premier League life this season, but it doesn't appear as if either of them are ready to step up to the first team yet.
Andros Townsend has looked very promising for both Leeds and Tottenham in the Europa League, though, and could be a solid youth product addition to the squad next season, along with Steven Caulker, Harry Kane and Kyle Naughton, if he isn't sold permanently to Norwich.