Chicago Bulls: Full Grades for Every Player and Coach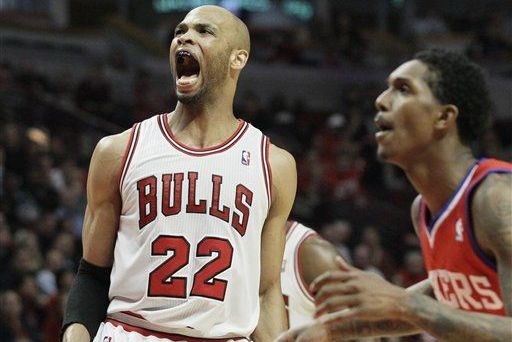 AP Photo/Nam Y. Huh
The Chicago Bulls' NBA season has come and gone, but that doesn't mean the Bulls' players and Tom Thibodeau are off the hook.
During this crazy, condensed NBA season, the Bulls had the NBA's best regular season record despite key players like Derrick Rose, Luol Deng and Richard Hamilton suffering significant injuries.
But injuries to Rose and Joakim Noah against the Philadelphia 76ers forced the Bulls out of the playoffs early.
See what grades your favorite Bulls got in this super slideshow.
Begin Slideshow

»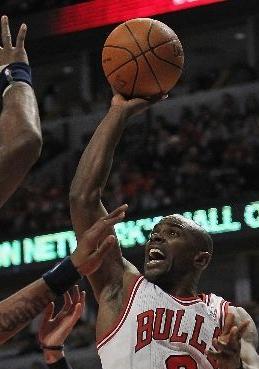 Photo by Jonathan Daniel/Getty Images
Mike James helped man the point after Derrick Rose and C.J. Watson were out with injuries.
The 36-year-old James was able to give John Lucas III and an eventual "healthy" Watson breathers while running the offense as a true point guard.
James was really good with the pick-and-roll offense with the Bulls' bigs, especially Carlos Boozer. He was a good defender on the floor and made sure the Bulls' backcourt didn't crumble.
James had averages of 4.8 points and 2.6 assists.
Despite being a better defender than Lucas, James didn't see any playoff action.
Final Grade: C in limited action (120 minutes)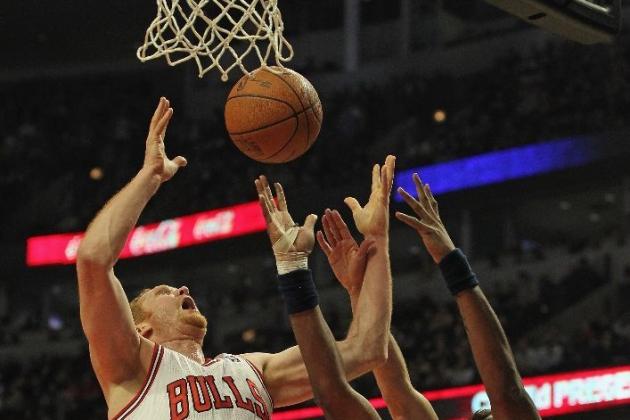 Photo by Jonathan Daniel/Getty Images
Brian Scalabrine isn't a good basketball player at all, and his lack of ability shot the Chicago Bulls in the foot in the NBA playoffs against the Philadelphia 76ers.
Scalabrine, a Chicago fan favorite for some reason, rode the bench more than a jockey rides a horse and scored 32 points in 123 minutes of action.
While fans might love him, Scalabrine was an obvious liability when Joakim Noah went down with a severe ankle injury that cut the Bulls' big man rotation to only three players (Carlos Boozer, Taj Gibson and Omer Asik).
Bulls coach Tom Thibodeau decided to play Asik over 39 minutes in Game 6 against the Sixers rather than let Scalabrine even get one minute.
Kind of tells you how "valuable" Scal is to the Bulls.
Final Grade: F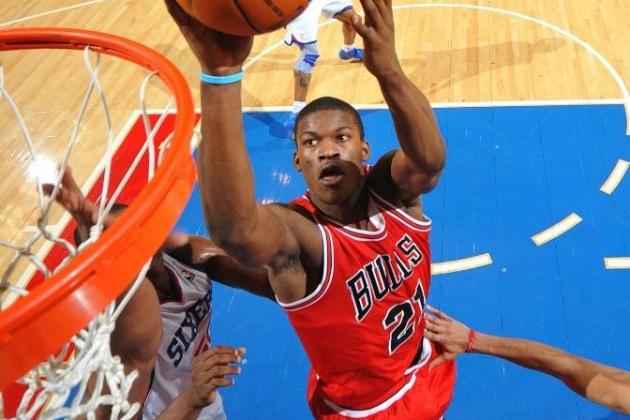 Photo by Jesse D. Garrabrant/NBAE via Getty Images)
Whenever Jimmy Butler hit the NBA hardwood, the Chicago Bulls rookie would show flashes of his ability to play solid defense and stretch the floor with a nice mid-range jumper.
But Butler would also show why he was not getting much playing time from Thibodeau (357 minutes) with missed free throws and careless mistakes.
The Marquette product is a good wing defender and should have a bigger role on the Bulls as Luol Deng will miss the beginning of the 2012-13 NBA season because of a lingering wrist injury.
Butler is a hard worker and will improve his game this offseason.
Final Grade: C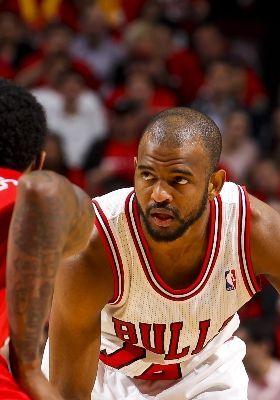 Photo by Gary Dineen/NBAE via Getty Images
The biggest surprise for the Chicago Bulls this year has to be John Lucas III.
Lucas played only two games last year and was cut from the Bulls. However, Lucas got re-signed and fought his way into the Bulls' rotation thanks in part to Derrick Rose's injury problems.
A professional journeyman, Lucas played 49 games (started two) while averaging 14.4 minutes a performance. He averaged 7.5 points and 2.2 assists.
While Lucas provided a spark off the bench, he was a volume shooting point guard (39.9 percent) who didn't run the offense smoothly. That aspect of Lucas' game was exposed against the Philadelphia 76ers as the 5'11" baller over-dribbled and failed to set his teammates up.
Final Grade: C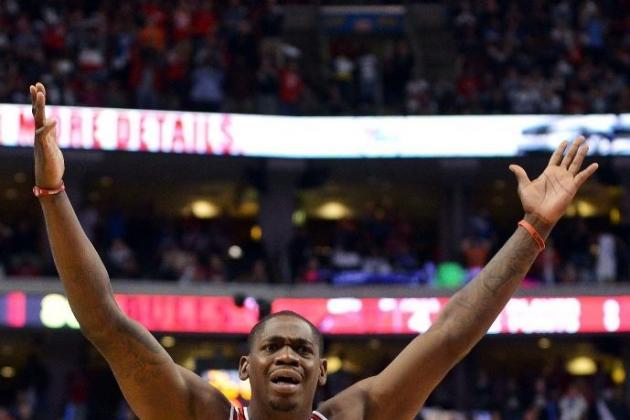 Photo by Drew Hallowell/Getty Images
With small forward Luol Deng and shooting guard Richard Hamilton out with injuries, reserve swingman Ronnie Brewer started 43 games for the Chicago Bulls this year.
Brewer began the season on a strong note by averaging 7.8 points a night and providing good energy to the Bulls.
But Brewer (6.9 points, 3.5 rebounds, 2.1 assists) then struggled with his shot by making only 38.8 percent of his shots in April while shooting a career-low 42.7 percent.
The 6'7" Brewer didn't play well at all in the playoffs, averaging 1.6 points (25 percent shooting) in 16.6 minutes per game against the Philadelphia 76ers.
While a solid defender, Brewer is an offensive liability, bringing down his grade.
Final Grade: C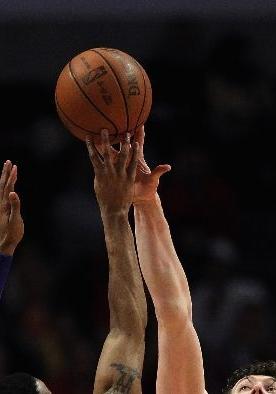 Photo by Jonathan Daniel/Getty Images
With Kurt Thomas leaving for the Portland Trail Blazers, Omer Asik was the Chicago Bulls' lone big body to man the paint.
The second-year Turkish baller (3.1 points, 5.3 rebounds, 1.0 blocks) did an admirable job with Taj Gibson and even with Carlos Boozer clogging up the lanes and grabbing rebounds.
Asik averaged 14.7 minutes a game and had 16 outings with eight or more boards.
Asik still needs to develop his offensive game (his shooting percentage fell from 55.3 to 50.6 percent) and needs to be more aggressive with his post-up game.
Final Grade: B-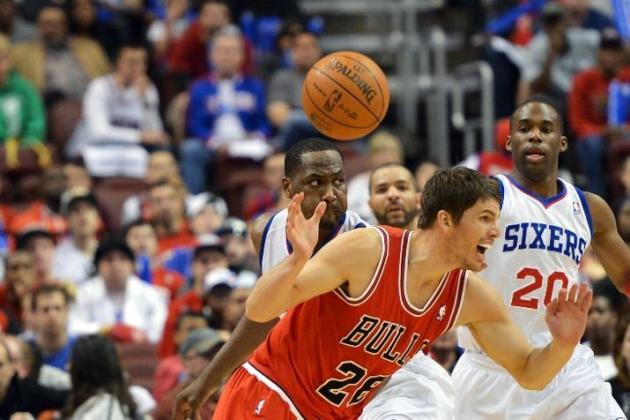 Photo by Drew Hallowell/Getty Images
The Chicago Bulls' Kyle Korver is a catch-and-shoot player who needs to get open on screens.
Korver played great at times during the regular season and then totally disappeared at others.
The 6'7" swingman from Creighton (8.1 points, 2.4 rebounds, 1.7 assists) did improve his three-point shooting percentage (43.5 from 41.5) from last year.
Korver was also a better defender in Thibodeau's system and moved better off the ball.
A late-season slump and horrid playoff showing (3.8 points on just 22 shots) keep Korver's grade lower.
Final Grade: C+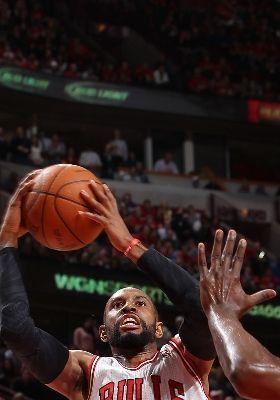 Gary Dineen/NBAE via Getty Images
Playing behind last year's MVP must have been frustrating for C.J. Watson at times because he could barely get on the floor.
But various injuries to Derrick Rose opened the door for Watson to play a significant role in the Bulls' season.
The 6'2", 175-pound Watson started 25 regular season games for Rose and was 17-8 as a starter.
Watson developed a good rhythm with Carlos Boozer and averaged 9.7 points and 3.8 assists in 23.7 minutes.
Due to an ankle and elbow injury, Watson struggled with his shot (36.8 percent) throughout the year and was ineffective during the playoffs (7.3 points on 24.1 percent shooting).
Final Grade: C+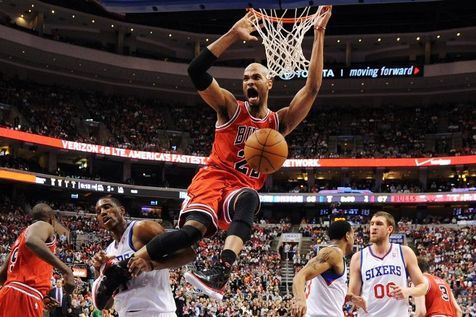 Photo by Drew Hallowell/Getty Images
Whenever Taj Gibson enters a game, the Chicago Bulls always seem to do better.
The third-year player from USC was a defensive specialist off the bench (7.7 points, 5.3 rebounds, 1.3 blocks) who also could catch fire offensively (21 games with double digits).
Gibson played well with Carlos Boozer, Omer Asik and Joakim Noah and was one of the few Bulls playing with heart against the Philadelphia 76ers.
Gibson's consistent productivity, coupled with his playoff performance, earn him a high grade.
Final Grade: A-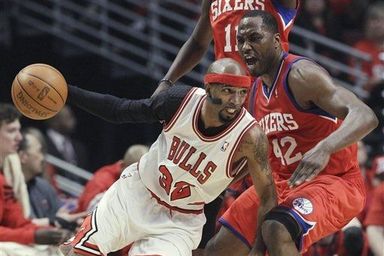 AP Photo/Nam Y. Huh
Richard Hamilton was supposed to be the difference maker against the Miami Heat after signing with the Chicago Bulls.
After Hamilton inked a nice deal with the Bulls, the savvy veteran shooting guard from Detroit seemed to be continually injured.
The 6'7" Hamilton missed 39 games due to hamstring and shoulder aches and pains, slowing down his effectiveness within the Bulls' offensive system.
Whenever Hamilton was on the floor, he produced (11.6 points, 3.0 assists) and played well off Derrick Rose.
However, Hamilton was mostly ineffective against the Philadelphia 76ers (13 points on 41.5 percent shooting).
Hamilton's injury-plagued year and disappointing playoff performance negatively affect his grade.
Final Grade: C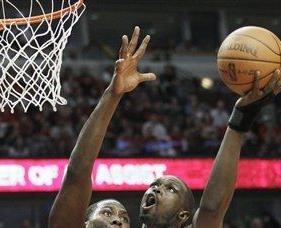 AP Photo/Nam Y. Huh
Luol Deng again put up solid numbers for the Chicago Bulls (15.3 points, 6.5 rebounds, 2.9 assists), as he does every year.
The South Sudanese baller did this despite suffering a bothersome left wrist injury in January en route to his first All-Star selection.
Deng led the NBA in minutes played (39.4), which was more than scoring champion Kevin Durant (38.6) and MVP LeBron James (38.3).
What hurt Deng's grade was his shooting (a career-low 41.2 percent due to the wrist injury) and not being a presence in Games 2-4 against the Philadelphia 76ers.
Final Grade: B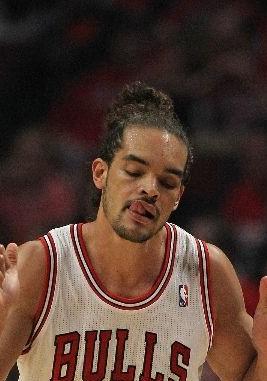 Photo by Jonathan Daniel/Getty Images
Chicago Bulls center Joakim Noah (10.2 points, 9.8 rebounds, 1.4 blocks) recovered from a slow start to the NBA season to have a solid year.
The fourth-year player from Florida had 24 double-doubles and provided strong post and help defense for the Bulls. He was a stabilizing presence through Chicago's various injuries to key players in Derrick Rose, Luol Deng and Richard Hamilton, helping the Bulls to a league-best 50 wins.
Noah was able to stay healthy until Game 3 against the Philadelphia 76ers, when he badly twisted his left ankle. The Bulls lost their offensive post presence and energy leader and were unable to beat the Sixers without him.
He averaged 15 points and 9.3 rebounds versus Philly.
Final Grade: B+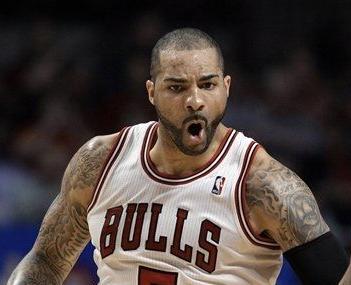 AP Photo/Nam Y. Huh
Carlos Boozer tried proving doubters wrong after an underachieving 2010-11 NBA season.
He met with mixed results.
Boozer was able to stay healthy throughout the entire season and post up respectable numbers (15 points, 8.5 rebounds).
With Derrick Rose constantly out with injuries, Boozer stepped up and provided some offensive consistency in Rose's absence.
Boozer, though, again couldn't deliver come playoff time (13.5 points on a career-worst 42.2 percent shooting) when Rose and then Joakim Noah suffered series-ending injuries.
Boozer's second consecutive lackluster playoff output will put more pressure on him next year as media and fans will be calling for him to be amnestied.
While that's the cry, expect Boozer to play for Chicago next season.
Final Grade: B-
Photo by Jonathan Daniel/Getty Images
It seems Derrick Rose only catches the wrong breaks.
After winning the 2010-11 NBA MVP, Rose suffered through numerous injuries that forced him out 27 regular season and five playoff games.
The killer was when Rose tore the ACL in his left knee during Game 1 of the Bulls' playoff series against the Philadelphia 76ers.
The Bulls' subsequent playoff ousting by a significantly weaker Sixers squad once again proves Rose's immense value to his team as Chicago looked hopelessly lost without their leader.
Rose (21.8 points, 7.9 assists, 3.4 rebounds), did play great while on the court while displaying improved shooting and passing.
However, Rose's injuries prevent Chicago's best athlete from earning an A.
Final Grade: B+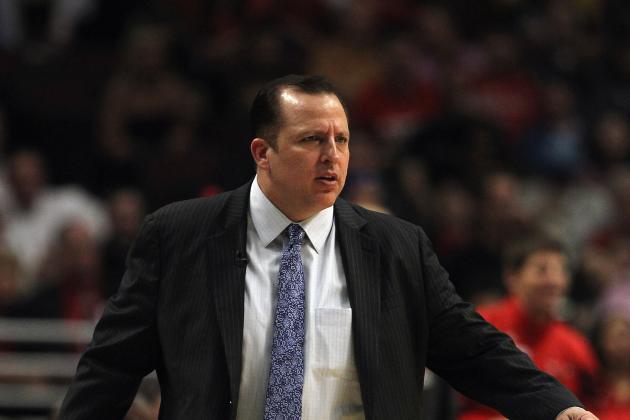 Jonathan Daniel/Getty Images

Tom Thibodeau might be just in his second-year as an NBA head coach, but the former Boston Celtic assistant has solidified himself as a top coach.
Thibodeau had to deal with crippling injuries to his top players (Derrick Rose, Luol Deng and Richard Hamilton) throughout the entire regular season and still managed to navigate the Bulls to a league-best 50-16 mark.
The Bulls finished first in scoring defense (88.2 points) and rebounding (46.7 per game) while being one of the most efficient passing teams in the league (23.1 assists to 14 turnovers). This helped Thibodeau get second place in Coach of the Year voting (San Antonio Spurs head coach Gregg Popovich).
Thibodeau wasn't at fault for Rose's ACL injury (Rose drew no contact on the play) and felt compelled to let Joakim Noah come back in Game 3 against the Philadelphia 76ers after he hurt his left ankle to give his team confidence.
While Thibodeau had little to work with against the Sixers, he should've had his team more prepared before Game 2 and not blow a 14-point fourth-quarter lead in Game 3.
Losing to the 76ers knocks Thibs' grade down a bit.
Final Grade: B
Bob Bajek is an NBA/Chicago Bulls featured columnist. He is also a freelance reporter and can be followed on Patch.com and Twitter.