Seattle Mariners: 5 Solutions to Jump Start Sputtering Offense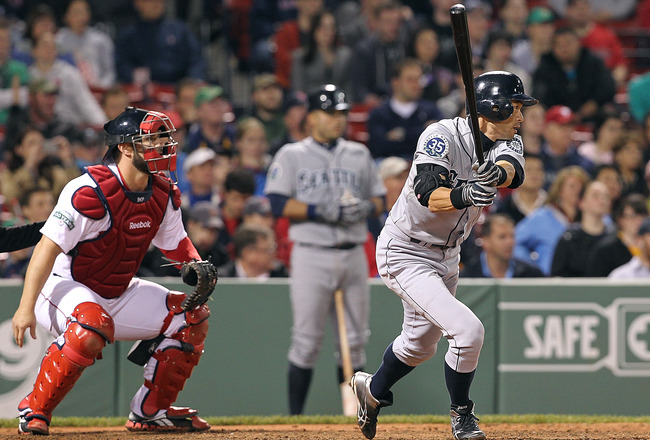 Jim Rogash/Getty Images
With the season approaching its one-quarter mark and the Seattle Mariners finding themselves once again in last place one can't help but break out some comparisons to the 2011 team.
Both teams were enjoying nearly identical records at this point in the season. Both teams' batting averages hover around a dismal .235.
It goes without saying that Manager Eric Wedge's job is probably one of the toughest in sports. With a bunch of inconsistent and somewhat streaky rookies and grossly underperforming veterans, Wedge has little control over what actually goes on the field.
It's a narrow tightrope to walk between making lineup and roster decisions while not frustrating the team. If Wedge loses the clubhouse, he's as good as home.
But for now, the plummeting M's still have potential to work with to save an offense that admittedly we didn't have high expectations for coming into the season. Also a lot of secret hope that Ichiro might revive his career or that Justin Smoak might make this a breakout season.
Move Ichiro from the 3rd Hole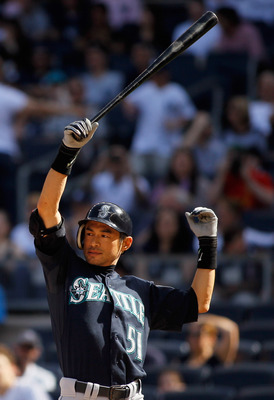 Mike Stobe/Getty Images
You probably couldn't place blame on Ichiro for the offensive struggles endured this season. He's hitting a cool .291 for the year, easily the best average among regulars.
Don't read too much into his publicized struggles with runners in scoring position just yet, because 39 at-bats just isn't a proper sample size.
But for now, the Mariners need to try batting Ichiro back in the leadoff spot. It usually isn't in the best interest of the team that has its best hitter bat third, anyways.
The Mariners need to score more runs by stringing hits together, and that can start at the top with Ichiro regaining his more natural leadoff role. Wedge won't be making the move just yet, but sooner or later, it's one that needs to be made.
Bat Kyle Seager 3rd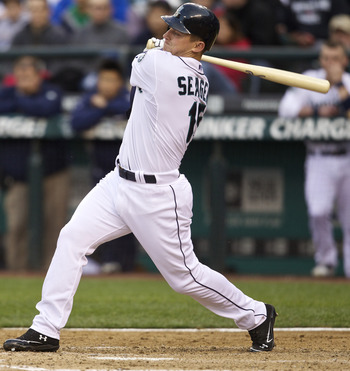 Stephen Brashear/Getty Images
With the exception of the last couple of games, Seager has been hitting the ball well as of late. He's been driving in runs and it goes without saying that he does lead the club in RBI. Often, those RBI are coming in key situations.
Isn't that the kind of hitter that you want to have batting third? Probably, and especially considering how productive he is in comparison with the rest of the lineup.
It's time to try Ichiro, Ackley, and Seager in that order at the top of the lineup. All three are solid hitters who make enough contact with the ball to at least make innings more exciting.
Alex Liddi to Shortstop?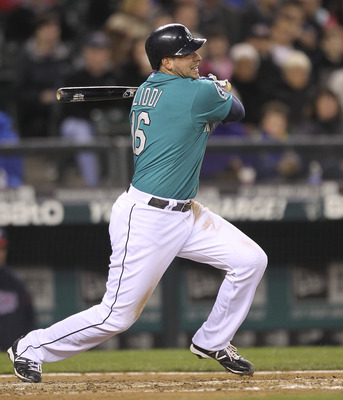 Otto Greule Jr/Getty Images
Let's not delude ourselves into thinking that Liddi can be the shortstop for the future, or that he's being groomed as such.
But the Mariners are in dire need of a bat to fill the black hole between second and third base. Despite his enthusiasm day in and day out, Munenori Kawasaki is batting under the Mendoza line for the season. And Brendan Ryan? He's inventing a whole new line for himself with a sub-.150 average.
Toss in the fact that Liddi is a right-handed hitter, and it becomes clear that the Mariners need him badly in the lineup. No one says he's the instant lightning-in-a-bottle fix, or that he has to be, but with an offense that's struggling mightily, it'd be foolish to keep Liddi on the bench.
Liddi has played some shortstop before, so on defense he could hold his own. Probably not a Brendan Ryan defender, but he did show some very solid defense at third base.
Bottom line: Get Liddi in the lineup.
Casper Wells Is Not a Ghost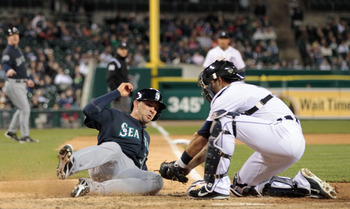 Leon Halip/Getty Images
It's been a very difficult season to stomach, and 2011 hero Mike Carp has made it worse. Batting .139 on the season, the man hasn't found his groove.
Similar to Franklin Gutierrez's situation from last year, after coming back from the DL he's been floundering with relatively consistent at-bats. I don't know if this is a result from a lingering condition related to his injury, but it's not encouraging.
Sooner or later, the M's need to try getting Wells daily playing time. Stick him in left field for a week.
Although his numbers haven't looked great this season, it's in a mere 40 at-bats, many of which have come in late-inning pinch hitting situations. The M's haven't given him any more than two starts in a row.
When you have a guy in Carp who just isn't seeing the ball well, it's hard to justify not giving Wells a shot. Especially when he's a right-handed batter in an offense that's searching for a spark.
Work Smoak Up the Batting Order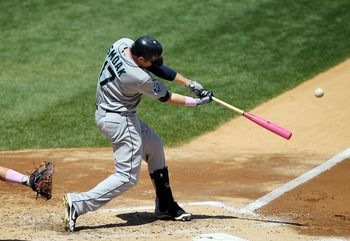 Jim McIsaac/Getty Images
Coming into Tuesday, Smoak has been batting an encouraging 8-for-16 in his last several games.
Especially when the rest of the team hasn't been pulling its fair share, this comes as good news. The Mariners desperately need a power-hitter (and a switch-hitting one at that) to contribute in the middle of the lineup.
If Smoak can continue to put together decent at-bats, Wedge needs to work him up the order to an ideal cleanup role.
With Smoak hitting well, the picture can become much clearer. You'd have pretty consistent hitting at the top of the order with Ichiro, Ackley, and Seager, with upside down the lineup in Smoak, Liddi, and Montero. These guys hold the potential to sustain big innings and hit home runs.
Keep Reading

Seattle Mariners: Like this team?