WWE Raw Recap: A Quick Summary of What Happened on Raw's 5/14 Edition
May 15, 2012

Below is a brief re-cap and play by play of the matches and important moments of this week's Monday Night Raw.
For those of you who are waiting to watch it, it does contain spoilers. For those of you who want to know what happened and fast, please read on.
Segment 1
The show opened with Triple H heading for the ring. He ran into John Laurinaitis. Laurinaitis is condescending and pisses off Triple H. HHH wishes Johnny luck against John Cena at Over the Limit.
Triple H addressed the WWE Universe and said he is offended by Brock Lesnar and points out that Lesnar always quits when things are tough. Paul Heyman and a suit interrupted the COO and presented him with a lawsuit on behalf of Lesnar.
Heyman cut a promo slating Triple H. The COO grabbed Heyman by the face and said that Brock will get everything he deserves. As Triple H began to leave, Heyman stated that he is going to sue HHH for assault and battery after he placed his hands on him.
Segment 2
Tag team match between CM Punk and Santino vs. Daniel Bryan and Cody Rhodes.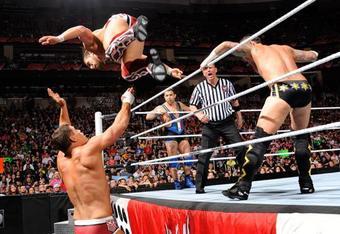 Great pop for Punk but an average spot after last weeks ratings.
CM Punk hit Rhodes for GTS and pinned for a three count as Bryan ran away.
This was quite an enjoyable match. Cody Rhodes looked weak against Punk, Santino looked like a joke again, Daniel Bryan looked like a coward and CM Punk looked very strong.
Winners: CM Punk & Santino
Segment 3
Beth Phoenix vs. Alicia Fox. Phoenix squashed Fox in two moves while Layla looked on. Layla then made a save for Fox by taking out Phoenix. Typical minute-and-a-half Diva match.
Winner: Beth Phoenix
Segment 4
Kane vs. Big Show
Kane chokeslammmed Big Show and won via pinfall after Laurinaitis interfered by demanding another apology. Slow match with sloppy ending.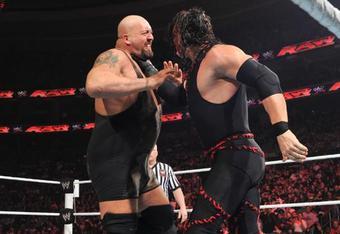 Winner: Kane
Laurinaitis threatened to fire Show if he didn't get on his knees and beg. After pleading his case and then eventually begging on his knees, Big Show was fired anyway and cried in the ring. Nice segment with real tears by Show, but too long.
Segment 5
Six-Man Tag Team Match between Brodus Clay, R-Truth and Kofi Kingston vs. The Miz, Jack Swagger and Dolph Ziggler.
Clay danced. Decent tag action. We saw a shot of the All-World Stable in the sky box. At least it seems like it's becoming a stable.
Basically a squash as Clay, Truth and Kofi picked up the win following a Trouble in Paradise and a big splash by Clay on the Miz.
Winners: Clay, Truth and Kofi
The winners and a heap of kids danced in the ring to celebrate in the quick match with everything you would expect from each superstar.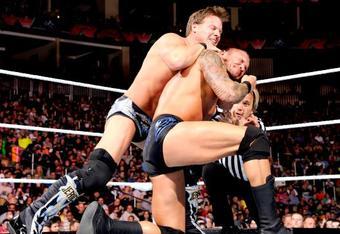 Segment 6
AJ interrupted Alex Riley and CM Punk chatting backstage and wished the Champion luck for Over the Limit. Punk asked her to leave him out of whatever it is that she and Bryan are in, saying that he doesn't trust Bryan and that she's unstable.
Segment 7
Chris Jericho vs. Randy Orton
Sheamus was on commentary. Good pops for Sheamus and Orton.
Chris Jericho threw Orton into Sheamus at the announcer's table. As expected, the match ended with DQ when Sheamus pulled Jericho from ring and attacked him. This was a solid matchup until this point with both Jericho and Orton looking strong.
Winner: Chris Jericho via DQ
Officials separated Orton and Sheamus as things became heated, and they looked to start an impromptu match. Looks to be setting up a Sheamus and Orton feud.
Closing Segment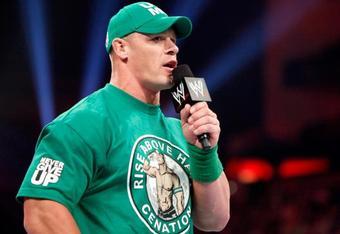 Surprise, surprise—Cena closed the show.
Laurinaitis stepped into ring to talk smack about John Cena and the crowd. John Cena entered to a positive response for a typical mixed Cena reception, which quickly turned to boos once the music stopped.
Cena did a great impersonation of Johnny Ace and Jim Carrey to a good response. Cena worked the crowd well.
Eve made her steamy way to the ring with a letter for Laurinaitis from the Board of Directors, which stated that there will be no interference or ring-side assistance for his match against Cena.
Any superstar who interferes will be fired immediately, and should Laurinaits lose, he will be fired.
RAW ended when Laurinaitis slapped Cena and left. Cena chants rang out as the show faded to black.