Boston Red Sox Show Signs of Life in AL East
May 15, 2012

Jim Rogash/Getty Images
What a difference four days makes.
Late last week, the Boston Red Sox were a ballclub in turmoil. Painful to watch, the team looked to be on the verge of collapse.
Pitching was awful.
Hitting was too.
And a restless Red Sox nation could not help but catcall and boo.
But currently, this house once divided against itself looks united.
With Monday's 6-1 win over the Seattle Mariners, the Red Sox have won four straight games. While still 16-19, and by no means out of the woods, Boston's display of grit is great to see.
Perhaps early-season hardships have united Red Sox nation, in the wake of losing the "Voice of Fenway."
Maybe Will Middlebrooks and Daniel Nava have given Boston a spark this team desperately needed. That's hard to argue with—both ballplayers have contributed to the Sox scoring 29 runs the past four games.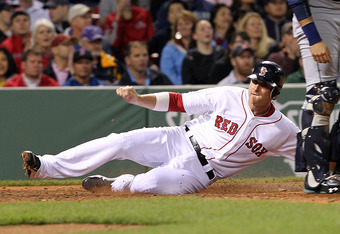 Jim Rogash/Getty Images
Or perhaps Boston's much-maligned pitching staff has hunkered down and delivered like it knows it can. Three total runs surrendered the past three games by the Sox surely provides the proof in this pudding.
Whatever the reason for Boston's rebound, the 100th season at Fenway Park suddenly does not look as bleak as it did four days prior.
Of course, this is a small sampling of ballgames from a marathon season.
Whether Boston can maintain this momentum is anyone's guess.
But as a devout follower of the AL East, it is nice to finally see the Red Sox join in the fight.
Related Articles:
Boston Red Sox Top Prospect Jose Iglesias Heating Up at Pawtucket
Why Red Sox Fans Love Rip Sewell's Manhood Defying Eephus Pitch