Early Breakdown of New York Giants' 2012 Schedule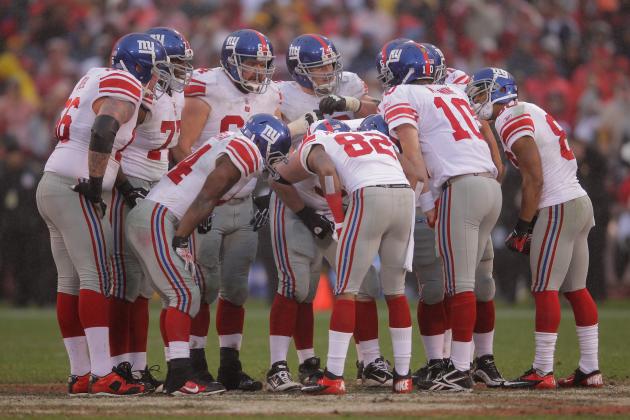 Doug Pensinger/Getty Images

"To the victor go the spoils," reads a popular sports adage.
Well, for the world champion New York Giants, that might not be the case.
Fresh off their improbable Super Bowl run, Big Blue will see no shortage of formidable foes in 2012. Aside from the ever-competitive NFC East, Eli Manning and company are forced to play seven playoff teams from last year, as well as a handful of upstart squads.
True, we're still a few months away from kickoff, but it's never too early to make some predictions. Let's take a look at the Giants' 2012 schedule, game by game.
Begin Slideshow

»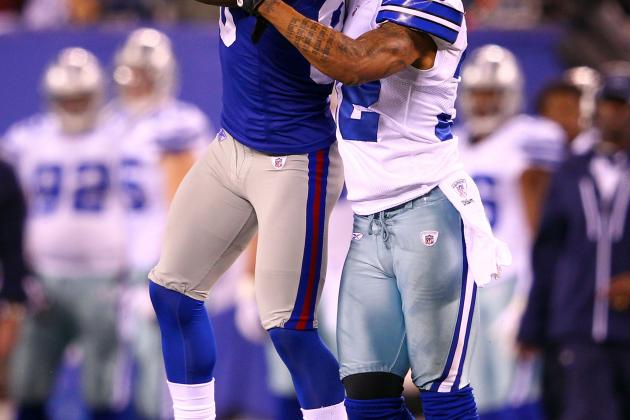 Al Bello/Getty Images

The Giants swept their bitter division rivals in dramatic fashion last season, claiming a Week 14 matchup by the fingertips of Jason Pierre-Paul, and later falling on the right side of a 31-14 final to clinch the NFC East in Week 17.
Both games were showcased on Sunday Night Football, and both games were bona fide shootouts: the G-Men dropped a whopping 68 points on Big D last year.
Much of this success can be attributed to Eli Manning, who was nothing short of spectacular in both efforts. Eli tallied a 109.7 quarterback rating against Dallas, exploiting their notably porous secondary.
However, Dallas has bolstered their pass coverage with the signing of Brandon Carr and the selection of Morris Claiborne in April's NFL Draft. The Cowboys were also very effective on the ground against the Giants' front seven.
But in the end, Big Blue should be trusted to take care of business and start the year off right. The Giants made quick work of the Redskins when they last kicked off a season back in 2008.
Final: Cowboys 17, Giants 31 (1-0)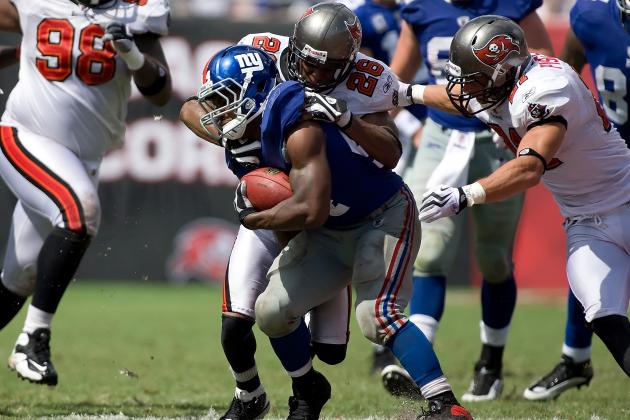 J. Meric/Getty Images

The Giants start off the season with consecutive home games against conference opponents, playing host to Tampa Bay for a one o'clock Sunday kickoff in Week 2.
The Bucs haven't beaten Big Blue since 2003, and don't expect that to change in 2012. Greg Schiano does have his team on the upswing though, with freshly-inked Vincent Jackson and Carl Nicks rejuvenating a previously-stagnant offense, and corner Eric Wright arriving to help the league's 30th-ranked defense.
Ultimately, Tampa's secondary is still a liability, and the Giants are a pass-happy offense. It might be closer than expected, but expect New York to pull this one out and avoid the trap game.
Final: Buccaneers 14, Giants 24 (2-0)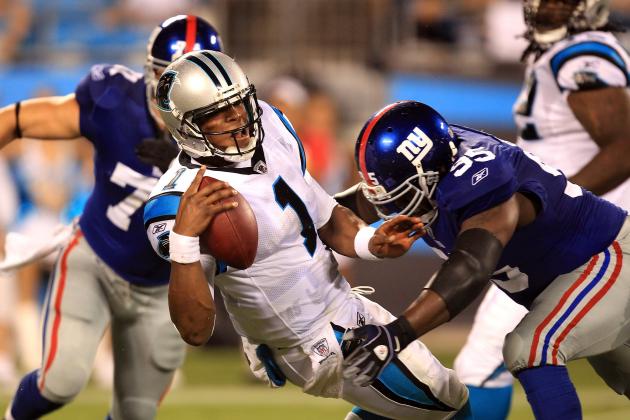 Streeter Lecka/Getty Images

This one should be interesting.
The G-Men's aggressive, agile front seven meets the elusive Cam Newton in primetime football. The Panthers had flashes of brilliance last year and show immense promise for 2012. If Newton remains productive and the Carolina defense emerges, watch out.
The re-signing of Steve Smith and the addition of bruising back Mike Tolbert makes this a potent offense that can score in bunches. But the Giants are still a step ahead of Carolina on both sides of the ball, and Carolina hasn't improved their secondary quite enough. With Nicks and Cruz having field days, New York should squeak past in a shootout.
Final: Giants 31, Panthers 23 (3-0)
Patrick McDermott/Getty Images

A media melee, an endless slew of storylines encompass this game.
It will renew the fierce feud brewing between defensive end Osi Umenyiora and Eagles running back LeSean McCoy. It will be the next chapter in a historically hostile rivalry. And it's all going down under the lights.
The Eagles were a tremendous disappointment in 2011, but did finish out strong with a three-game winning streak. The Giants, on the flipside, were serious overachievers.
Despite their successes, the G-Men struggled mightily against the Eagles in their most recent matchup. McCoy torched New York for 113 yards, and with a healthy Michael Vick in the mix, Philadelphia's ground attack should prove to be a bit too much to handle this time around. At the rowdy Lincoln Financial Field, the Eagles hand the Giants their first loss of the season.
Final: Giants 16, Eagles 28 (3-1)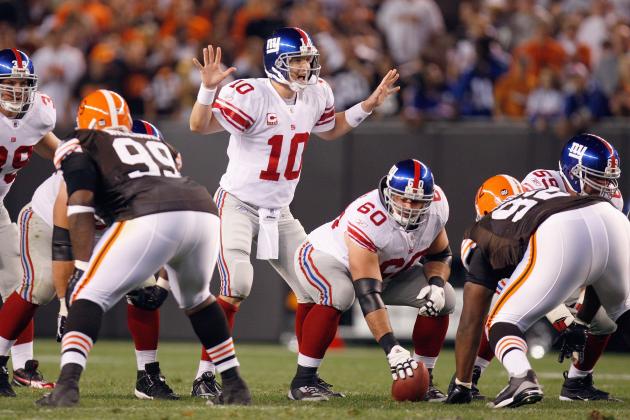 Gregory Shamus/Getty Images

Like Tampa Bay and Carolina, Cleveland is a young, promising team that seems to be a few years away from serious contention.
Well under the radar in 2011, the Browns' defense ranked tenth in the league, and the additions of QB Brandon Weeden and RB Trent Richardson may have an immediate impact on the offensive side of the ball.
This too shows all the signs of being a trap game. Still fitting together pieces of the offensive line puzzle, Manning may be in for a long day against Cleveland's front seven, who forced 15 fumbles last year.
But it's tough to go against the Giants at home, especially with Cleveland sorting out its quarterback situation.
Final: Browns 13, Giants 17 (4-1)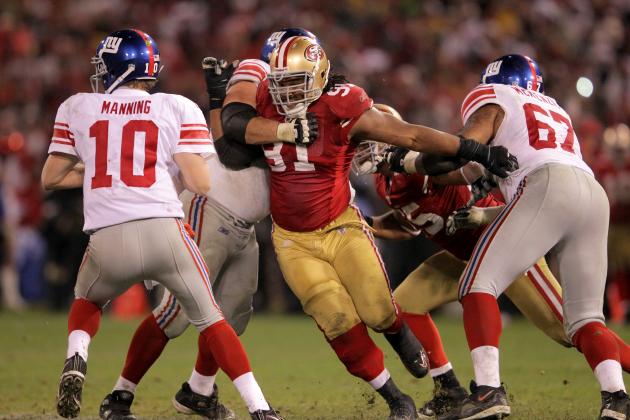 Doug Pensinger/Getty Images

They're going, going, back, back, to Cali, Cali.
The defending champs take their show out west in Week 6 to face the 49ers. The masses at Candlestick Park will be amped up, and the tough-nosed Niners will look to avenge their overtime NFC Championship Game loss.
Mind you, San Francisco was just a fumble away from ousting the Giants and playing in the Super Bowl. The Niners' Achilles' heel was their receiving corps, but when ex-Giant Mario Manningham joins forces with future Hall of Famer Randy Moss, things will get dangerous out in the Bay.
The Niners' stout defense and physical running game, which now includes former Giant Brandon Jacobs, may prove to be too much for Big Blue. Against the NFC West last year, Eli Manning threw six interceptions in four games. The division's leaders will be tough to beat.
Final: Giants 13, 49ers 21 (4-2)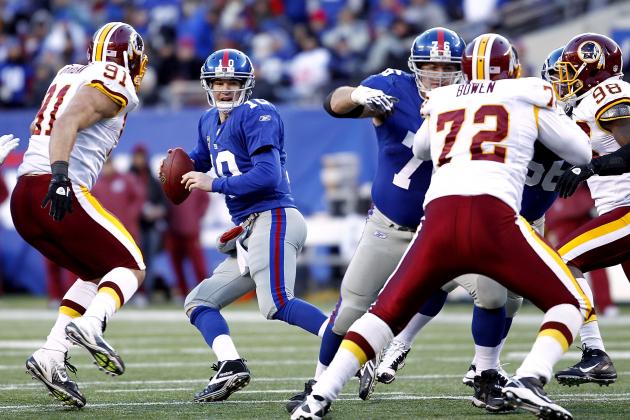 Jeff Zelevansky/Getty Images

The Giants' struggles with division rival Washington were well-documented last year. Despite finishing 2011 at a paltry 5-11, the 'Skins swept New York by a combined score of 51-24.
Highly touted dual-threat Robert Griffin III has already been named the team's starter by coach Mike Shanahan, and while he may certainly experience a few growing pains in his rookie campaign, expect his raw physicality and athleticism to shine. The 'Skins have a serviceable defense and an exciting new offense.
But the Giants are an entirely different team from when they last met Washington in Week 15. If the defense continues to build momentum from the playoff run, New York should have no problem here.
Final: Redskins 20, Giants 28 (5-2)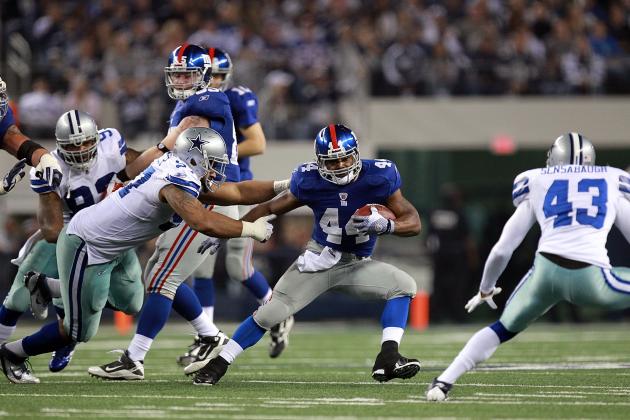 Ronald Martinez/Getty Images

Last year, the Giants didn't meet the Cowboys until Week 14. This year, they conclude the season series before their bye.
Like any team in professional football, sweeping the Cowboys will be an arduous task. Dez Bryant and Miles Austin will be tough for Terrell Thomas and Corey Webster to shut down, and Arlington has always been a tough place to play.
Dallas' secondary may still be shaky, but in their natural element, they take the W here.
Final: Giants 27, Cowboys 35 (5-3)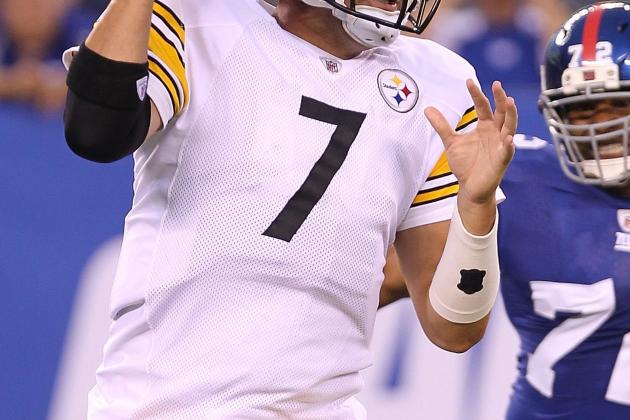 Nick Laham/Getty Images

MetLife Stadium will be infested with "terrible towels," but this game belongs to the Giants.
Pittsburgh's aging defense will see an inevitable decline in 2012. The first symptoms were seen in their 23-20 overtime loss to Denver in last year's postseason.
Steelers signal caller Ben Roethlisberger will still be at the top of the league statistically, but with go-to receiver Mike Wallace holding out and the offensive line turning another year older, Pittsburgh may have peaked.
A Dick LeBeau-esque defense may give Eli and company fits up front, but the Giants have the vertical weapons to topple Ike Taylor, Troy Polamalu and the Pittsburgh secondary.
Final: Steelers 13, Giants 17 (6-3)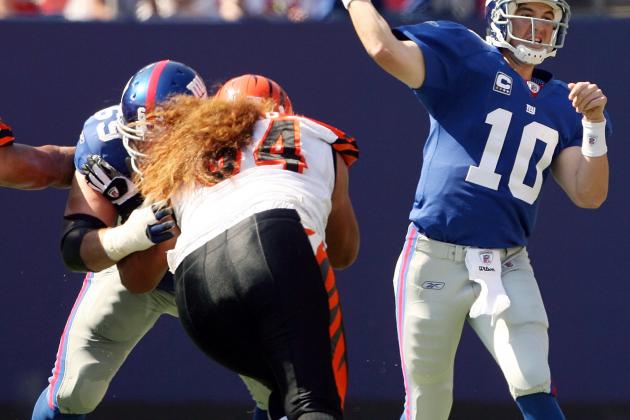 Elsa/Getty Images

Continuing their rounds through the AFC North, the Giants trek to Paul Brown Stadium for a Week 10 faceoff with the Bengals.
Last year, Cincinnati stunned the sporting world with a playoff berth under rookie quarterback Andy Dalton. This year, they look ready to compete for a title in the toughest division in football.
Cincinnati's defense ranked fifth in the league in sacks last year with 48. If the Giant O-line's struggles carry over from 2011, this game could be rough.
Terrell Thomas on second-year receiver AJ Green will be an interesting matchup. Both teams have a pass-first mentality and excel in pressuring the passer.
The difference is, Eli Manning is battle-trained against the most grueling of NFL front sevens, but the young Dalton may not be ready for what Perry Fewell will throw at him. And with no true second receiver and a backfield-by-committee, the Giants' offense emerges as the better unit.
Final: Giants 26, Bengals 19 (7-3)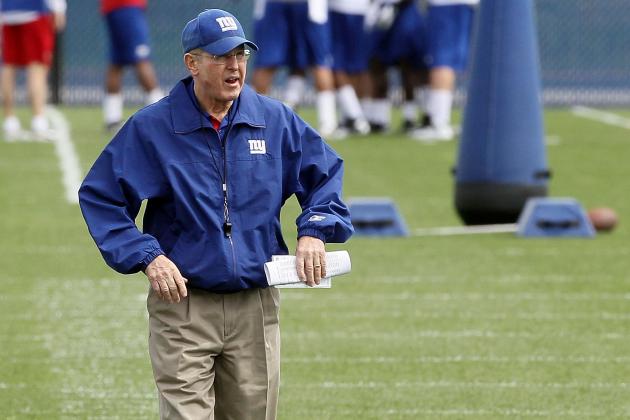 Jim McIsaac/Getty Images

The Giants get their much-deserved rest in Week 11. New York has won four straight post-bye games under Tom Coughlin.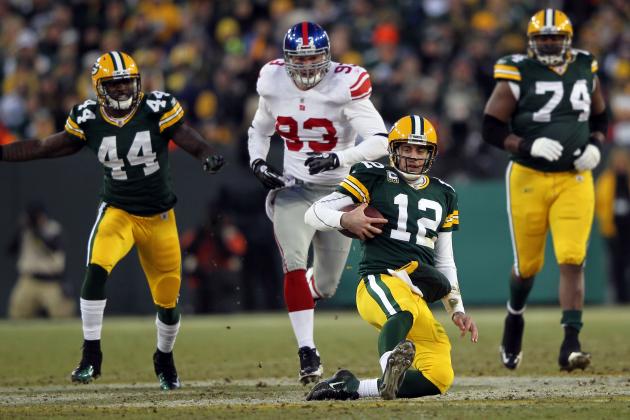 Jamie Squire/Getty Images

Entering the postseason at 15-1, the Packers were definitive Super Bowl favorites.
We all know what happened when the Giants came to Lambeau for divisional round action.
Both New York and Green Bay highlight an NFC shift of power. Expect these two teams to duke it out atop the conference standings all year long.
The Giants will have home field advantage here, but Aaron Rodgers and the lethal Green Bay passing game will likely prove to be too much to handle. The Giants will be banking on a full return from Terrell Thomas, but even still, the Pack will be able to spread the field with ease against New York's 29th ranked secondary.
Under the lights, both teams will light up the scoreboard. But give the Pack the edge for now.
Final: Packers 41, Giants 28 (7-4)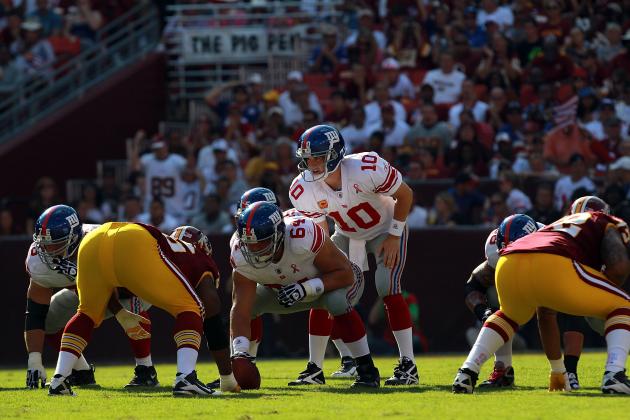 Ronald Martinez/Getty Images

Are you ready for some football?
The Giants and Redskins will square off in primetime, and things should be fun. Robert Griffin III will put on a show, but once again, the G-Men have far too much firepower for the 'Skins to stop.
Interestingly enough, prior to last season, the Giants and Redskins had split every season series in the 2000s. Washington capped a sweep in 2011, and unless newly-acquired wideout Brandon Lloyd vastly exceeds expectations, Big Blue should put Washington's offense away en route to a sweep of their own.
Final: Giants 23, Washington 7 (8-4)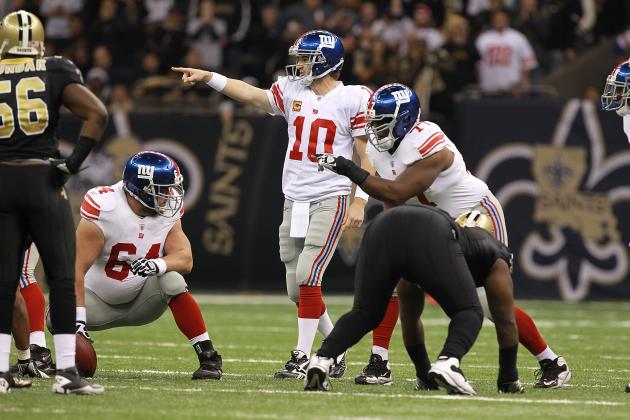 Ronald Martinez/Getty Images

There's not much science to this one.
The Saints have given the Giants trouble in the past, most recently in a 49-24 wrecking on Monday Night Football last year. But with no Sean Payton, no Jonathan Vilma, and no Superdome, this team is entirely different.
The Saints will score points in bunches, but their defense may not hold its weight in light of "Bountygate" suspensions.
Final: Saints 31, Giants 38 (9-4)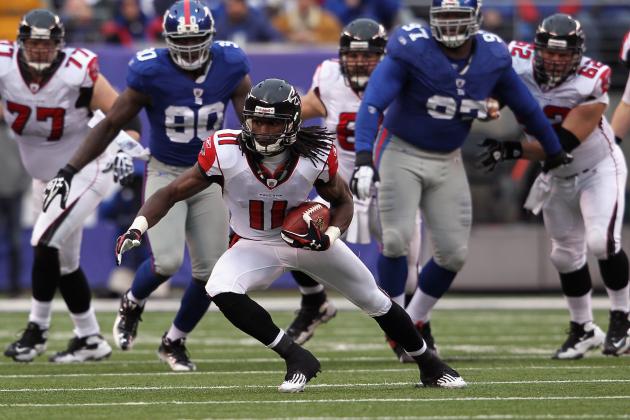 Nick Laham/Getty Images

In their last bout, the Giants blanked Atlanta's high-flying offense in the Wild Card round of the playoffs.
The Falcons have been keeping busy this offseason, re-signing a handful of key players and preparing to take a shot at post-"Bountygate" New Orleans, who have had a stranglehold on the NFC South for years now.
Under the Dome, Atlanta will fare far better than their playoff performance. Julio Jones and Roddy White will run wild in the Giants' shaky secondary, and Michael Turner will get his yards regardless. In four career games against Atlanta, Eli Manning has tossed seven picks.
Final: Giants 13, Falcons 30 (9-5)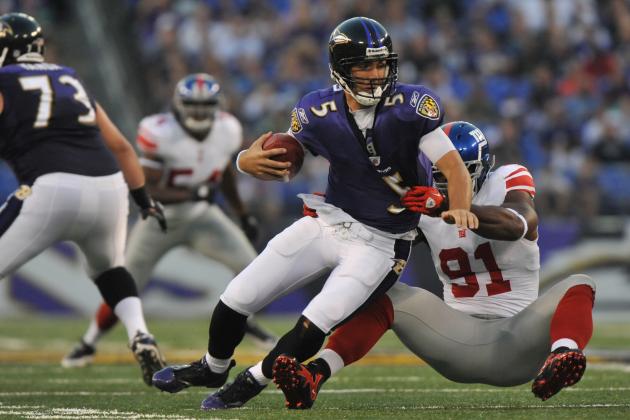 Larry French/Getty Images

In what will likely be their most challenging game of the season, the Giants play their final road game in Baltimore.
There's no need to rehash the Ravens' AFC Championship game loss; this team should be hungry and focused, especially with a chip on QB Joe Flacco's No. 5 embroidered shoulder.
The Ravens were third in the NFL in sacks last year, and the Giants' questionable offensive line should struggle in this one. Flacco will probably get knocked around by Pierre-Paul, Tuck and company as well, but the Ravens' superior defense, coupled with late-season elements that may hinder Manning's passing game, gives them the advantage here.
The preliminary Super Bowl favorite of many, the Ravens should send the Giants on a costly two-game losing streak.
Final: Giants 10, Ravens 23 (9-6)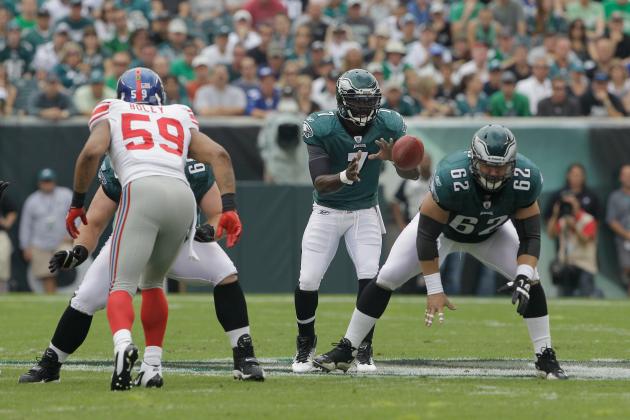 Rob Carr/Getty Images

A game that will likely feature some sort of playoff implications, the Giants close out their 2012 campaign by scornfully hosting the Eagles.
Late-season weather favors run-heavy offenses, and that's exactly what the Eagles are. But playing at home, and building a reputation as a "clutch" team, the Giants should take this one. Manning stepped up with the season on the line last Week 17, and for now, there's no reason to think he won't exploit the Eagles' weak secondary this time around.
Will a 10-6 record get the Giants to the postseason? With the way the NFC is shaping up, nothing is for certain.
Final: Eagles 17, Giants 20 (10-6)