9 Fights the UFC Needs to Book in 2012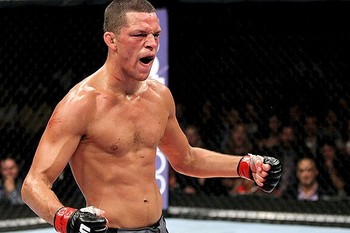 Credit: telegraph.co.uk
Sometimes fights make themselves. Fighters often call someone out in post-fight interviews and press conferences. Occasionally, the fans demand a fight with such volume that they can't be ignored.
At the end of the day, Joe Silva is the man with the master plan, and he has certainly put together some great fights. But if we can make his job easy for him by suggesting some excellent fights, why not have some fun in the process?
Here is a look at nine fights the UFC needs to book in 2012.
Don't let me have all of the fun. Have your voice heard in the comments section below.
Photo courtesy of telegraph.co.uk
All proceeding photos courtesy of ufc.com
Nate Diaz vs. Anthony Pettis: No. 1 Contendership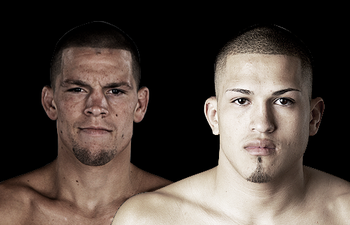 Despite Dana White announcing that Nate Diaz earned a shot at the lightweight championship with his win over Jim Miller, it doesn't seem right to make the 27-year-old sit on the sidelines for the better part of a year while in the prime of his career.
Likewise, Pettis is a 25-year-old fighter who is riding the momentum of a highlight reel stoppage. Let's not forget that Pettis and Diaz is are only top-ranked lightweights who are coming off of wins and worthy of title contention.
Planning an August or September contest gives each man time for a full camp and would ensure that their schedule lines up with the winner of August's title contest between Frankie Edgar and Benson Henderson.
Rory MacDonald vs. Johny Hendricks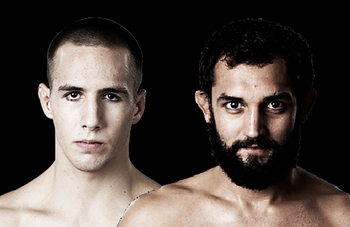 Am I questioning the title shots promised at UFC on FOX? Absolutely!
Johny Hendricks should not have been promised a title shot with that win. It had previously been announced that an upcoming bout between Jake Ellenberger and Martin Kampmann would determine a contender for the belt too.
This division has two champions who aren't currently defending their belts and a contender list that continues to grow.
Hendricks needs to stay active to stay ranked in the division, especially while there are quality contenders who are in need of competition.
With Diego Sanchez, Jake Shields, Rumble Johnson and Nick Diaz all leaving the division for various reasons, and the majority of top stars already matched up, it makes sense for Hendricks to square off with rising stud Rory MacDonald.
MacDonald's only bump in the road came at the hands of the reigning interim champion, although he dominated the bout early on. With the likes of Nate Diaz and Mike Pyle on his resume, MacDonald's rise is interesting to watch, and Hendricks represents a challenge on the level where Rory should be competing.
Urijah Faber vs. Michael McDonald: Interim Championship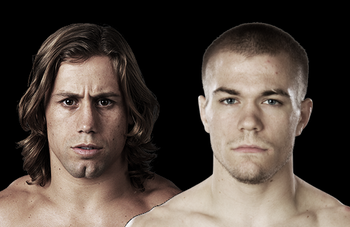 With champion Dominick Cruz on the sidelines with a torn ACL, Urijah Faber will still compete at UFC 148 for the interim bantamweight championship. The question now is "against who"?
Enter Michael McDonald.
A rising star, McDonald is only 21 years old and recently massacred Miguel Torres in the most violent of fashion at UFC 145. A dominant and decisive win over a former champion of the division is what earned Faber his crack at the belt. Why shouldn't it be enough for McDonald?
While some may point to Renan Barao as the best option, there is no good reason to break up his scheduled fight with Ivan Menjivar. Both men are already hard at work in their training camp, and with Cruz expected to be out for at least a year, the winner will likely get a crack at the interim belt this fall.
Rich Franklin vs. Michael Bisping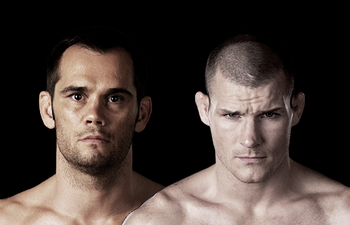 Michael Bisping reported that he turned down a bout with Cung Le, opting instead for a contest with surging middleweight Tim Boetsch. The reason he gave for this is that a win over Boetsch would likely bring him closer to the elusive shot at the UFC Middleweight championship that has evaded him during his six-year stretch in the UFC.
That made me wonder: Why didn't the UFC offer Bisping a crack at former champion Rich Franklin? Now that Ace is returning to the middleweight division, he is an attractive matchmaking option for Bisping. Franklin is a bigger name than Le and doesn't have a training relationship with Wolfslair.
Although he is coming off of a loss, it was a decision in a wrestling-intensive bout with a huge light-heavyweight, while Le is coming off of a knockout loss.
Unless Franklin loses to Le and Bisping defeats Boetsch, this is a fight to make before the year is done, as it holds name value and intrigue.
Shane Carwin vs. Travis Browne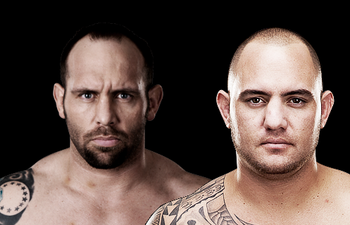 When heavyweight Shane Carwin makes his long-awaited return to the UFC, he needs an opponent who will challenge him but isn't quite at the elite level of Junior dos Santos. At the same time, surging prospect Travis Browne is undefeated and in search of a big name to use as his stepping stone.
Currently on the docket for Browne is a bout with Big Ben Rothwell, but barring a broken bone or training injury, Browne should be ready for one more bout by year's end.
Carwin is one of only two men to step into the cage with Junior dos Santos and walk out under his own abilities. While the power punching of Browne would terrify most opponents, The Engineer has a chin that has stood up to the best that the division can offer.
Rampage Jackson vs. Forrest Griffin II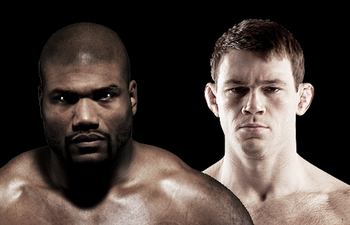 Rampage is on his last legs in his MMA career. His attitude problems are matched only by his ability to garner the interest of fans. The former PRIDE star doesn't have the motivation to train as hard as he used to and will fight one final time for the UFC before leaving the organization.
Originally scheduled as a final opponent was Shogun Rua, but an injury to Jackson mercifully forced him out of the bout. Without the drive to compete at the highest level, I don't think that Rampage could have survived long with Shogun.
Jackson needs someone who is more his own speed in the twilight of his career. Forrest Griffin seems to be sitting on that doorstep himself. As a former champion who is unlikely to ever climb back to the top, it makes sense that we've noticed a decline in heart and determination from the original Ultimate Fighter winner.
Alan Belcher vs. Belfort/Silva Winner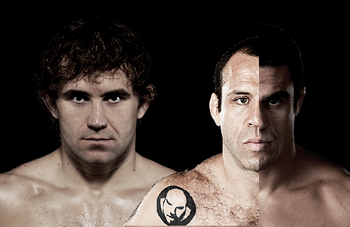 When Alan Belcher knocked out dangerous submission specialist Rousimar Palhares, he announced that he is more than willing to go swimming in shark-infested waters.
Belcher fended off the world-class leg locks of his challenger and made a major statement by defeating him on the ground, where many assumed Palhares would have the advantage.
Now a bona fide contender, it's time for Belcher to get his hands on a household name. When former champions Wanderlei Silva and Vitor Belfort square off next month, the winner will have a modest winning streak and enough prestige to boost Belcher into the upper echelon based on shoulder rubbing alone.
Rashad Evans vs. Alexander Gustafsson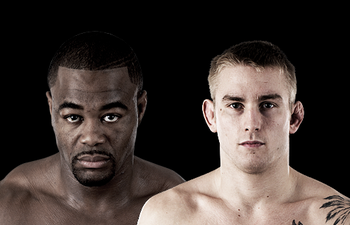 In the crowded light-heavyweight division, there are few matchups that have yet to be made. One month ago, I would have suggested that Rashad Evans should rematch Lyoto Machida and leave prospects Alexander Gustafsson and Ryan Bader to duke it out.
With the announcement of Machida vs. Bader at UFC on FOX, along with the addition of Shogun vs. Thiago Silva, there are few names at the top of the division who are unscheduled.
The biggest question that we have about Swedish star Gustafsson surrounds his lack of cage time against elite wrestlers. Earlier in his career, wrestling standout Phil Davis used his background to gain positional advantages and wrap up an anaconda choke.
Evans poses a threat to Gustafsson in terms of his wrestling prowess and his quick, powerful and evasive striking. If Gustafsson can somehow find a way to pass this enormous test, he will prove himself to be a legitimate test for champion Jon Jones.
On the other hand, Evans' eventual goal is to reclaim the championship. He needs to put together a winning streak that includes impressive stoppages. Gustafsson represents the first stop on his trek back to the top.
Alistair Overeem vs. UFC Heavyweight Champion at Year-End Event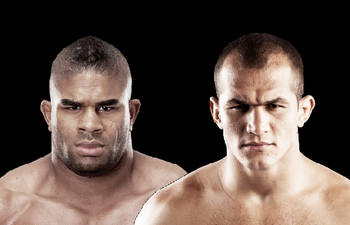 Say what you want about Overeem and his elevated testosterone to epitestosterone level, but this is a fight that we all want to see.
The Reem has been given his punishment and is now serving his time. When his sentence is over, he is free to apply for a license and once again fight the best heavyweights in the world.
As an elite heavyweight who held championships in two major organizations, plus a distinguished kickboxing tournament and wins over top 10 fighters in his last two bouts, Overeem is more than qualified to challenge for the UFC Heavyweight Championship. Until someone takes his place, he is the rightful No. 2 heavyweight in the world.
When Overeem's suspension concludes in December, there is no reason to further punish a man who has already given back his pound of flesh. If anything, the controversy surrounding his drug test failure will create additional buzz towards a title fight, which will garner better numbers and aid the growth of the sport.
Keep Reading