Los Angeles Lakers: Why Kobe Bryant Is as Good as He's Ever Been
May 15, 2012

Harry How/Getty Images
Kobe Bryant was expected to continue on a downward trend this year, but instead he countered that trend and had a massive season, nearly leading the league in scoring.
In fact, he probably could have won the scoring title if he hadn't effectively conceded it to Kevin Durant by resting the final game of the season.
Not only is Bryant stepping up, he is arguably as good as he's ever been.
That's not to say he's perfect or flawless. Certainly he has his warts, but every player in the NBA does. There are those who want to focus solely on his warts, though, and that's just as wrong-headed as those who want to pretend he has none.
That said, he is a special, generational player that has countered the trend of 33-year-old players waning with age. In the history of the NBA, there are only four players who were 33 or older on February 1 (the standard date for measuring NBA age, as it's the middle of the normal season) of the season in question and had a higher scoring average than the Lakers star.
They were Dominique Wilkins, who had the highest average at 29.9, Michael Jordan, who did it twice, Alex English and Bernard King. Only one of those players (King) actually saw his scoring go up from age 32 to age 33.
The reason for Bryant's surgery last summer has been widely touted as a special procedure—platelet-rich plasma therapy. The procedure was performed on his right knee, and it appears to have been successful.
Effectively what that's done is combine younger Kobe's knees with mature Kobe's brain, making for the best of both worlds coming together. He's "FrankenBryant."  
There are those who say that Bryant still shoots too much, and it's a valid point to a certain degree. He does shoot a lot. However, that ignores some things, too.
The Lakers have a better field-goal percentage and a better assist percentage while Bryant is on the floor. They score two points more per 100 possessions, and they give up nearly three points fewer than if he's on the bench.
While some want to argue that he makes the offense less efficient, the facts state otherwise. The Lakers are a more efficient offense with Kobe on the court.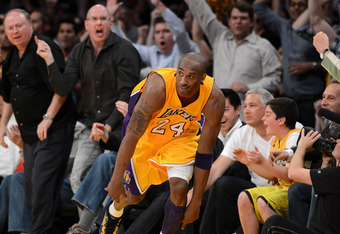 Harry How/Getty Images
Why is that? In part it's the rejuvenated knee, but it's not just that.
He now has eight more years of experience than he did when at 25. He has an improved post-up game. He has better footwork. He has a better grasp of how to create separation on his jump shot.
He had some of those things before, but he's mastered them now. Talent is what you inherit. Skills are what you learn. Younger Bryant relied more on talent. Older Bryant relies more on skill.  All those little things he's done to improve his skill set over the years are now added onto that younger knee.
Along with that, his grasp of the nuances of the game have grown, even to the point where he's almost a sideline coach at times. At other times, it's not even an issue of being "almost" a sideline coach—he is a sideline coach.
He understands more than just how to score or how to affect the game by himself now. He knows how to impact the game with other players. Feeding Andrew Bynum for a game-winner is something you would have never seen younger Kobe do.
He might not be quite as athletic or as physically capable as he was when he was 25, but he's better than he's been in a few years. And now he has all those skills and tricks that he learned to compensate for his aging.
His knee's trip to the Fountain of Youth in Germany did nothing to take away all the wisdom he accrued, but it did take some years of aging off his knee. That's the reason he's as good as he's ever been, because today's Kobe is the best of both Kobes.