Liverpool FC: The Reds' End-of-Season Awards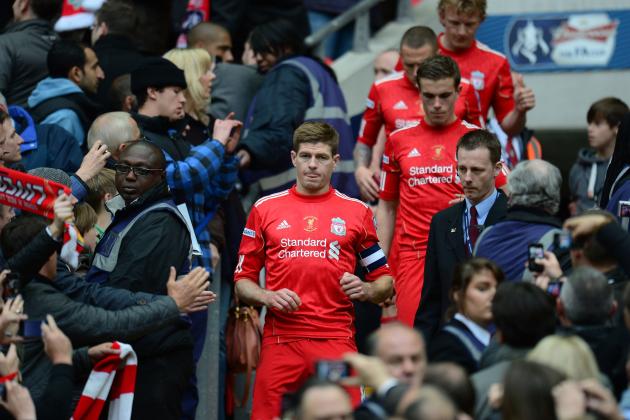 Shaun Botterill/Getty Images

This has been a tough season for Liverpool Football Club and its fans. Once again, Liverpool ended the season overshadowed by others. The 1-0 Survival Sunday defeat to Swansea barely gained any media publicity at all, with much more important fixtures taking place at the top of the table.
Still, the season has passed, and we look back with fond memories. Here are the Liverpool end-of-season awards for the 2011-12 Premier League season.
Begin Slideshow

»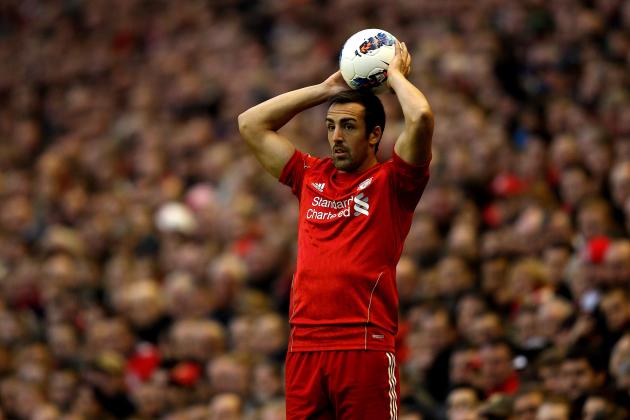 Richard Heathcote/Getty Images

To say the least, Liverpool's summer signing haul was a disappointing one. The club splashed out well over £50 million to sign Charlie Adam, Craig Bellamy, Sebastian Coates, Doni, Stewart Downing, Jose Enrique and Jordan Henderson, but only one managed to have a sustained effect on the first team throughout the season.
That was left-back Jose Enrique.
Signed from Newcastle in August for a fee believed to be £7 million, Enrique was brought in to fill a problem area for the team, in an area where Paul Konchesky had failed. He immediately grabbed a first-team spot, and would go on to appear in 40 games for the club.
Arguably the team's most consistent performer defensively, the 26-year-old Spaniard has been a bargain at the price he was signed for, and he figures to be important for the team next season and further into the future.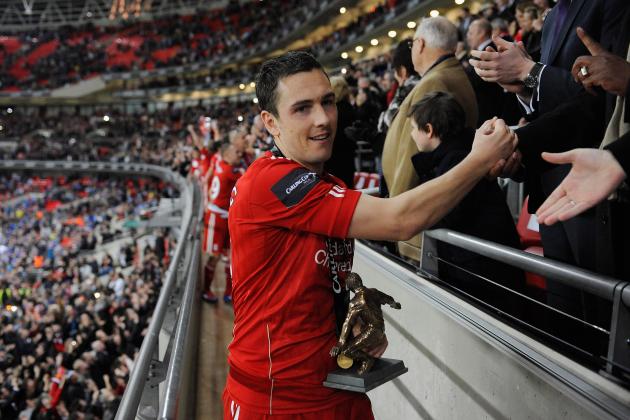 Pool/Getty Images

Chelsea's £23.5 million signing Juan Mata appeared in 34 Premier League games for the Blues, scoring six goals and racking up 16 assists. Manchester United's £15 million man Ashley Young appeared in 25 games, scoring six times and adding seven assists. Arsenal's £10.8 million pickup Gervinho tallied four goals and six assists in 25 games for the Gunners.
Meanwhile, Liverpool's £16 million hero Stewart Downing appeared in 36 games league games, scoring zero goals and assisting on zero others.
When he was brought in, Downing was hailed as an Anfield saviour, expected to turn the Anfield club's fortunes around. He has failed to do so. The 27-year-old England winger, brought in from Aston Villa, has barely contributed for the club this season, leaving fans with no option but to cry out for his departure.
In his first season for Aston Villa in 2009-10, Downing struggled as well, so this is nothing new for him. His second season at Villa Park was when he broke out. Next year could be a big one for Stewart Downing.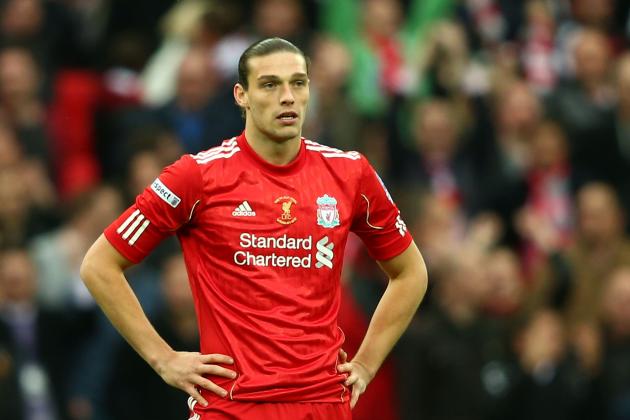 Clive Mason/Getty Images

Admittedly, this is a controversial choice given the impressive performances of Sebastian Coates and Martin Kelly, but Andy Carroll has improved significantly over the last few months.
What Andy Carroll showed over the last few games of the 2011-12 season has left fans eager to see more. In his last seven games, Carroll scored three goals, helped out with an assist and took 36 shots.
Andy Carroll showed some very encouraging signs as the season wound down. Next year could be a big one for him.
Luis Suarez completed his hat trick against Norwich City on the 28th of April 2012 with a tremendous half-field effort.
I will let the video do the talking.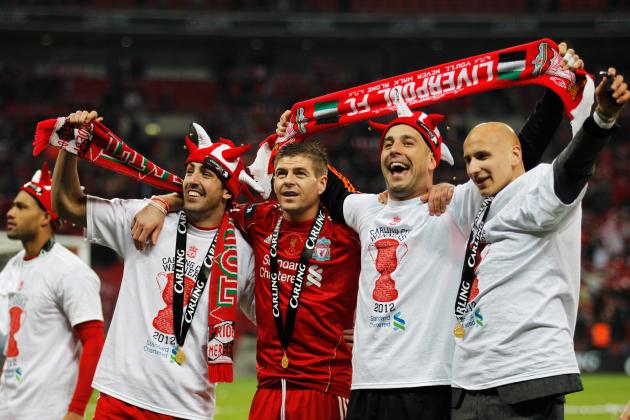 Paul Gilham/Getty Images

In a season where the Reds finished eighth, there were just about no important games in the league. The only truly important fixture is the one in which Liverpool defeated Cardiff in the League Cup final to win their first trophy since the 2006 Community Shield.
Cardiff fought bravely, and despite goals from Martin Skrtel and Dirk Kuyt, they were able to send the game to penalties, where they ultimately fell to the superior Premier League side.
Successful spot-kick efforts from Dirk Kuyt, Stewart Downing and Glen Johnson, as well as a deciding miss from Steven Gerrard's cousin Anthony, ensured that the Reds could lift the League Cup for the eighth time in the club's history and add a silver lining to a very disappointing season.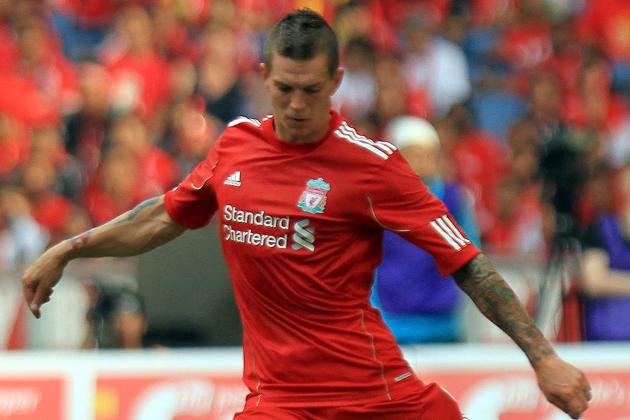 Stanley Chou/Getty Images

Daniel Agger, when at his best, is one of the best defenders in the Premier League. The problem is, he is rarely at his best, because he is rarely healthy.
This past season was one of the few seasons he has spent in England where he has managed to remain, for the most part, healthy. Agger spearheaded a defence that gave up just 40 goals in 38 league games, good for third lowest in the league.
He once again proved how good he can be when healthy, and helped the team's defence improve drastically from last season.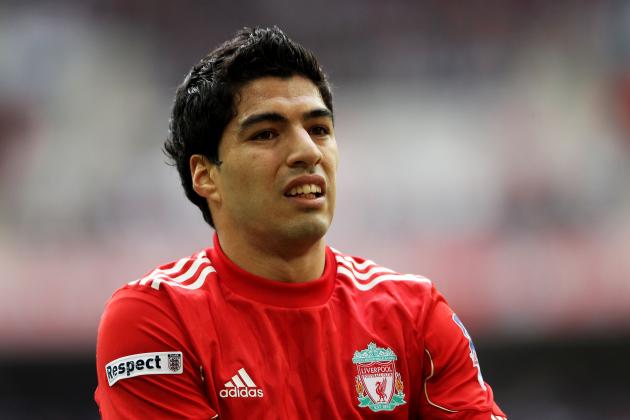 Scott Heavey/Getty Images

Who else?
Despite a controversial season, highlighted by a racist row with Manchester United defender Patrice Evra, Luis Suarez once again proved how much of a quality player he is.
Surrounded by underperforming players, Suarez, who appeared in 39 games, scored 17 goals and contributed seven assists for the club. The only real offensive threat for the Reds, Suarez kept the team's attacking force afloat throughout the season.
This summer is set to be a big one for the Reds in terms of reinforcements arriving at Anfield, and Suarez might have an even better season next year. Regardless, he was Liverpool's most valuable player this season.
Follow Jake Ware on Twitter at @JacobWare95