Super Bowl Prediction: 2009 Steel Curtain Too Much for the Cards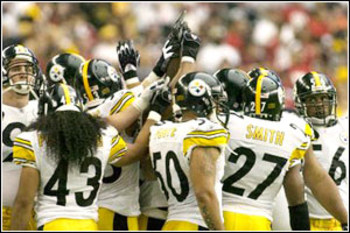 It's that time of year again when friends and family come together to watch the most exciting event of the year. When the Pittsburgh Steelers face off against the Arizona Cardinals will you have Super Bowl fever?
It should be an intriguing and interesting game that features the top defense in the NFL and one of the top offenses in the NFL. Who has the edge and who will win this extravaganza?
The Steelers win with their defense with a heavy dosage of Willie Parker and the underrated Santonio Holmes, who's been their MVP in the playoffs so far. Oh and they have the 26-year old Ben Roethlisberger and the veteran Hines Ward. The Steelers defense is tops in the NFL and if they are going to win this game, they are going to have to stop the dangerous Cardinals offense.
The Cardinals offense can be explosive and has been on fire lately. Led by Kurt Warner, Larry Fitzgerald and Anquan Boldin, it's tough to stop any of these guys. The only question mark is Boldin, because he's been hampered by a hamstring injury in the playoffs. This would mean that the relatively unknown Steve Breaston would have to step up and make some plays. If Breaston was ever going to have his break-out party in the playoffs, this is his opportunity.
As much as there is about the talk of the Cardinals passing game, their running-backs have been the key to keeping them from being one-dimensional. Led by Edgerrin James and Tim Hightower, the Cardinals running game has been rejuvenated and keeping defenses on their toes. The Cardinals need these guys to keep on doing that or else they'll have to block the Steelers fierce pass-rush.
The Cardinals defense has also stepped up in a big way. By making key turnovers at crucial moments, they have helped this team get to where they are. If it weren't for the defense, they would not be in this position and will need them to come to play if they want to hoist the Lombardi trophy.
Now it's time to look at the teams in depth and make a prediction.
Quarterbacks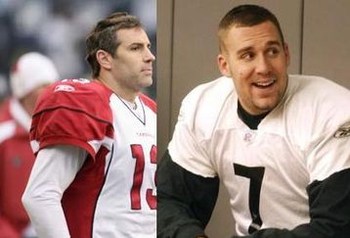 Let's start with the offenses and when you're talking about the Steelers and the Cardinals, you start with the most important position in football and that's the quarterbacks. Ben Roethlisberger leads the Steelers and Kurt Warner leads the Cardinals. Who has the edge here? It's tough to say, because both are proven veteran players with championship rings already to their name. If I had to choose I would give a slight edge to Warner.
Warner is one of the best at avoiding the blitz and can get the ball out in a hurry. He's also older and more experienced. Ben's offensive line hasn't done him any favors this season. He's been sacked 46 times this season and has led to some fumbles and mistakes. The problem for Warner is that he has to attack the best defense in the NFL. The Eagles defense was tough, but the Steelers have a much better defense all around and with guys like James Harrison, the NFL Defensive Player of the Year, and Troy Polamalu. It could lead into one of two mistakes for Warner. Edge: Warner
Predictions: Warner: 320 passing yds 2 tds 1 int 1 fumble; Roethlisberger: 275 passing yds 1 td 1 int
Running Backs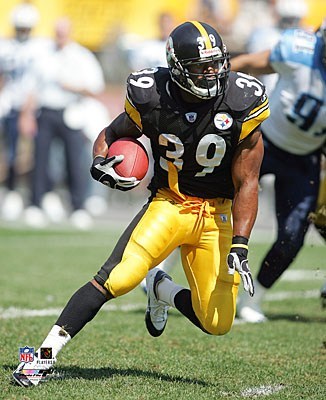 With all the hype about the Steelers defense and "Big Ben" people tend to forget about the man that helped them win their championship in 2006, Willie Parker. Parker has the longest run from scrimmage in Super Bowl history and if he breaks one or two huge runs, the Cards could be in deep trouble. If the Steelers get an early lead, they will try and grind it out and control the clock with Parker. Parker is the key to the Steelers winning this game.
The Cardinals running-backs are in for a tough task. Not only will they have to try and gain yardage on the ground against the top defense, they will have to help protect Warner as well. Edgerrin James and Tim Hightower have done well thus far, but haven't faced a defense like Pittsburgh. I don't think they will find much running room and will have to protect Warner for most of the game. Edge: Steelers
Predictions: Parker: 88 rushing yds 1 td, 3 catches 30 yds; James: 40 rushing yds 2 catches 20 yds; Hightower: 30 rushing yds, 3 catches 30 yds
Wide Receivers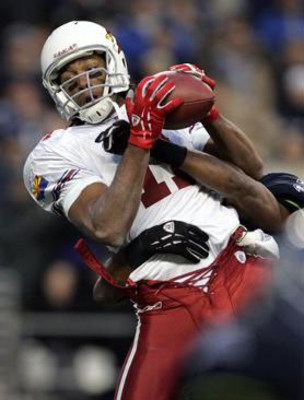 This game features some of the best wide receivers in the league, but there is no bigger freak of nature than Larry Fitzgerald. The man has been unstoppable in the playoffs so far and it will take a ton of work to slow him down. The Steelers have probably game-planned to stop Fitzgerald, but if you do that then you have to deal with Boldin and Breaston. If Boldin is healthy enough than the Steelers won't be able to double-team Fitzgerald. The Cardinals have a huge advantage here.
The Steelers have a nice crop of receivers as well, plus tight-end Heath Miller. Hines Ward is a veteran who won the Super Bowl MVP in 2006. Ward is coming off an injury against the Ravens, but is one of the toughest players in the league so ihe won't let it affect him. Santonio Holmes is a rising-star who has made some huge plays thus far in the post-season. He had a huge punt-return for a touchdown against the Chargers and caught a touchdown against the Ravens in the AFC Championship. They also have the speedy Nate Washington and the reliable Heath Miller. Edge: Cardinals
Predictions: Fitzgerald: 7 catches 97 receiving yds 1 td; Boldin: 5 catches 77 yds; Breaston: 4 catches 60 yds 1 td; Ward: 6 catches 80 yds 1 td; Holmes: 4 catches 88 yds 1 punt-return td; Washington: 2 catches 50 yds; Miller: 4 catches 40 yds
Offensive Lines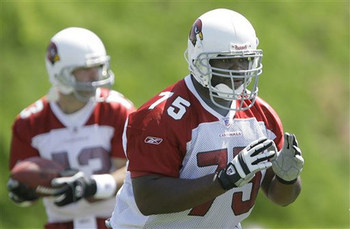 The Cardinals offensive-line has also helped them get to this point. They have done a great job at protecting Warner and run-blocking. Warner's only been sacked three times in the playoffs and if the Steelers can't get to Warner, they won't win. With guys like Mike Gandy, Levi Brown and Reggie Wells, the Cards offensive-line has a bright future and will have to block the Steelers dangerous defense to win.
The Steelers offensive-line has not done well in protecting Ben this year and saw him get sacked four times against the Ravens. This could be only major weakness for the Steelers. If they can't protect Ben then they will have their hands full against an underrated Cardinals defense. Edge: Cardinals
Defensive-lines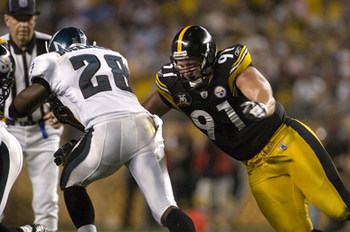 The Steelers defense is loaded and the defensive-line is tough and experienced. Led by their top defensive-end, Aaron Smith and their enormous nose-tackle, Casey Hampton, this unit will be hard to run on and Warner will have to avoid the pass-rush.
The Cardinals defensive-line is led by nose-tackle, Darnell Dockett, who's starting to make a name for himself. They also have the veteran Bertrand Berry and Antonio Smith as their lead pass-rushers. The Steelers have a slight edge here. Edge: Steelers
Line-backers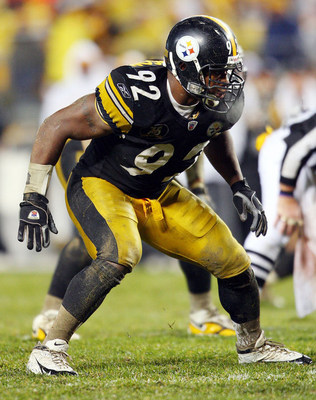 James Harrison leads this veteran group and Warner will have to look at Harrison on every play. Harrison could make the type of impact that could put him into the same category as guys like Ray Lewis. Harrison is having his best year yet and he's also helped by the presence of James Farrior and LaMarr Woodley. Farrior is a veteran that helped the Steelers win in 2006. Woodley is coming into his own and has four sacks in the post-season.
The Cardinals line-backers have been coming on as well. This unit is led by Karlos Dansby. Dansby has made quite an impact for this defense and had a career year with 119 tackles and four sacks. He can also make a big impact in the game. Edge: Steelers
Secondaries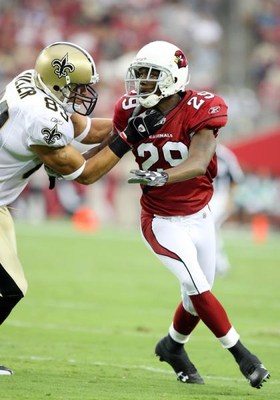 The Steelers have a solid secondary led by safety Troy Polamalu, but the Cardinals have rising-star corner-back, Dominique Rodgers-Cromartie and two star safeties in Adrian Wilson and Antrel Rolle.
The Steelers corner-backs are solid, but don't have the play-making ability of Dominque Rodgers-Cromartie. "DRC" has made a name for himself this year and will only get better. This is a huge test for him, playing in the national spotlight against a top quarterback. He will have to make some huge plays and stop either Hines Ward or Holmes as well. Adrian Wilson is a veteran Pro-Bowl safety and Rolle is a rising-star. Roderick Hood is a fine complement to "DRC."
Troy Polamalu has been here before. He's made some incredible plays and is a proven star. They also have Ike Taylor and Deshea Townsend as well who can make plays if their called upon to. This secondary will have the tough task of stopping Kurt Warner, which no defense has been able to do in the playoffs. I think they get the job done late in the game. Edge: Cardinals
Coaches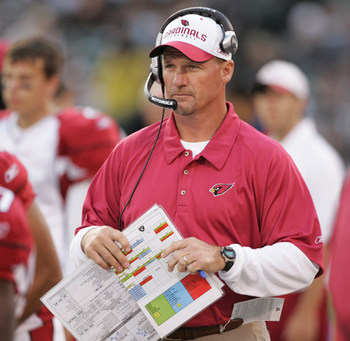 Ken Whisenhunt's team was falling apart late in the year. They had just gotten blown out by the Vikings and Patriots in back-to-back weeks. He needed to insert some fire into his players so he said if they had any business in showing up for the playoffs, they'd better come to practice.
After that the Cardinals have been on a roll. Everybody has counted them out every game yet they rise to the occasion every time. This time should be no different, because the world is counting them out against the best defense in the NFL. Have anybody been more impressed by a rookie coach?
The Steelers' Mike Tomlin won NFL Coach of the Year honors and has led this team to some crucial game-winning drives. Just when you think you have beaten them, they drive down the field and score on you or make a key turnover late in the game. Just ask the Baltimore Ravens, their latest victim.
It looked like the Ravens turned the tables and had the momentum, then Troy Polamalu intercepted Joe Flacco for the touch-down that put the nail in their coffin. Tomlin has a bright future and has already proven he can get the job done. Who has the edge? It's tough, because both coaches are so impressive, but I'll give the edge to the more experienced Tomlin. Edge: Tomlin
Special Teams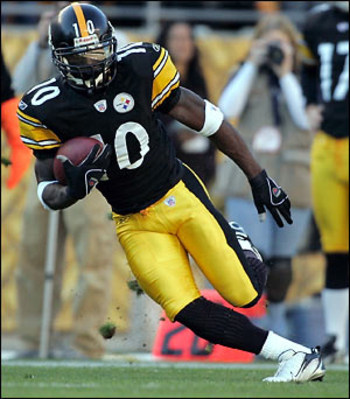 An unsung part of football is special teams. If you miss a crucial field-goal or run a punt or kick-return for a touchdown, it can make or break a game. The Steelers possess one of the most dangerous weapons on special teams in Santonio Holmes. He can break a huge run on a kick or punt-return at any moment. He has already run a punt-return for a touchdown against the Chargers and if he can do it against the Cardinals, he can put a spark into the game.
The Cardinals have a few weapons of their own in Steve Breaston and Antrel Rolle. Breaston has averaged 21.3 yards on kick-returns in the post-season and can also make a big impact.. They also have J.J. Arrington who has run a kick-return for a touchdown already this season.
When we look at the kickers, neither Jeff Reed or Neil Rackers are automatic. Rackers has missed two field-goals already in the playoffs and has been known to miss in crucial moments. Reed hasn't missed in the playoffs, but has only attempted three kicks and didn't need to attempt one against the Ravens. Reed does have an experience advantage, because he helped the Steelers win the championship in 2006. Edge: Steelers
Who wins?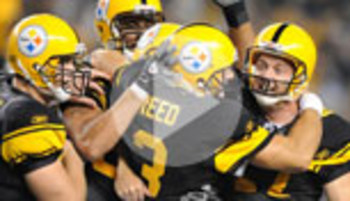 This should be a hard fought battle between the two best teams this season. The story lines never end with the stories of the Steelers defense, Big Ben, Kurt Warner, Larry Fitzgerald, Edgerrin James, etc. I think it will live up to the hype and be a nail-biter until the end. I like the Steelers, because of their suffocating defense and experience. Experience is a major factor despite what people might say and with the Steelers being here before and Tomlin being more experienced, The Steelers should win. I think Warner has a great game, but makes a crucial mistake in the final few minutes of the game and the Steelers will take advantage. Prediction: Steelers 20 Cardinals 17 Super Bowl MVP: Santonio Holmes
Keep Reading