NBA Playoffs 2012: Miami Heat's Frontcourt Deficiencies Will Derail Title Hopes
May 15, 2012

Marc Serota/Getty Images
If you were of the opinion that the Miami Heat were thin in the frontcourt when the postseason began, you were correct. 
As of Monday afternoon you're even more correct. 
Miami's best frontcourt player was Chris Bosh. The 6'10" power forward averaged 18.0 points, 7.9 rebounds and 0.8 blocks per game this season. Those aren't bad numbers, but they're not really the type that the league's best low post players put up. 
That debate can now be pushed aside, though. Bosh is done for the foreseeable future. He hasn't been ruled out for the remainder of the season, but "out indefinitely" is not the type of classification that screams optimism or a quick return from injury. 
Where does that leave Miami? 
In a major bind, that's where. 
You can't teach height. LeBron James is 6'8" and no matter how talented he is he's not going to grow much over the next month. His reach will remain the same and his ability to defend players bigger or score on them won't change that much, either. 
This could not come at a worse time for Miami. The Heat were in an enviable position. The No. 1 seed in the Eastern Conference has already been eliminated, and the Heat have already won Game 1 against the Indiana Pacers. 
The Pacers' key players—Danny Granger, Roy Hibbert, David West—are all either forwards or centers. Indiana has gone from having a mere advantage in the frontcourt (depth, size, more quality big men) to having a significant advantage with the Heat's best scoring big man and one of their two best defensive big men gone.
What's left for Miami?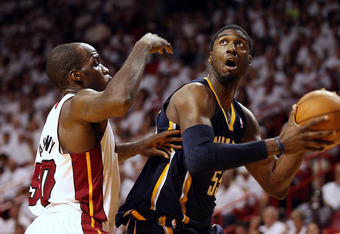 Marc Serota/Getty Images
Well, here are some names: Ronny Turiaf, Joel Anthony, Udonis Haslem, Shane Battier and Juwan Howard.
Now here are some numbers: Those five players combined to average a total of 19.2 points per game and 19.8 rebounds per game during the regular season. Haslem and Battier already play more than 20 minutes per game, so the players who will have the most minutes thrust upon them are Howard, Turiaf and Anthony.
Here's what will happen: LeBron James and Dwyane Wade can both pick up their rebounding a bit. That has consequences on the overall offensive flow of a team. When guards are crashing the boards they can't break out ahead of the defense for easy baskets.
Converting fast-break baskets is an important part of Miami's offense. The team is now forced to either be extremely soft on the glass or suffer from a lack of easy baskets.
None of this means the Heat can't beat Indiana. It won't be easy by any means, but Indiana's backcourt is overmatched in this series, and unless Granger and Hibbert can really dominate the Heat have a decent shot to win.
The problem is beyond this series. Whether it's Boston or Philadelphia, both teams play punishing defense. Both teams feature defensive matchups that won't by any means neutralize Wade or James, but they can make their jobs more difficult.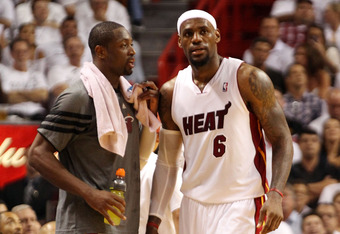 Marc Serota/Getty Images
The Miami Heat were formed as the "Big Three." One of the very first criticisms of the team was that the amount of money lavished on those three players combined with the league's salary cap meant the supporting cast would be weak. It also meant that the consequences of losing any one of those three main players could be devastating.
The Heat's ultimate goal this season was to win the NBA title. The loss of Bosh makes that highly unlikely. All three of Miami's precious three eggs were in one basket, and one may have just been broken.