Phil Jackson: Teams That Would Be Wise to Hire Legenday Coach
May 14, 2012

Ronald Martinez/Getty Images
When discussing any NBA coaching job, the name Phil Jackson has to be to first to come out of anyone's mouth, especially for a team looking to climb the mountain and capture a championship.
Of course, while almost every team in the NBA would have interest in the Hall of Fame head coach, Jackson has to have the desire to want to coach again. However according to CBS Sports.com's Ken Berger, sources close to Jackson have indicated he indeed has "the itch" to coach again.
Berger also notes that Jackson's longtime girlfriend Jeanie Buss said in an L.A. radio interview Friday, "He's got his energy back."
To date, no teams have called or given any indication that Jackson is even on their radar. But his 10 championship rings say that teams should be calling and doing so very soon.
Here's a look at teams that make the most sense for Jackson to come out of retirement.
New York Knicks
I know they seem committed to interim coach Mike Woodson, but what's the long-term goal in New York?
If it's to win a championship, Jackson should already be on speed dial, but no one ever accused Knicks' owner James Dolan of being a smart basketball guy.
Sure Woodson made a good impression, but at any time did he convince anyone of being a championship-caliber coach? Woodson was out-coached by Erik Spoelstra in Round 1 of the playoffs, and there's no guarantee he's the guy to take New York to where they want to get as a franchise.
Jackson would already have talent in New York, and Carmelo Anthony would be brilliant playing on the block in the Triangle Offense.
But as Berger put it, Dolan is more interested in putting on a show instead of having his team win championships, so I wouldn't expect him to ever pick up the phone.
Miami Heat
Stephen Dunn/Getty Images
Spoelstra is in a no-win situation in Miami.
If he wins a title, he was supposed to with the talent on the Miami roster. If the Heat fail again, it would be all his fault.
Spoelstra could be out of a job without a championship this season, and you know Jackson's name will be a popular one in South Beach.
Pat Riley may have no interest in returning as a full-time coach, but could you imagine Jackson working for Riley? It's a stretch, but Riley may be forced to make a splash of a hire if Miami goes another year without a title.
Los Angeles Lakers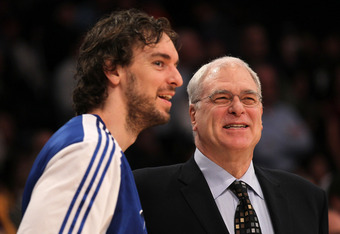 Stephen Dunn/Getty Images
The Clippers could be more attractive to Jackson with a point guard like Chris Paul and a dominant big man like Blake Griffin already in place. But there's no way Clippers' owner Donald Sterling would shell out the money for Jackson, and there's probably even less of a chance that Jackson would want to work for him.
That leaves another return to the Lakers bench as a possibility.
Lakers' legend Magic Johnson all but fired Mike Brown on television during the weekend, which means nothing, but if the Lakers lose their second-round series to the Oklahoma City Thunder then Brown's tenure could be a short one in Los Angeles.
Andrew Bynum doesn't appear to be too fond of Brown, and although Kobe Bryant says all the right things, he likely would love to see the Triangle Offense come back to Lakerland.
Jackson had a good relationship from the front-office all the way down to the players he coached, so returning to a familiar situation could become an attractive option once again.