Spain vs Italy Live Stream: Sizzling Players to Watch for in Euro 2012 Final
June 29, 2012

Alex Livesey/Getty Images
Euro 2012 has had its fair share of thrilling moments and breakout stars, and with 90 minutes separating Spain and Italy from international glory, some of the game's biggest stars are set to step up and entertain fans one more time.
Sunday's final (2:45 PM EST, ESPN, ESPN3) will feature plenty of star power, but there are a few players that will leap off of your screen and be talked about long after the match is over.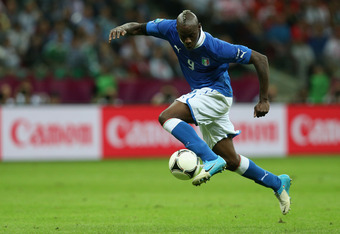 Joern Pollex/Getty Images
Mario Balotelli
The Manchester City striker is one of the biggest enigmas in all of soccer, but when he's enjoying top form, there are few players more enjoyable to watch.
Balotelli ripped Germany to shreds in the semifinals, drilling a header and a massive strike to give Italy a 2-0 advantage before halftime, and the Italians never looked back. There are always questions about his motivation and attitude, but when he's on the pitch, he never fails to entertain.
Now that he's on one of the biggest stages in international soccer, and millions of his fellow countrymen looking to him to help pull another upset, Balotelli is going to be a major storyline—for better or for worse.
Cesc Fabregas
While he may not be a regular starter for the Spanish squad, there is no denying Fabregas' contributions to the side's international success.
The former Arsenal man set up the winner in the 2010 World Cup and drilled home the winning penalty against Portugal in the semifinal. He is a player who steps up in the biggest moments, and with Spain seemingly content to play long stretches without a true striker, Fabregas will play a vital role in the Spanish attack.
He may not feature until the second half, but when he steps onto the pitch, look out, because he is a playmaker and will help decide whether or not Spain wins another Euro championship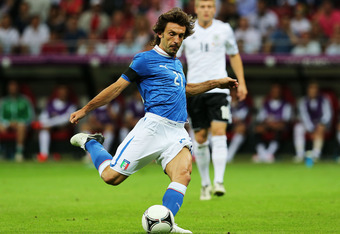 Alex Grimm/Getty Images
Andrea Pirlo
While Balotelli may be the very flamboyant face of this Italian side, Andrea Pirlo is the engine that drives the entire side forward.
Pirlo has captivated fans with his graceful, skilled play all tournament long, and was a big reason why the Italians got by England and Germany. The midfielder is a genius with the ball at his feet, and if he's given room to work, it's only a matter of time before he's creating a scoring chance.
If Spain is to slow Italy down, crowding Pirlo will be the biggest task for the Spanish defense. Once he's slowed down, Iniesta, Xavi and company will be able to control possession and go to work on the Italian defense.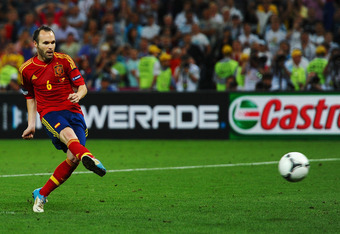 Laurence Griffiths/Getty Images
Andrés Iniesta
Few players are more synonymous with Spanish soccer than Andrés Iniesta.
The Spanish playmaker is able to create scoring chance after scoring chance and is going to be public enemy No. 1 for the Italian defense. Iniesta has been brilliant all tournament long, and with another Euro crown just one win away, there is little doubt that he's going to live up to the lofty expectations set out at the start of this tournament.
Spain is one of the most effective international sides in recent time, and Iniesta is a big part of it. When he takes the pitch on Sunday, he will pull all of the strings and give the Italian defense fits for a heart-pounding 90 minutes.